In the 1960s, Jane Goodall changed our understanding of chimpanzees.
Now, she says we need to reshape how we think about food – because "our disrespect for farmed animals has created this situation where disease can spill over to infect human beings".
Goodall advocates a plant-based diet and boycotts of companies that fail to adopt sustainable farming techniques.
"If we don't do things differently, we're finished," warns leading naturalist, chimpanzee expert and conservation campaigner Dr Jane Goodall.
Dr Goodall believes intensive animal farming is connected to the coronavirus pandemic, and is calling on us all – from consumers to leaders and industry chiefs – to "change our ways" and move from industrially farmed products to more plant-based diets.
Dr Goodall is the latest prominent figure to call for a new approach to the world economy. Prince Charles and many others are backing the Forum's Great Reset, which highlights humanity's chance to build a more sustainable world in the wake of COVID-19.
With a background in primatology, Jane Goodall became well known in the 1960s through films about her work studying chimpanzees in Tanzania. She famously gave the animals human names.
Her discovery that chimps in Tanzania and elsewhere were threatened by habitat destruction due to human activity informed her view about the interdependency of the natural world. She founded the Jane Goodall Institute in 1977, and it's now a leading voice for nature conservation.
What's the World Economic Forum doing about climate change?
Climate change poses an urgent threat demanding decisive action. Communities around the world are already experiencing increased climate impacts, from droughts to floods to rising seas. The World Economic Forum's Global Risks Report continues to rank these environmental threats at the top of the list.
To limit global temperature rise to well below 2°C and as close as possible to 1.5°C above pre-industrial levels, it is essential that businesses, policy-makers, and civil society advance comprehensive near- and long-term climate actions in line with the goals of the Paris Agreement on climate change.
The World Economic Forum's Climate Initiative supports the scaling and acceleration of global climate action through public and private-sector collaboration. The Initiative works across several workstreams to develop and implement inclusive and ambitious solutions.
This includes the Alliance of CEO Climate Leaders, a global network of business leaders from various industries developing cost-effective solutions to transitioning to a low-carbon, climate-resilient economy. CEOs use their position and influence with policy-makers and corporate partners to accelerate the transition and realize the economic benefits of delivering a safer climate.
Dr Goodall's analysis of COVID-19 stays true to her beliefs. Speaking at an online event held by the group Compassion in World Farming, Goodall said our global food production system is in need of urgent reform.
"Our disrespect for wild animals and our disrespect for farmed animals has created this situation where disease can spill over to infect human beings. We have come to a turning point in our relationship with the natural world."
For Goodall, there is a clear link between the mistreatment of animals and our health.
Many scientists believe that COVID-19 crossed from animals to humans – known as a "zoonotic" infection. The World Health Organization says "all available evidence for COVID-19 suggests that SARS-CoV-2 has a zoonotic source".
What is the World Economic Forum doing to manage emerging risks from COVID-19?
The first global pandemic in more than 100 years, COVID-19 has spread throughout the world at an unprecedented speed. At the time of writing, 4.5 million cases have been confirmed and more than 300,000 people have died due to the virus.
As countries seek to recover, some of the more long-term economic, business, environmental, societal and technological challenges and opportunities are just beginning to become visible.
To help all stakeholders – communities, governments, businesses and individuals understand the emerging risks and follow-on effects generated by the impact of the coronavirus pandemic, the World Economic Forum, in collaboration with Marsh and McLennan and Zurich Insurance Group, has launched its COVID-19 Risks Outlook: A Preliminary Mapping and its Implications - a companion for decision-makers, building on the Forum's annual Global Risks Report.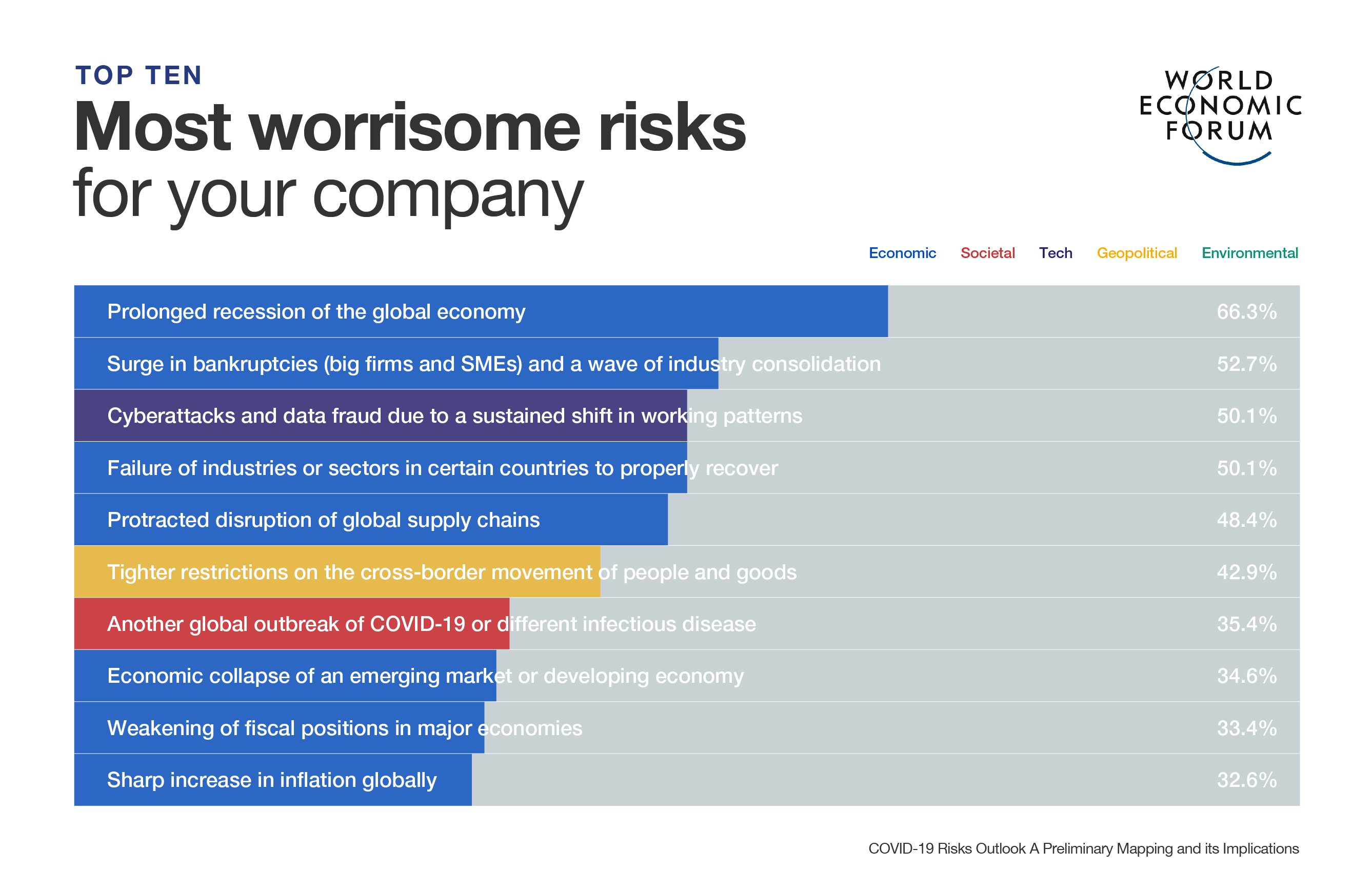 The solution, according to Goodall, lies with us: we should "eat less meat, or no meat, and turn to plant-based diets," she says.
She also believes that changes must be holistic, such as lifting people out of poverty, and rethinking our needs as consumers – examining whether we need all the "stuff that we accumulate."
Certainly at present rates, our consumption patterns are less than sustainable. According to the United Nations, it would take 1.6 Earths to meet the demands that humans make of nature every year.
And despite the current crisis, Dr Goodall sees positive signs: "We have moved forward a lot. More and more people are getting aware, but not enough yet."