It is critical that businesses re-evaluate their digital transformation, skills and sustainability strategies in the wake of the pandemic;
The route to business recovery and growth post-COVID-19 must be coupled to sustainability, in order to create a fairer society for all;
During the pandemic, digital has become a lifeline for every business. To create more inclusive economies, digital training and reskilling led by business is also essential.
A healthcare crisis and the ensuing economic disruption has forced businesses and institutions around the world to rethink their approaches to cohesion. This rethink ranges from the treatment of employees dispersed by remote working and how to reassure staff about health-precautions; right through to inventory management, assembly line shut-downs and product pricing. It is now clear that lockdowns in multiple territories and industrial sectors have strained cohesion in everything from supply chains to customer relationships.
Yet just as commercial cohesion has been strained, so has cohesion within wider society. The pandemic has illuminated inequalities across our society and laid bare the need for a new, more resilient and inclusive economy. We should prioritize the long-term health and well-being of citizens, alongside the creation of new employment opportunities and policies that protect society against future shocks, including future pandemics and wider challenges such as climate change.
If we want a fair recovery and to build a better society than before, a shared commitment to sustainability must be in its foundations. For companies, this means upgrading responsibilities to stakeholders, adopting more environmentally friendly business practices and pursuing social impact in addition to financial success. As citizens, this means considering how we too can enact meaningful change in our everyday lives.
Klaus Schwab, Executive Chairman and Founder of the World Economic Forum, has defined today's challenge as "The Great Reset" of capitalism. Indeed, how companies behave today will shape the way they – and business in general – will be perceived long after the crisis. There is little dispute among business leaders over the scale of the challenge or even the opportunities that could be unlocked as our economies begin to normalize, but there is no template on how to adjust to a post-pandemic world.
That which might help restore the manufacturing industry or heavy capital goods will be very different, in terms of organization models, from what we may see in telecommunications, fast-moving consumer goods or financial services. The pandemic has, however, thrown into sharp relief one facet of commercial interaction common to all sectors: the need for reliable, fast and relevant digital connectivity. We are moving to an all-digital, work-from-anywhere world.
Unlocking the digital economy
The global economy is digitizing. We're witnessing changes happening within weeks and months which in normal circumstances would have taken years of planning. Wherever you live and whether you work in retail, travel or tech, your world has changed.
The pandemic has highlighted the need for digital solutions to everything from healthcare provision to e-learning, as well as artificial intelligence in manufacturing, cybersecurity and, in the original keystone of 21st-century digital interaction, peer-to-peer social engagement.
In recent months we've learned that if you don't have a digital connection to your customers, students, citizens, clients or patients, then you are not going to succeed.
Digital has become the lifeline for every business and it has become increasingly clear that the CEO must also be the organization's Chief Digital Officer, leading the digitization of their business. This is important for every organization, especially given today's challenges of reopening physical workspaces, leading business recovery and returning to growth. This expanded role will be critical to how organizations prepare for and respond to crises in future.
The route to business recovery and growth must be coupled to sustainability. As Mark Carney, UN Special Envoy for Climate Action and Finance, told me in a recent Salesforce Leading Through Change programme: "[E]very business will need to take into account whether they're part of the solution or part of the problem for the transition to net zero."
At this critical time, every business should re-evaluate its strategy. Businesses that had the right strategy going into the pandemic will be unique if they emerge from the crisis with a strategy that is unchanged.
We need businesses to be brave. Companies need the courage to uproot and reimagine their strategies, prioritizing long-term economic success and environmental stewardship versus any short-term disruption. Such strategies must be underpinned by purposeful engagement with public, private and civil society stakeholders. Business and community should work more closely together.
In this restoration, our greatest asset is human capital: our people. To build back better, companies will need to prioritize training and reskilling people for a digital future. Many countries are blighted by a digital skills gap in both public and private sectors. To close that gap, we must all enhance digital skills among existing teams and in the communities we serve.
In digitized economies, everyone's job will involve some form of digital skills. Tomorrow, those skills will be just as important as the ability to read and write is today. To build more inclusive economies, digital training and reskilling must be central. This will continue to be an absolute priority at Salesforce.
A once-in-a-generation opportunity for business
Hopefully, 2020 will be remembered for a once-in-a-generation healthcare crisis from which – vaccines pending – the world recovers. But there will be no going back to the past in every aspect of our commercial and economic lives, nor for many in their personal lives.
This is stating the obvious for the many thousands of families who have been bereaved or who have been impacted by serious illness. Amid those many shared and individual tragedies, businesses and public services must provide greater cohesion in every part of their value chains. They must also do so sustainably and digitization will be a crucial tool to achieve that.
What is the World Economic Forum doing to manage emerging risks from COVID-19?
The first global pandemic in more than 100 years, COVID-19 has spread throughout the world at an unprecedented speed. At the time of writing, 4.5 million cases have been confirmed and more than 300,000 people have died due to the virus.
As countries seek to recover, some of the more long-term economic, business, environmental, societal and technological challenges and opportunities are just beginning to become visible.
To help all stakeholders – communities, governments, businesses and individuals understand the emerging risks and follow-on effects generated by the impact of the coronavirus pandemic, the World Economic Forum, in collaboration with Marsh and McLennan and Zurich Insurance Group, has launched its COVID-19 Risks Outlook: A Preliminary Mapping and its Implications - a companion for decision-makers, building on the Forum's annual Global Risks Report.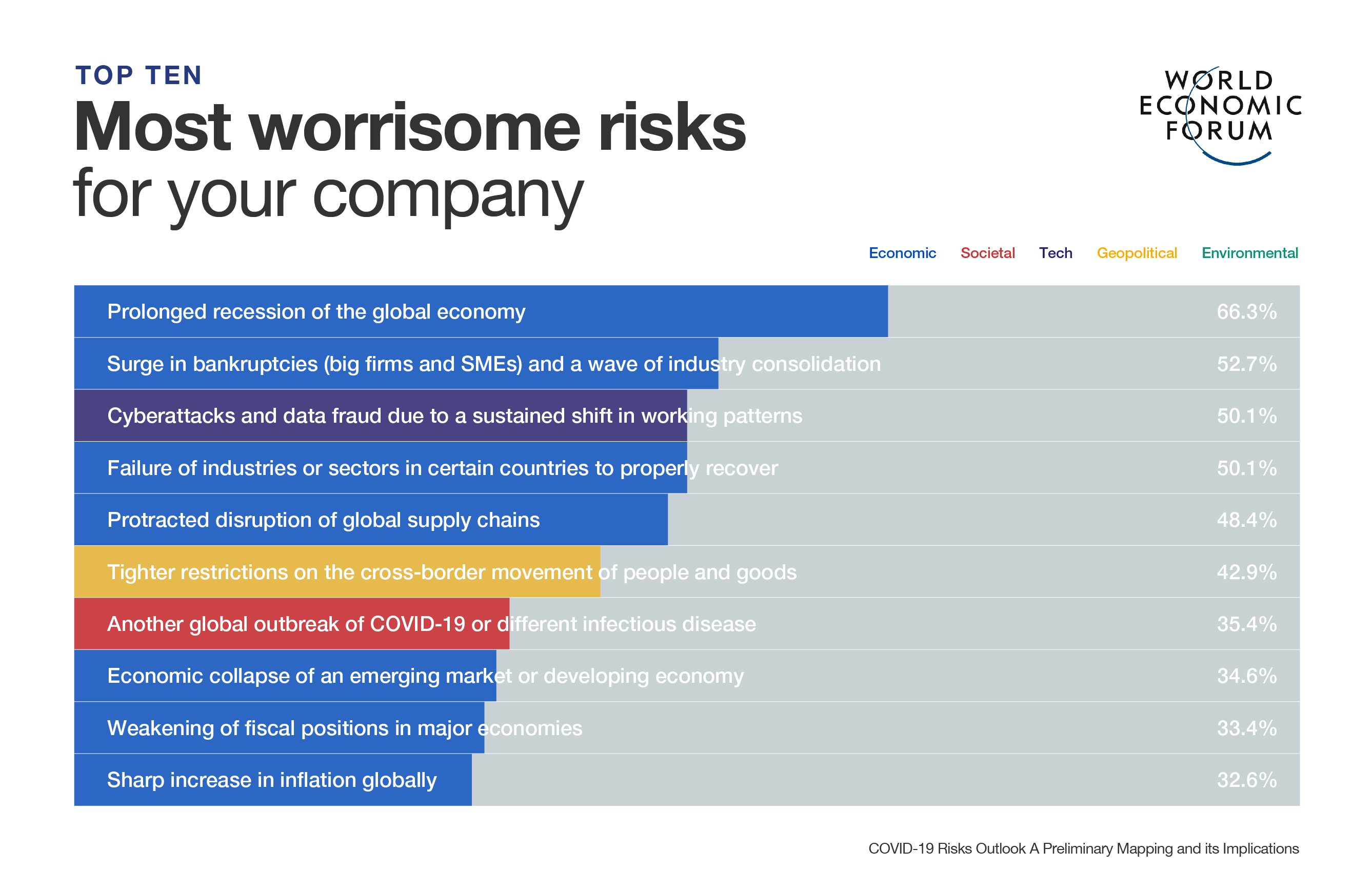 Increased digitization is transforming healthcare, for example. From vaccine development and patient management, digital technologies are bringing more speed, efficiency and better outcomes across the entire healthcare sector.