This daily round-up brings you a selection of the latest news updates on the COVID-19 pandemic, as well as tips and tools to help you stay informed and protected.
Top stories: Record daily jump in India; warning as flu season looms; call to protect health workers.
1. How COVID-19 is affecting the globe
India has reported a record daily jump in COVID-19 cases, of 97,894 infections. India is the second-worst affected country in the world, after the United States, with more than 5 million cases.
The Red Cross has warned about the risk of coronavirus driving discrimination in Asia, particularly towards migrants and foreigners. "It is particularly concerning that both national migrant and foreign workers are blamed for the spread of COVID-19 as they are quite vulnerable already," Dr Viviane Fluck, one of the lead researchers and the agency's Asia Pacific community engagement and accountability coordinator, told Reuters.
Madrid, Spain, is planning to announce restrictions on movement tomorrow, that could include targeted lockdowns, according to a senior official.
The World Health Organization (WHO) has warned Latin America against opening up too early and too quickly. "We must be clear that opening up too early gives this virus more room to spread and puts our populations at greater risk. Look no further than Europe," regional director Carissa Etienne said yesterday.
2. Warning as flu season looms
"We are starting to see worrying trends in some countries," Maria Van Kerkhove, WHO technical lead for COVID-19, said during a social media webcast.
"We are seeing increases in hospitalizations, in intensive care units, particularly in Spain, France, Montenegro, Ukraine and some states of the United States. That is worrying because we have not seen the flu season yet."
Dr. Mike Ryan, the WHO's top emergency expert, advised people at high risk for COVID-19 infections to get a flu vaccination.
What is the World Economic Forum doing to manage emerging risks from COVID-19?
The first global pandemic in more than 100 years, COVID-19 has spread throughout the world at an unprecedented speed. At the time of writing, 4.5 million cases have been confirmed and more than 300,000 people have died due to the virus.
As countries seek to recover, some of the more long-term economic, business, environmental, societal and technological challenges and opportunities are just beginning to become visible.
To help all stakeholders – communities, governments, businesses and individuals understand the emerging risks and follow-on effects generated by the impact of the coronavirus pandemic, the World Economic Forum, in collaboration with Marsh and McLennan and Zurich Insurance Group, has launched its COVID-19 Risks Outlook: A Preliminary Mapping and its Implications - a companion for decision-makers, building on the Forum's annual Global Risks Report.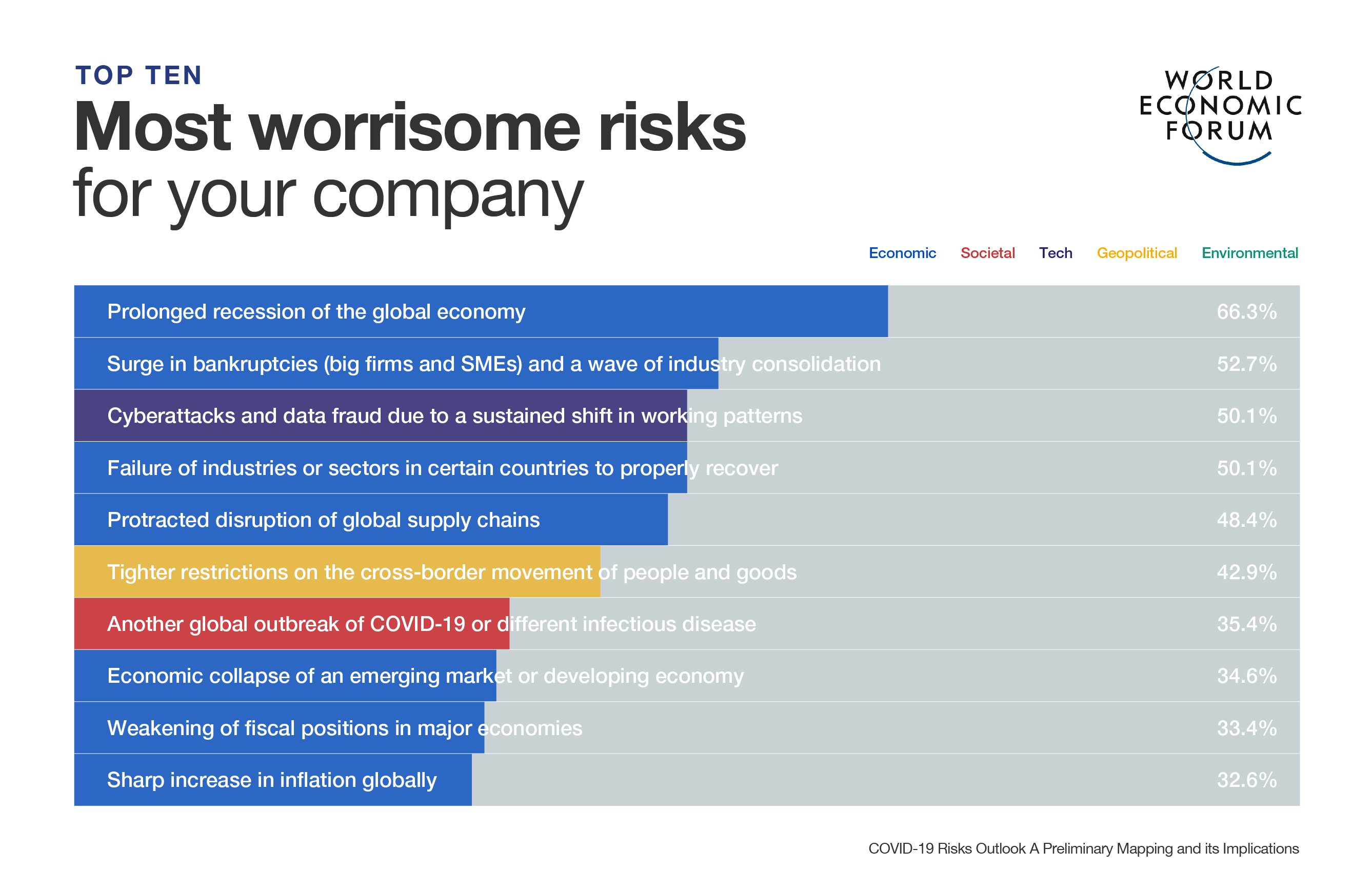 3. Calls to protect health workers
The WHO has launched a new Health Worker Safety Charter - to mark World Patient Safety Day on 17 September - calling on leaders to tackle persistent threats to the health and safety of workers and patients.
"The COVID-19 pandemic has reminded all of us of the vital role health workers play to relieve suffering and save lives," said Dr Tedros Adhanom Ghebreyesus, WHO Director-General. "No country, hospital or clinic can keep its patients safe unless it keeps its health workers safe."
While health workers represent less than 3% of the population in the large majority of countries and less than 2% in almost all low- and middle-income countries, around 14% of COVID-19 cases reported to WHO are among health workers. In some countries, the proportion can be as high as 35%. But the WHO says data availability and quality are limited.

The Charter urges leaders to take five actions to better protect workers; protection from violence; improve their mental health; protection from physical and biological hazards; advance national programmes for health worker safety; and connecting health worker safety with patient safety policies.