Technology can help reduce the carbon footprint of supply chains.
The private sector has a massive role in supporting start-ups in the social innovation space.
Sustainable business, finance models and supply chains are key to withstanding market shocks.
The coronavirus pandemic has been a dark and difficult time for us all: our communities, our people and our companies have been hurt economically and socially as the velocity of physical movement, interaction and commerce has slowed.
In spite of this, I believe we are living through a moment of great opportunity, a time when we can rebuild our world in a way that will have a lasting and positive impact. Why? Because the pandemic has demonstrated that businesses have a conscience and are willing and able to work for the greater good.
Let's build on that now, ensuring the private sector addresses the other urgent challenge of our time – the need to prioritize sustainability and the protection of our planet for future generations.
As we come together at the World Economic Forum's virtual Sustainable Development Impact Summit, there is much to discuss – urban mobility, the decarbonization of heavy industries, and the future of aviation and tourism, to name but a few of the topics on the agenda.
I believe we must all commit to better business practices in order to create a more sustainable and inclusive world for all. In particular, it's time for more sustainable supply chains, a greater focus on green finance and a stronger commitment to social innovation.
1. More sustainable supply chains
Global supply chains have been in the spotlight since lockdown disrupted factories, closed borders and reduced the number of passenger flights able to carry freight.
There has been much discussion about the shortening of supply chains, reshoring or near-shoring, and emerging hubs of manufacturing such as the Philippines, Hungary or Costa Rica.
I would like to focus here, however, on the potential of technology to help reduce the carbon footprint of supply chains. In the McKinsey survey, 85% of respondents struggled with insufficient digital technologies in the supply chain, while 90% now intend to increase digital supply chain talent in-house.
Let's use this moment, then, not only to drive reliability and security of supplies, but also to put sustainability at the heart of rebuilding our supply chains.
Blockchain, too, will help drive efficiency, reducing both bureaucracy and CO2 emissions. One example from my region is the connection of two independent blockchain platforms that allowed Hong Kong-based Bee Dee Industries to send a shipment to one of Landmark Group's retail brands in the UAE.
This is expected to be a blueprint for future blockchain-powered cross-border shipments in the retail industry, dramatically reducing transaction times. It matters because it frees up ships, thereby reducing the need for a greater number of cargo flights, which are more harmful to the environment.
2. Enhanced green finance practices
From solar power farms to flood defences, the world needs to build more sustainable infrastructure. And to build it, we need to have specific targets on the issuance of green finance.
Some of the world's poorest countries are often those suffering most from the ravages of climate change. We need to adopt a multilateral approach – with governments, the private sector and NGOs coming together to finance green projects.
Building a sustainable future can't happen without economic growth. And to help growth flourish, we must resist the temptation to be protectionist and self-serving, but rather work towards greater integration, deregulation and free movement of goods.
By allowing investors, lenders, insurers and other stakeholders to have knowledge and transparency around the climate-related implications of specific initiatives, the flow of money will be directed away from polluting projects and towards those with a positive impact on communities and indeed the wider world.
Once those metrics are established, I also believe that we should integrate sustainability reporting into financial updates as a matter of course. As seen during the coronavirus, the purpose of companies has moved beyond profit to helping create a better world. Our financial results should reflect this reality.
3. Advanced social innovation
Finally, sustainability also means creating a fairer world for everyone, making our communities more equitable, accessible and inclusive. Without this, we risk alienating the young, deepening the digital divide and leaving many behind, creating more divisions when we should be coming together rather than drawing apart.
But it's not just the tech companies who can help here. By lending our expertise and backing to entrepreneurs, we can bolster the start-up ecosystems wherever we are. One innovative project that has caught my eye is Liter of Light, which teaches marginalized communities how to use recycled plastic bottles to create a solar-powered lantern, transforming homes, businesses and streets with limited or no access to electricity. It is an example of empowering grassroots entrepreneurs, and its work has now spread to 15 countries and 353,000 homes worldwide.
The World Economic Forum has its own network of Young Global Leaders seeking to bring about positive change, with myriad different projects, including cracking down on corruption through open data initiatives, sharing knowledge between small-scale farmers, using biomass to create green synthetic fuels or developing plant-based protein alternatives. The well-established private sector must actively support these entrepreneurs, so that more transformative innovation is realized.
What is the World Economic Forum doing to manage emerging risks from COVID-19?
The first global pandemic in more than 100 years, COVID-19 has spread throughout the world at an unprecedented speed. At the time of writing, 4.5 million cases have been confirmed and more than 300,000 people have died due to the virus.
As countries seek to recover, some of the more long-term economic, business, environmental, societal and technological challenges and opportunities are just beginning to become visible.
To help all stakeholders – communities, governments, businesses and individuals understand the emerging risks and follow-on effects generated by the impact of the coronavirus pandemic, the World Economic Forum, in collaboration with Marsh and McLennan and Zurich Insurance Group, has launched its COVID-19 Risks Outlook: A Preliminary Mapping and its Implications - a companion for decision-makers, building on the Forum's annual Global Risks Report.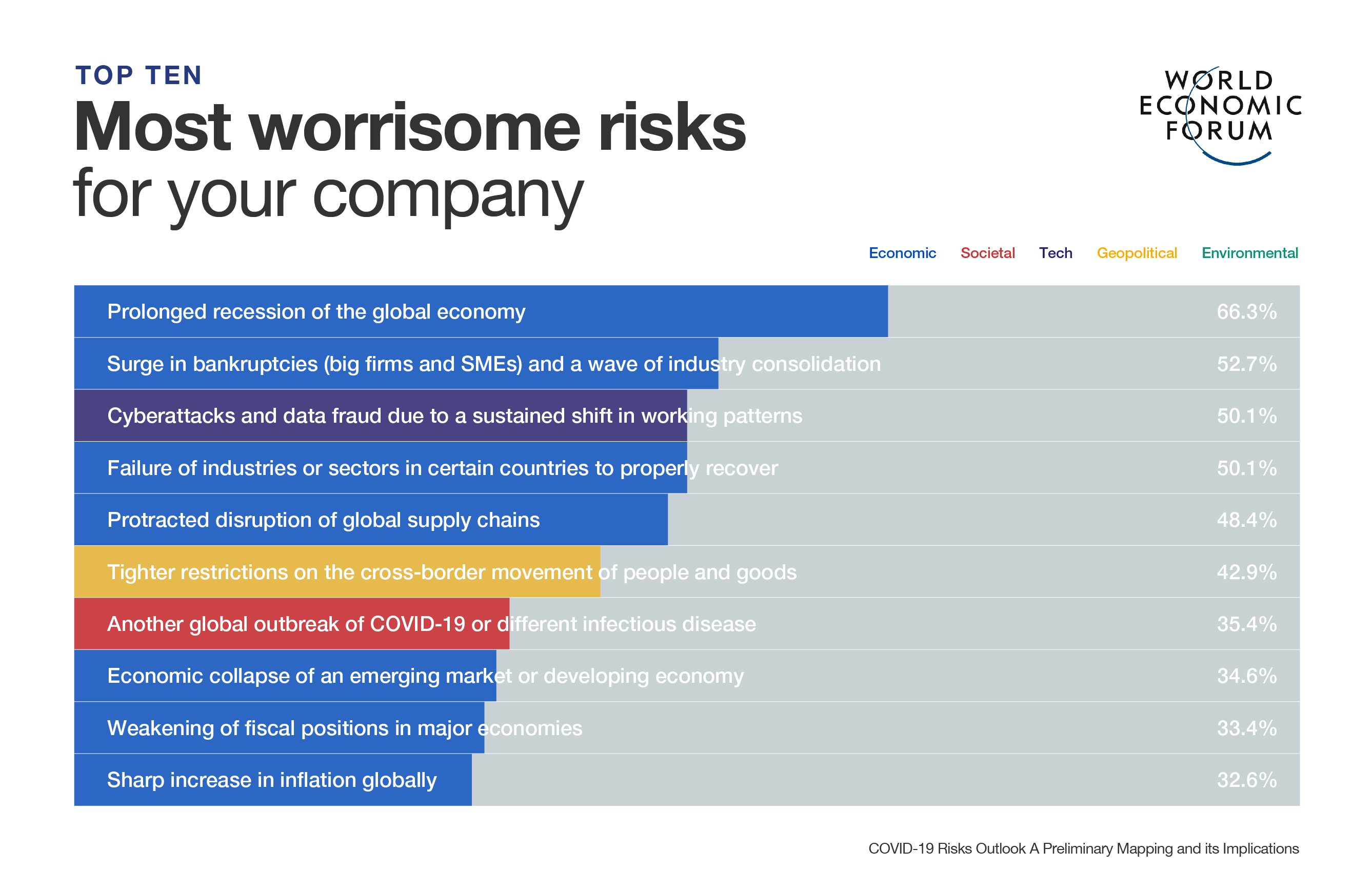 The lessons from COVID-19 are manifold – and there is much work ahead of us. Many within the business community have learned, albeit too late, that sustainable business and finance models, sustainable supply chains and stakeholder capitalism are key to withstanding market shocks.
If we don't take these lessons on board and rethink the role of business in society, we will fall into the same trap when the next crisis arises, be it financial, health, cyber or otherwise.
Now is the time to join forces and make sure that sustainability is at the heart of all our efforts to rebuild.