Several steps must be taken for reaching net zero by 2050, write three experts from the International Renewable Energy Agency.
Annual energy intensity improvements must rise from 1.2% in recent years to around 3%.
Electric vehicle sales need to grow from 4% to 100% of all vehicle sales.
Hydrogen demand needs to increase five-fold, from 120 Mt to 613 Mt.
Renewable power, electrification and circular economy play a key role.
The International Renewable Energy Agency (IRENA) launched a preview of its World Energy Transitions Outlook on the 16th of March 2021. Dolf Gielen, Ricardo Gorini and Gayathri Prakash of the IRENA Innovation and Technology Centre give insight into some of the initial findings.
World Energy Transitions Outlook, on reaching net zero by 2050
The preview of the World Energy Transitions Outlook provides details on how to reduce global CO2 emissions to net zero between now and 2050, in line with a 50% chance of staying within 1.5 degrees of warming by 2100, according to the Intergovernmental Panel on Climate Change (IPCC). This requires a steep and continuous downward CO2 emissions trajectory from today. The starting point is a remaining cumulative global energy and process CO2 emissions budget of 500 Gt. Policies in place (PES scenario[1]) will only yield a stabilisation of energy and process emissions, therefore, radical change is needed. The announcements for reaching net zero and carbon neutrality that cover 70-80% of global emissions must be translated into actionable strategies and policies.
The required energy transition is profound, as depicted in IRENA's 1.5C climate pathway:
Annual energy intensity improvements must rise from 1.2% in recent years to around 3%. Renewable power, electrification and circular economy have a key role to play in reducing energy intensity, on top of the conventional energy efficiency technologies.
Annual renewable energy share growth in primary energy needs to accelerate eightfold from recent years, for reaching net zero by 2050.
Renewable power generation capacity needs to grow from over 2 500 GW today to 27 500 GW by 2050, a growth of 840 GW per year, a four-fold increase of the annual capacity additions from recent years (around 200 – 250 GW);
Electric vehicle sales need to grow from 4% to 100% of all vehicle sales and electric vehicle stock needs to grow from 7 million in 2020 to 1.8 billion in 2050;
Hydrogen demand needs to grow from 120 Mt to 613 Mt in 2050, a five-fold increase for reaching net zero. The share of clean hydrogen needs to grow from 2% to 100%, with on average 160 GW electrolysers added every year between now and 2050 (from a base of 0.3 GW installed capacity in 2020). By 2050, around two-thirds of supply would be green hydrogen, one-third blue hydrogen;
The total primary supply of biomass needed to realise the energy transition to net zero emissions is just over 150 EJ, nearly a tripling of primary biomass use in 2018. Based on a detailed assessment of the sustainable biomass supply potential this seems feasible.
CO2 capture and storage (CCS) use needs to grow from 0.04 Gt per annum in 2020 to 7-8 Gt captured in 2050, with bioenergy with carbon capture and storage (BECCS) accounting for half for the total amount captured and stored. Each one of these steps is challenging, and all of them together must be put in place simultaneously in order to stay within the carbon budget and reach net zero.
The key energy transition strategy components are robust and in line with other energy scenarios and studies. Most of the technologies for a net zero energy system are available today and while technology cost must be reduced further and deployment can be accelerated through innovations, it is imperative to ramp up the deployment now. Over 90% of the solutions for reaching net zero by 2050 involve renewable energy through direct supply, electrification, energy efficiency, green hydrogen and BECCS. An important finding is that the trajectory for a 2-degree scenario and a 1.5-degree scenario is largely the same in terms of technology and strategies that are deployed. The policy implication is that the direction of efforts is robust. What matters is that we start now.
Cost reduction for reaching net zero
At least for the energy component, the analysis suggests that elimination of emissions is feasible between now and 2050, based on established technologies. However, it is important to continue cost reduction efforts in the coming years in order to further reduce costs and drive the pace of transition.
Renewables' share of primary energy supply must grow from 14% in 2018 to 74% in 2050, to meet the 1.5C scenario. Fossil fuel use will decline by more than 75% by 2050, with natural gas accounting for the bulk of remaining fossil fuel use. However, use of natural gas will most likely be limited to the production of "blue" hydrogen, coupled with carbon capture and storage technology, and some industrial processes and power generation.
Reaching net zero is affordable. Total energy sector investments increase from $98 trillion in the Planned Energy Scenario (PES) under current plans and planned policies to $131 trillion in the 1.5C scenario, a 34% growth. The types of investment change dramatically with energy transition investments growing from 56% to 83% of total investments and fossil fuel investments reduced accordingly. Annual energy investments would amount to $4.4 trillion per year over the next three decades. To put that number in perspective, global GDP amounted to $81 trillion in 2019 and GDP is projected to increase 2.5-fold by 2050.
The benefits of the energy transition exceed the cost. Benefits can be split into reduced fossil fuel supply cost and reduced externalities due to climate change mitigation and a reduction of local air pollution health impacts. The externalities are critical in this assessment. It points to the need for policy intervention to make the energy transition a reality, in order to internalise these externalities.
What's the World Economic Forum doing about the transition to clean energy?
Moving to clean energy is key to combating climate change, yet in the past five years, the energy transition has stagnated.
Energy consumption and production contribute to two-thirds of global emissions, and 81% of the global energy system is still based on fossil fuels, the same percentage as 30 years ago. Plus, improvements in the energy intensity of the global economy (the amount of energy used per unit of economic activity) are slowing. In 2018 energy intensity improved by 1.2%, the slowest rate since 2010.
Effective policies, private-sector action and public-private cooperation are needed to create a more inclusive, sustainable, affordable and secure global energy system.
Benchmarking progress is essential to a successful transition. The World Economic Forum's Energy Transition Index, which ranks 115 economies on how well they balance energy security and access with environmental sustainability and affordability, shows that the biggest challenge facing energy transition is the lack of readiness among the world's largest emitters, including US, China, India and Russia. The 10 countries that score the highest in terms of readiness account for only 2.6% of global annual emissions.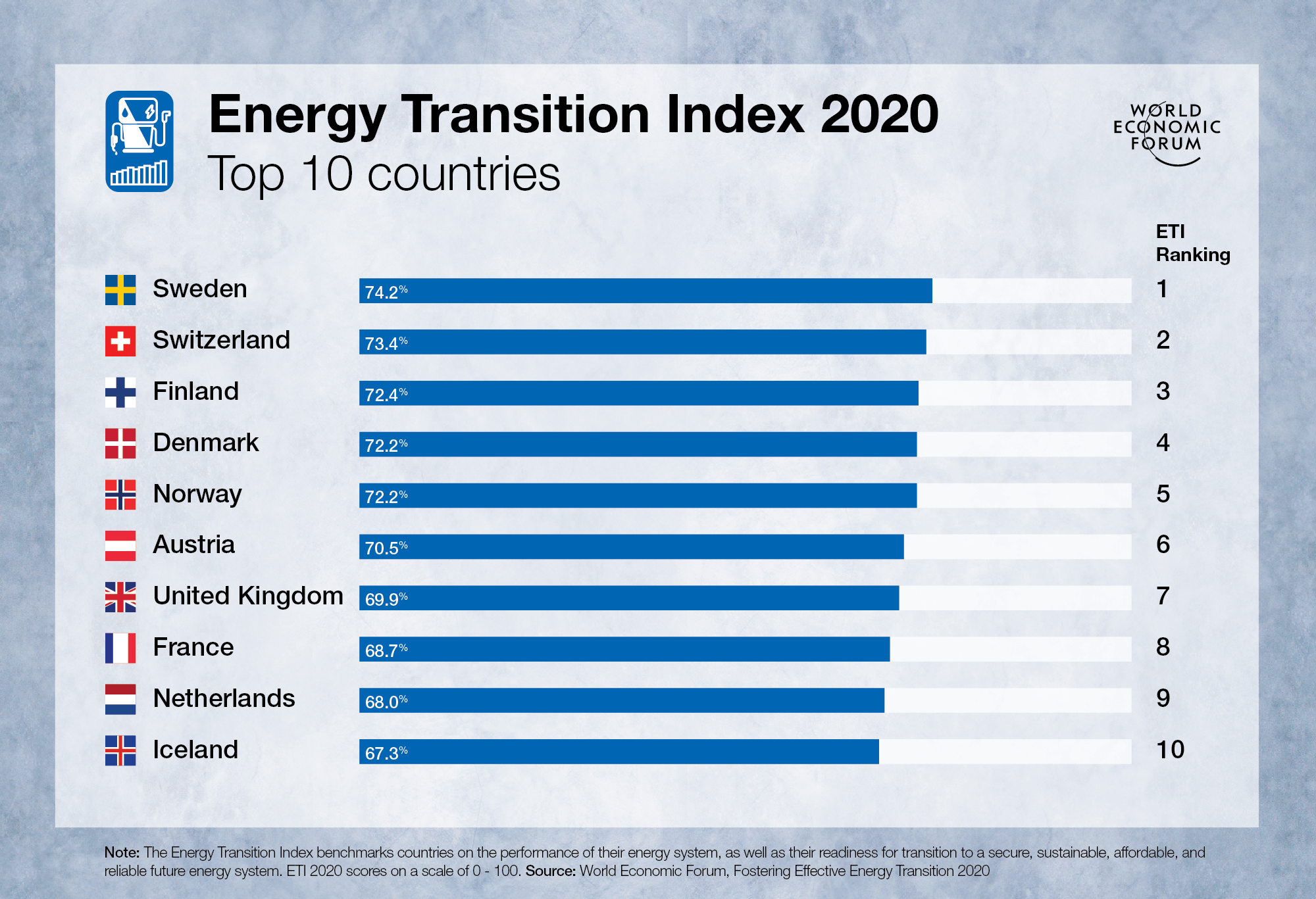 Additionally, the Mission Possible Platform (MPP) is working to assemble public and private partners to further the industry transition to set heavy industry and mobility sectors on the pathway towards net-zero emissions. MPP is an initiative created by the World Economic Forum and the Energy Transitions Commission.
Is your organisation interested in working with the World Economic Forum? Find out more here.
The findings
Reaching a net zero carbon future by 2050 may seem challenging, however, the analysis indicates that such a pathway is still feasible. But it requires a massive ramp-up of efforts. The transition trajectory is currently being elaborated further, including regional details and sector-specific strategies, as well as socio-economic impacts and financing strategies. The findings will be released later this year.
IRENA's Outlook shows that we need the highest levels of commitment and ambition, paired with strong international collaboration to enable a meaningful and rapid shift to a 1.5-degree course. 2021 is a pivotal year for energy. The United Nations Secretary-General will convene a high-level dialogue on Energy in September, and IRENA is honoured to co-lead the energy transition theme. Along with COP26 later in the year, these are important milestones for collective action for reaching net zero.