The G7 summit 2021 in the UK ended with pledges on COVID-19, tax and the environment.
A promised billion doses of COVID-19 vaccine was described by some as too little.
But President Joe Biden said the summit had been "extraordinarily collaborative".
The Group of Seven (G7) advanced economies met in Cornwall, UK in June 2021.
It was the first in-person meeting of the group since the pandemic began last year, and the first visit of US President Joe Biden to Europe.
2021 G7 Summit
1. A billion doses of COVID-19 vaccine
G7 leaders pledged to phase out coal-fired power generation at home and to end funding for new coal-burning power plants in the developing world. The leaders committed to offering developing nations $2.8 billion to help them switch to cleaner fuels.
What's the World Economic Forum doing about the transition to clean energy?
Moving to clean energy is key to combating climate change, yet in the past five years, the energy transition has stagnated.
Energy consumption and production contribute to two-thirds of global emissions, and 81% of the global energy system is still based on fossil fuels, the same percentage as 30 years ago. Plus, improvements in the energy intensity of the global economy (the amount of energy used per unit of economic activity) are slowing. In 2018 energy intensity improved by 1.2%, the slowest rate since 2010.
Effective policies, private-sector action and public-private cooperation are needed to create a more inclusive, sustainable, affordable and secure global energy system.
Benchmarking progress is essential to a successful transition. The World Economic Forum's Energy Transition Index, which ranks 115 economies on how well they balance energy security and access with environmental sustainability and affordability, shows that the biggest challenge facing energy transition is the lack of readiness among the world's largest emitters, including US, China, India and Russia. The 10 countries that score the highest in terms of readiness account for only 2.6% of global annual emissions.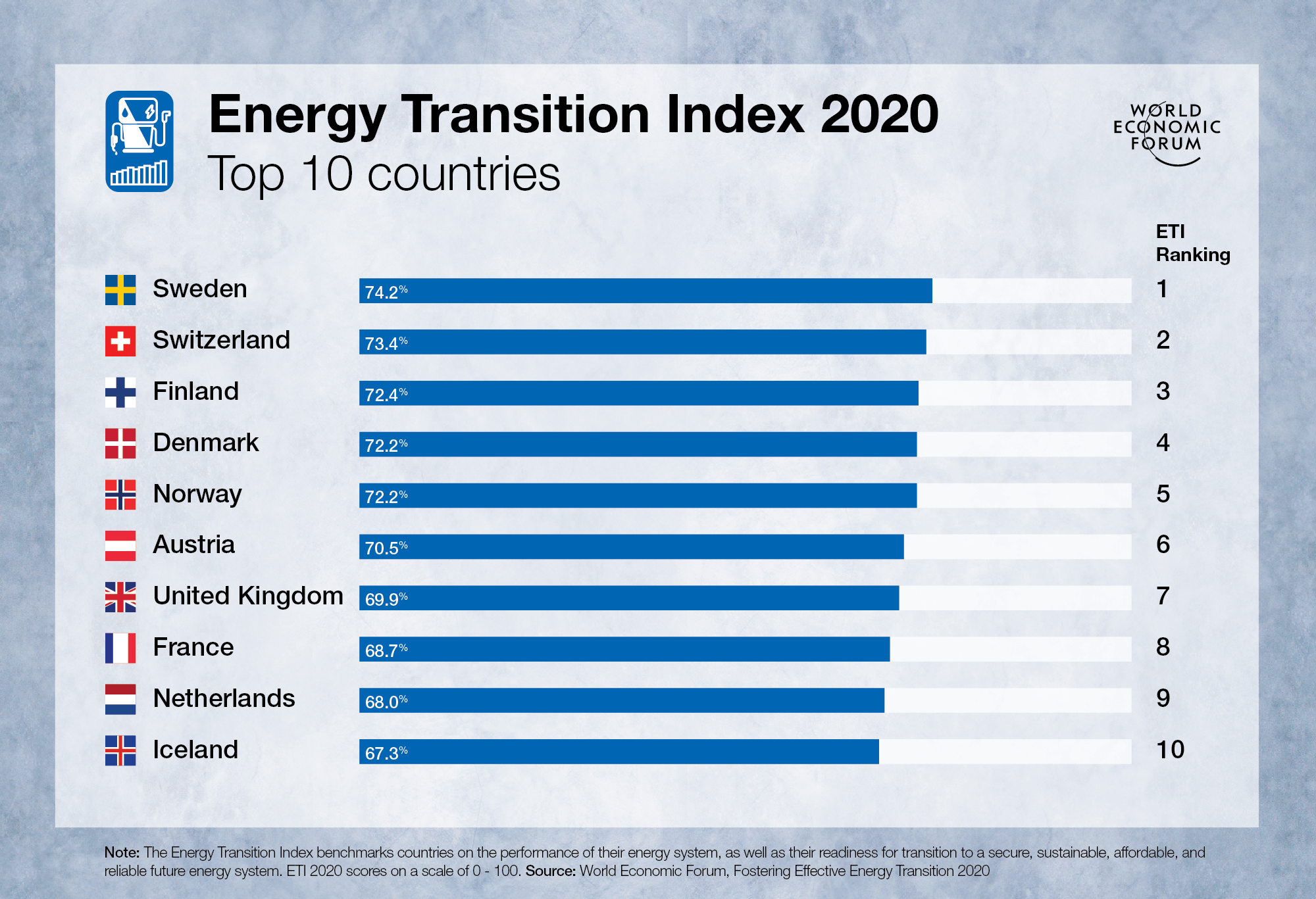 Additionally, the Mission Possible Platform (MPP) is working to assemble public and private partners to further the industry transition to set heavy industry and mobility sectors on the pathway towards net-zero emissions. MPP is an initiative created by the World Economic Forum and the Energy Transitions Commission.
Is your organisation interested in working with the World Economic Forum? Find out more here.
"America is back at the table," declared US President Joe Biden as he sought to consign some of the friction between his predecessor and the world community to the political past. He also said the summit had been "extraordinarily collaborative".
"It's great to have a U.S. president who's part of the club and very willing to cooperate," French President Emmanuel Macron told Reuters. For his part, President Biden cast the G7 meeting as being in a "contest with autocratic governments" as he spoke out on human rights.
What's the World Economic Forum doing about tax?
The World Economic Forum has published its Davos Manifesto 2020, calling on business leaders to sign up to a series of ethical principles, including:
"A company serves society at large through its activities, supports the communities in which it works, and pays its fair share of taxes."

Additionally, the Forum's Trade and Global Economic Interdependence Platform provides a vital link between trade and tax communities to enable coherent policymaking which responds to societal needs and reflects business realities.
Taking its lead from OECD-led reforms, the work brings technical issues to a high-level audience and enables honest dialogue among diverse stakeholders on polarizing topics. You can find relevant publications here.
4. Tech giants and tax havens targeted
Leaders also moved to help protect the global financial system from the impact of climate change by agreeing rules to require companies and financial institutions to disclose the extent to which their business is exposed to climate change risks.