This round-up brings you everything you need to know about the COP26 climate summit, climate change and greenhouse gas emissions targets.
Top stories: a new draft document published on Friday morning weakens the language around phasing out fossil fuels; 'Beyond Oil' alliance adds six new members; negotiators in final push to secure a deal to stop global warming from becoming catastrophic.
1. Key COP26 stories
After nearly two weeks of talks, the almost 200 countries represented at COP26 remain at odds over a range of issues - from how rich nations should compensate poor ones for damage caused by climate-driven disasters to how often nations should be required to update their emissions pledges.
The head of (Amazon chief Jeff Bezos' $10 billion) Bezos Earth Fund has joined calls for governments to take on more of the risk of financing climate action, and help the world's development banks become more flexible in their approach. Policymakers at the UN climate conference are pushing private sector investors to do more on climate change.

The UN's development chief has warned that the world is far off the emissions cuts needed, but progress is being made thanks to the 2015 Paris Agreement. Achim Steiner said people should be impressed the summit was happening amid a global pandemic. That is a testament to the "resilience" of the Paris pact and the UN climate process as "a vital platform".
2. New draft deal keeps up pressure for action
A new draft agreement drawn up for the UN climate summit in Glasgow on Friday presses countries to be more ambitious in their plans to tackle global warming, but also walks a fine line between the demands of developing and richer nations.
While retaining its core demand for countries to set tougher climate pledges next year, the draft uses softer language than a previous draft text in asking nations to phase out fossil fuel subsidies.
The new draft, which attempts to ensure the world will tackle global warming fast enough to stop it becoming catastrophic, is a balancing act - trying to take in the demands of both climate-vulnerable nations and large economies reliant on fossil fuels.
The retention of a pledge for countries to upgrade their climate targets in 2022 will be welcomed by poorer nations that want more action to tackle worsening floods and wildfires and rising sea levels.
But it was couched in weaker language than a previous text and failed to offer the rolling annual review that some developing countries have pushed for. It also says the upgrade of pledges should take into account "different national circumstances", referring to the differences between rich and poor countries.
That could placate some developing countries, which say it is unfair to expect them to quit fossil fuels and cut emissions at the same speed as the rich countries whose emissions are largely responsible for causing climate change.
On fossil fuels, the draft included two words that dilute an earlier version, which had boldly stated that the world should pledge to phase out subsidies for fossil fuels in general.
But it would still be a first for any UN climate summit to have fossil fuels explicitly mentioned in a final agreement.
Now the text includes the word "unabated" before coal, and the phase-out of "inefficient" subsidies for fossil fuels. Unabated coal generation is where there is no technology in place to remove resulting carbon dioxide emissions. Arab nations, many of which are big producers of oil and gas, had objected to the wording in the earlier draft.
The paragraph now reads: "[COP26] calls upon Parties to accelerate the development, deployment and dissemination of technologies and the adoption of policies for the transition towards low-emission energy systems, including by rapidly scaling up clean power generation and accelerating the phase-out of unabated coal power and of inefficient subsidies for fossil fuels."
3. 'Beyond Oil' alliance adds six new members
A fledgling international alliance to halt new oil and gas drilling added six members on Thursday during the UN climate conference, but did not get the support of any major fossil fuel producers or the British government, host of the talks.
The absence of more widespread backing reflects the difficulty of imposing blanket policies to end production of fossil fuels even as countries agree that the emissions from burning them must be greatly reduced.
France, Greenland, Ireland, Sweden, Wales and the Canadian province Quebec joined the Beyond Oil and Gas Alliance (BOGA), formed by Denmark and Costa Rica in September.
None of the members, which pledge to stop handing out drilling permits and eventually to ban oil and gas production in their territories, has substantial production.
Describing itself as a group of "first movers", BOGA is seeking to ratchet up pressure to end fossil fuel supply and said it hoped the additions to its alliance would open the door to other nations to join.
"It is our ambition that this will be the beginning of the end of oil and gas," Danish climate minister Dan Jorgensen told Reuters. "We hope that this will inspire others."
He told reporters he was "in close dialogue" with Scotland, where the UN talks are taking place, and in whose waters most of Britain's oil and gas is concentrated. Britain's central government is in charge of oil and gas permits.
Among the major oil and gas producers conspicuous by their absence were Russia, Saudi Arabia and the United States.
What's the World Economic Forum doing about the transition to clean energy?
Moving to clean energy is key to combating climate change, yet in the past five years, the energy transition has stagnated.
Energy consumption and production contribute to two-thirds of global emissions, and 81% of the global energy system is still based on fossil fuels, the same percentage as 30 years ago. Plus, improvements in the energy intensity of the global economy (the amount of energy used per unit of economic activity) are slowing. In 2018 energy intensity improved by 1.2%, the slowest rate since 2010.
Effective policies, private-sector action and public-private cooperation are needed to create a more inclusive, sustainable, affordable and secure global energy system.
Benchmarking progress is essential to a successful transition. The World Economic Forum's Energy Transition Index, which ranks 115 economies on how well they balance energy security and access with environmental sustainability and affordability, shows that the biggest challenge facing energy transition is the lack of readiness among the world's largest emitters, including US, China, India and Russia. The 10 countries that score the highest in terms of readiness account for only 2.6% of global annual emissions.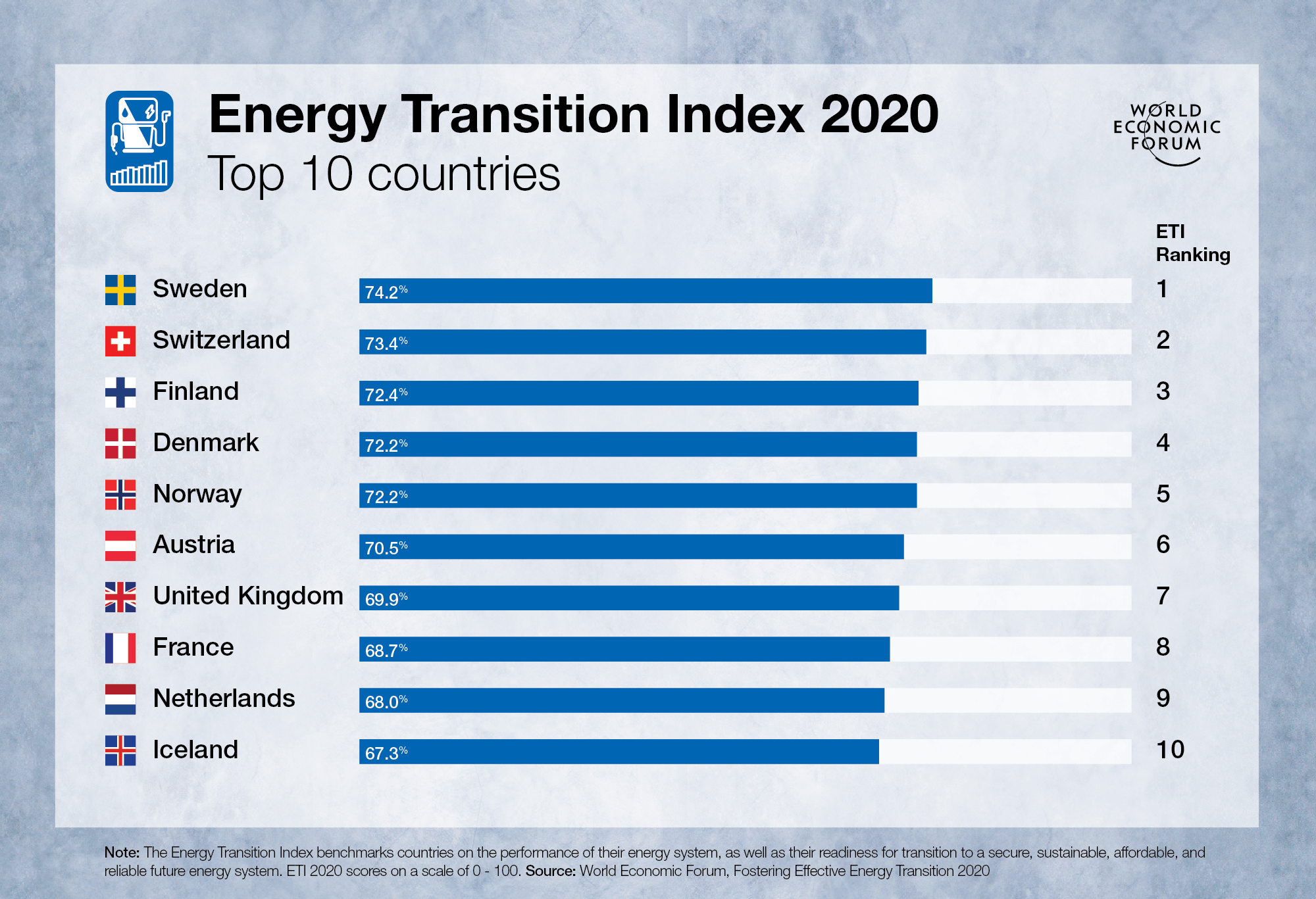 Additionally, the Mission Possible Platform (MPP) is working to assemble public and private partners to further the industry transition to set heavy industry and mobility sectors on the pathway towards net-zero emissions. MPP is an initiative created by the World Economic Forum and the Energy Transitions Commission.
Is your organisation interested in working with the World Economic Forum? Find out more here.