The climate crisis demands urgent action across all sectors to meet the Paris Agreement targets.

First Movers Coalition members understand that by investing now in clean technology they can accelerate and scale-up decarbonization efforts.

President Biden's administration is committed to helping reach these ambitious technology goals through a whole-of-government strategy.
The urgency of the climate crisis and its existential threat to the planet require an all-hands-on-deck approach. In concert with ambitious government policies, private sector leadership that recognizes and seizes the enormous opportunities in this transition is critical for the world to swiftly reach net-zero emissions. The highest-leverage climate action that companies can take is to dramatically accelerate the energy transition in the sectors of the global economy that urgently need clean solutions to reach commercial scale.
That's why last year at the COP26 meeting in Glasgow, President Biden and the World Economic Forum launched the First Movers Coalition. Leading global companies are sending the biggest demand signal in history for technology innovation across the so-called "hard-to-abate" sectors.
These sectors, which include heavy industry and long-distance transportation, already represent a third of global carbon emissions today and could produce a majority by mid-century.
Opportunities for hard-to-abate sectors
These companies recognize that joining the First Movers Coalition represented a dual opportunity to take action on climate and seize competitive advantage at the same time. Thirty-five companies, representing $6 trillion in market value, made ambitious pledges across steel, aviation, trucking and shipping.
These are precise purchasing commitments that will help bring emerging clean technologies to market by 2030. By creating early market demand for these technologies, companies can secure access ahead of their competitors to clean supply chains and next-generation technology.
The technology successes that shape the modern world inspired the approach of the First Movers Coalition. NASA's commitment to purchase next-generation spacecraft fuelled the innovations that made private commercial space flight possible.
Similarly, purchasing commitments by governments and non-governmental actors alike accelerated the introduction of life-saving COVID-19 vaccines. The First Movers Coalition is bringing that strategy to the hard-to-abate sectors of the energy transition.
The Founding Members of the First Movers Coalition are already catalysing technology innovation, from announcing purchase orders for new zero-carbon ships to buying electric heavy-duty trucks.
For example, First Movers Coalition steel commitment companies pledged that by 2030, 10% of new purchases will be green steel produced with virtually no carbon emissions. Only one Swedish plant currently produces zero-emissions steel today, using green hydrogen instead of fossil fuels.
Now, major automakers and energy developers are ensuring investors and innovators can rely on this demand signal to build additional clean steel plants, knowing they will have ready buyers for their output.
What's the World Economic Forum doing about the transition to clean energy?
Moving to clean energy is key to combating climate change, yet in the past five years, the energy transition has stagnated.
Energy consumption and production contribute to two-thirds of global emissions, and 81% of the global energy system is still based on fossil fuels, the same percentage as 30 years ago. Plus, improvements in the energy intensity of the global economy (the amount of energy used per unit of economic activity) are slowing. In 2018 energy intensity improved by 1.2%, the slowest rate since 2010.
Effective policies, private-sector action and public-private cooperation are needed to create a more inclusive, sustainable, affordable and secure global energy system.
Benchmarking progress is essential to a successful transition. The World Economic Forum's Energy Transition Index, which ranks 115 economies on how well they balance energy security and access with environmental sustainability and affordability, shows that the biggest challenge facing energy transition is the lack of readiness among the world's largest emitters, including US, China, India and Russia. The 10 countries that score the highest in terms of readiness account for only 2.6% of global annual emissions.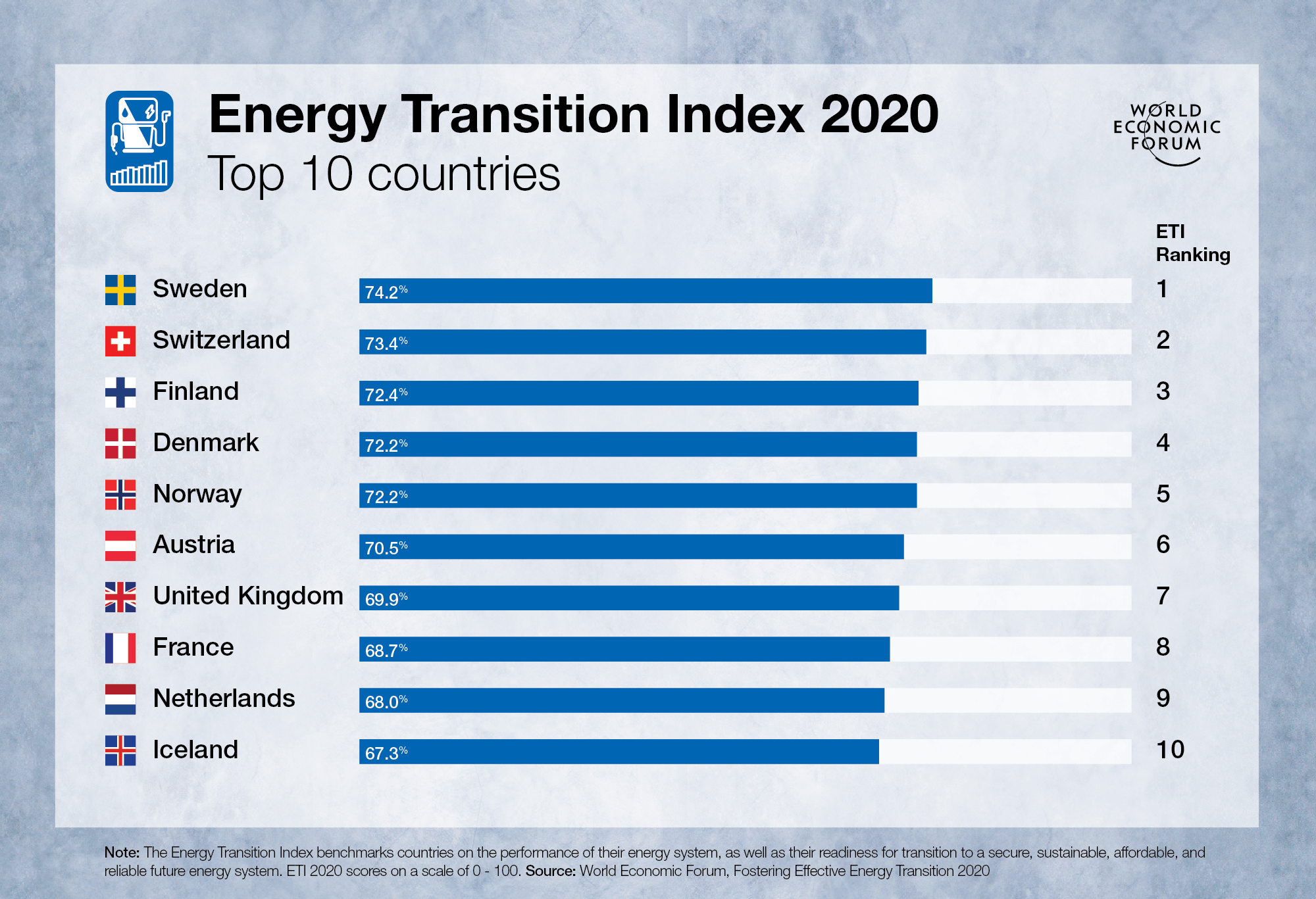 Additionally, the Mission Possible Platform (MPP) is working to assemble public and private partners to further the industry transition to set heavy industry and mobility sectors on the pathway towards net-zero emissions. MPP is an initiative created by the World Economic Forum and the Energy Transitions Commission.
Is your organisation interested in working with the World Economic Forum? Find out more here.
That innovation is badly needed. In aviation, for example, by 2030 the companies that make the First Movers Coalition aviation commitment will displace 5% of their conventional fuel with technologies and fuels that reduce carbon emissions by 85%.
This is unprecedented in the aviation sector, encouraging innovators to scale promising approaches spanning clean synthetic fuels, next-generation biofuels and zero-emission propulsion. Bringing these new technologies to market in this decade is absolutely critical to driving down the sector's emissions towards zero.
Creating early markets to scale-up breakthrough technologies
The companies that have joined the First Movers Coalition recognize that there may initially be a premium cost for these emerging technologies. But they also recognize that creating early markets to scale up breakthrough technologies is by far the most cost-effective way for companies to speed the global energy transition.
Companies need only devote a small fraction of their total purchasing power to make a critical First Movers Coalition demand commitment. As these technologies gain a market foothold, their costs will plummet, erasing the green premium and paving the way for massive global technology deployment.
Though they may be first, the companies that join the First Movers Coalition aren't alone. President Biden's administration is committed to helping reach these ambitious technology goals through a whole-of-government strategy.
Earlier this year, the President announced that the Departments of State, Energy and Commerce, as well as the US International Development Finance Corporation, are all pursuing initiatives to partner with the First Movers Coalition.
President Biden's Bipartisan Infrastructure Law will invest tens of billions of dollars in supplying the clean technologies that companies have committed to buy, and departments such as the Energy Department's Loan Programs Office are looking to invest further billions of dollars in clean technology projects in hard-to-abate sectors.
Outside of the government, First Movers Coalition companies benefit from close collaboration with Bill Gates' Breakthrough Energy Catalyst, the primary implementation partner of the First Movers Coalition, as well as the Forum, the Mission Possible Partnership, and many other organizations.
This is a remarkable period of clean technology innovation. In 2021, climate technologies raised a record $147 billion in funding from venture capitalists, corporations and institutional investors. Public policy and private investment are aligning to speed the development of critical technology solutions. Companies that join the First Movers Coalition can seize the opportunity to ride this wave, demonstrate climate leadership and secure early access to the clean supply chains of the future.