Data shows the pandemic is hurting the more vulnerable in society.
Business continuity will depend on strengthening communities in which you operate.
The pandemic has encouraged partnerships that prioritize impact over competitive business considerations.
As governments across the world grapple with how to handle the health, economic and societal consequences of the COVID-19 pandemic, the private sector is divided on its role coming out of the crisis. In a recent survey of Fortune 500 CEOs, 28% thought that trust in capitalism will increase as a result of the business response to COVID-19, while 24% disagreed.
APCO Worldwide's research on consumer perceptions in the pandemic shows that 74% of people "don't see a single company or corporate leader standing out". Given the new operating environment and accelerated pace of change sweeping our society, what is the role of business in helping Build Forward after COVID-19?
This question must be examined in the context of the growing number of challenges in the ecosystems in which businesses operate. Beyond the staggering unemployment statistics, there are more concerning trends of the pandemic hurting the more vulnerable: hourly workers that have more limited career mobility; graduating students – already dubbed a "lost generation" – facing the most severe economic downturn since World War II; and women, who will see a reversal in the trend towards closing the workplace gender gap.
A recent study from London's UCL found that women with children are 47% more likely than men with children to have permanently lost or quit their jobs since February. They are 14% more likely to have been furloughed. Female workers in the informal economy and SMEs across emerging markets will suffer the hardest blow, according to UNIDO. At a time when the world is moving everything online, nearly 32 million people in the United States, one of world's most advanced economies, cannot use a computer effectively.
While we are experiencing the most significant drop in CO2 emissions since the beginning of the century, many fear that this will be quickly reversed, as climate activism and mobilization has taken a back seat during the pandemic and re-opening around the world will focus on rapidly increasing production and output.
Industry leaders who are proactive in addressing the needs of all of their stakeholders are seeing a faster rate of financial recovery than their sector peers. A Blackrock report shows companies with high ESG ratings have been more resilient during the recent market downturn. However, the impetus for action should be broader than bottom-line considerations. About a decade ago, PWC's CEO famously said that "business cannot be successful in a failed world". Shortly after the outbreak of the coronavirus, Mastercard's CEO joined forces with the Gates Foundation and the Wellcome Trust to invest $125 million in the Therapeutic Accelerator. When asked on WEF's COVID-Action Platform about their rationale to support this initiative, Ajay Banga said Mastercard's mission was to connect and power an inclusive and digital economy that benefits everyone… but that there was no inclusive without an economy in place. That same March, Jamie Dimon called on businesses to "think, act and invest for the common good".
The challenges we face today transcend industries and national borders. Business has a unique role to play today, not building back, but building forward towards a more resilient society that can withstand future cataclysms. There are a few ways companies can contribute towards a smarter recovery:
1. Assess and lean-in to your organizational strengths
Businesses can have an oversized impact – through products they produce, global infrastructure, supply chains and reach, employee and customer base and comparative industry know-how. At the onset of COVID, Unilever announced its partnership with the UK Government Department for International Development (DFID) to reach a billion people worldwide, providing 20 million hygiene products in the developing world, including in areas where there is little or no sanitation, drawing on its global reach and supply chains.
Accenture and Service Now used their technology platforms and reach to launch People + Work Connect, an innovative platform facilitating continued employment, helping people get back to work during the pandemic and activating direct competitors like ADM and Cargill, Nordstrom and Walmart. Microsoft's Criminal Justice Reform Initiative, together with Urban Institute, Emerson College and state-level Departments of Corrections, is focusing on a data-centric approach to understand deficiencies in the US criminal justice system.
2. Be ambitious and creative in defining where you can have the broadest impact
Problems from climate, to inequality, to unemployment are exacerbated by this crisis and business continuity will depend on strengthening the communities in which you operate. MIT Solve, a marketplace for social innovation, routinely brings together technology entrepreneurs and a network of public, private and philanthropic leaders around global challenges. One of the four challenges this year is explicitly dedicated to new jobs and inclusive entrepreneurship. PayPal is focusing their efforts on financial health and equality of their employees, defining net disposable income and setting a higher bar for wages and benefits.
What is the World Economic Forum doing to manage emerging risks from COVID-19?
The first global pandemic in more than 100 years, COVID-19 has spread throughout the world at an unprecedented speed. At the time of writing, 4.5 million cases have been confirmed and more than 300,000 people have died due to the virus.
As countries seek to recover, some of the more long-term economic, business, environmental, societal and technological challenges and opportunities are just beginning to become visible.
To help all stakeholders – communities, governments, businesses and individuals understand the emerging risks and follow-on effects generated by the impact of the coronavirus pandemic, the World Economic Forum, in collaboration with Marsh and McLennan and Zurich Insurance Group, has launched its COVID-19 Risks Outlook: A Preliminary Mapping and its Implications - a companion for decision-makers, building on the Forum's annual Global Risks Report.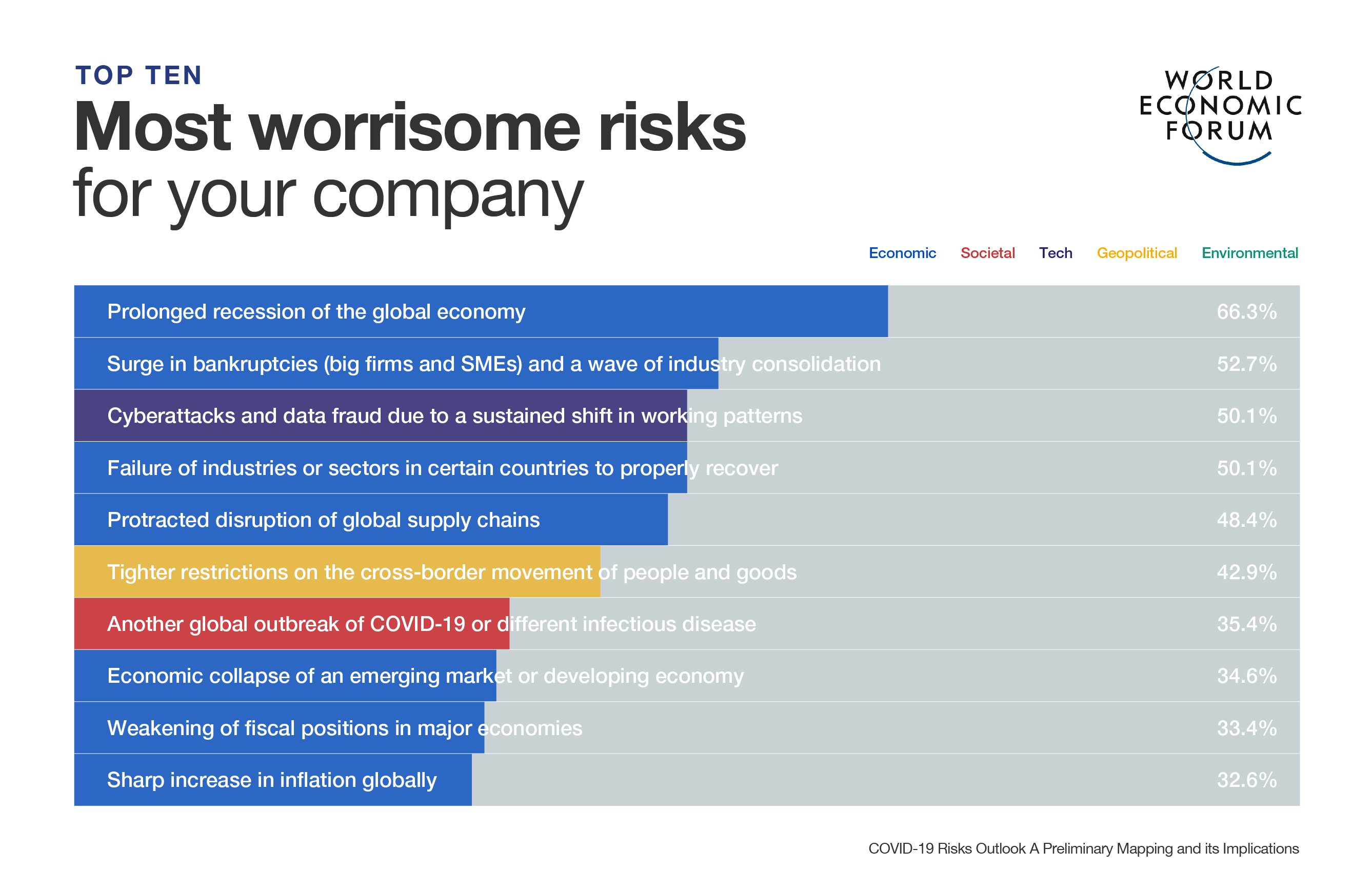 A group of technology companies sought to address the pandemic plight of their employees by launching Invest In Parents, an initiative focused on helping working parents, particularly working mothers, to participate, remain and thrive in the workforce. Intel, Google, Iberdrola and Nestlé all recently reiterated their green energy and climate action commitments.
3. Unleash new multiplier partnerships
COVID-19 has shown not only rapid mobilization across all sectors, but also a new wave of multiplier partnerships, that prioritize impact over competitive business considerations and create innovative synergies. From Takeda joining forces with its competitors in developing plasma solutions for COVID-19 treatment, to Ventec Life Systems and GM producing critical care ventilators – these types of partnerships need to become the new norm and will be accelerators for impact.
This is a defining moment of our time. Business will have a pivotal role and responsibility in driving recovery and building a greener, fairer and smarter world. It is time to build forward.