Companies should analyze supply chains now to mitigate against future disruptions.
Trade wars, global politics and national policies will influence the future of supply chain structures.
Investment in technology and considerations on sustainability in the supply chain will be key.
The COVID-19 pandemic has changed the business environment for many organizations around the globe, and has highlighted the importance of being able to react, adapt and set up crisis management mechanisms in order to weather situations of uncertainty. As the acute restrictions and lockdowns created many urgent situations that required immediate attention in the early days of the pandemic, many companies have now begun to move to a "recovery mode" and have started planning for the longer term. As companies seek to strengthen operations and business resilience, the importance of supply chain resilience and risk management is more apparent than ever.
What have we seen happen?
Around the world, many companies are hugely reliant on production and supplies in China, Southeast Asia and other low-cost jurisdictions. In recent years, broad global developments have forced these companies to rethink their supply chains and their stability and reliability for an uncertain future. This is not just in relation to COVID-19 but many other externalities and government actions through the world, which have begun impacting supply chains, such as the increased risk of trade wars, trends of nationalism and protectionism, issues of sustainability and human rights considerations.
The overall impact of the outbreak and the resulting emergency measures on international trade resulting from COVID-19 remain to be seen. However, it is clear companies have been faced with substantial business and operational disruptions, which has included everything from mitigating the effects of reduced supply, to managing disruptions to logistics suppliers, and indeed hurdles in meeting their own contractual obligations to customers. Baker McKenzie recently produced a podcast on shock-proofing supply chains, which covers many of these hurdles in detail.
While many businesses have been nimble and ready to adapt to change, companies that have not already done so should prioritize analyzing their supply chains now, to understand where they might need to make changes or take action to mitigate against future disruptions. Considerations should include reviewing contractual obligations, assessing force majeure clauses, tax and employment implications of changes, relocation costs, entry and visa issues for staff, exit possibilities, as well as the option of swiftly reversing changes if the situation stabilizes or if new developments require the supply chain to adapt quickly.
COVID-19 has presented a unique situation in which to observe how these various systems and processes respond to acute severe stress and change. It has also shone a spotlight on the importance of investing in supply chain resilience to build stronger long-term operations. As we move into the future, it is vital to use what has been learned from recent events to prepare for the future.
What can we expect to see?
Over the past decades, the discussion around optimizing supply chains has focused primarily on cost efficiency and commercial best outcomes. However, as recent history has demonstrated, future supply chains will need to begin factoring resilience and adaptability into their calculations. Before the COVID-19 pandemic, some companies began anticipating this next evolution, but this crisis has exposed those weaknesses in the modern supply chain, such that many are looking at what to do next. Such decisions should of course not only focus on the supply side patterns, but must also consider that demand patterns may look different going forward – the key here is to have a holistic approach and ensure that many different perspectives are considered.
Trade wars, global politics and national policies will influence the future of supply chain structures
The global supply chain had begun responding to US-China tensions and we can expect the disruption caused by COVID-19 to accelerate the pace of this response. Trade analytics show China lost global export market share at an accelerated pace in 2019, as companies moved to other countries. We have seen low-cost production moving mainly to Mexico and Vietnam. Together, the two countries have grown their market across the consumer goods and technology, media, and telecoms (TMT) sectors to 12% and 9% by 2019, largely at the expense of China. Vietnam's clothing and smartphone exports, as well as Mexico's automobile parts and computer exports, all gained as well.
There is no simple substitute for China. The country accounts for 60% of global consumer goods exports and 41% of global TMT exports. However, we expect companies will be increasingly considering China +1 strategies. Where other countries will benefit from supply chain investments will depend largely on their own investments to boost manufacturing capability as well as provide attractive offerings for land, labour and logistics. At the same time, continued efforts to conclude free trade agreements (FTAs) could further impact where and how businesses seek to restructure their supply chains.
Investment in technology and considerations on sustainability in the supply chain will be key
As supply chains are reviewed, developments in technology and sustainability should also be considered. The COVID-19 pandemic has shown the many different ways business can continue to effectively communicate and manage within a remote working environment, which many companies are likely to leverage going forward. Indeed, those operations with stronger digital infrastructure have fared better in the COVID-19 pandemic than those without.
Meanwhile, advances in artificial intelligence and new technologies, such as blockchain, may present opportunities for further supply chain innovation. Furthermore, as supply chains are arguably a mechanism by which businesses can create positive impact in the world, those looking to change their supply chains should consider how to integrate elements and practices around human rights including labour rights, environmental protection, product sustainability, inclusive economic growth and ethical business practices.
What is the World Economic Forum doing to manage emerging risks from COVID-19?
The first global pandemic in more than 100 years, COVID-19 has spread throughout the world at an unprecedented speed. At the time of writing, 4.5 million cases have been confirmed and more than 300,000 people have died due to the virus.
As countries seek to recover, some of the more long-term economic, business, environmental, societal and technological challenges and opportunities are just beginning to become visible.
To help all stakeholders – communities, governments, businesses and individuals understand the emerging risks and follow-on effects generated by the impact of the coronavirus pandemic, the World Economic Forum, in collaboration with Marsh and McLennan and Zurich Insurance Group, has launched its COVID-19 Risks Outlook: A Preliminary Mapping and its Implications - a companion for decision-makers, building on the Forum's annual Global Risks Report.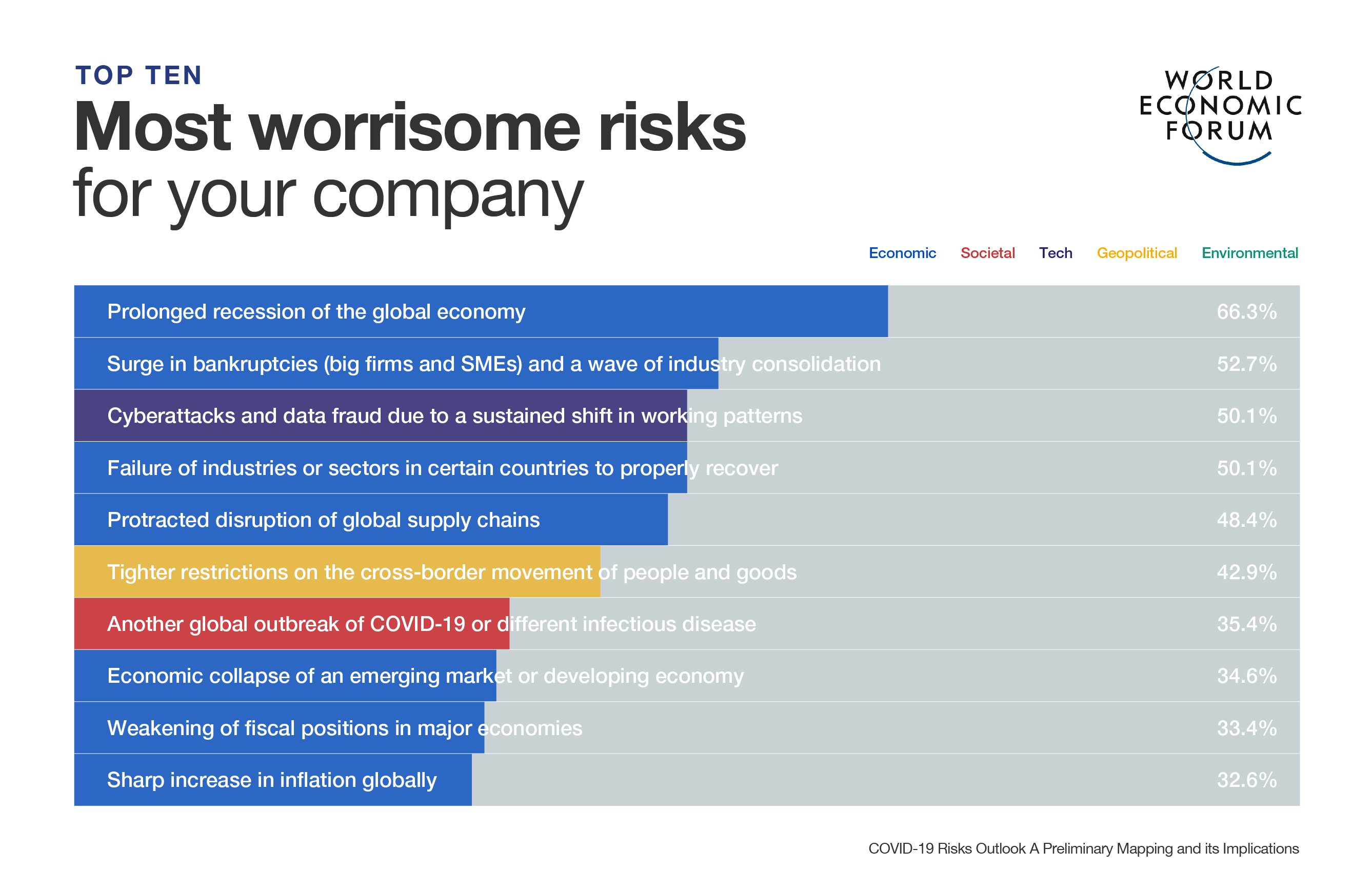 Radically changing an existing supply chain is not as easy as it may sound, as creating a robust and secure supply chain will still need to balance the demands for cost efficiency. At the same time, new logistics considerations may also have an impact on supply chains and the changes thereto. In the near term, it is expected that companies will begin seeking out a more diversified supplier base, while looking to develop a flexible, but cost efficient, supply chain.
For the longer term, however, companies will need to undertake a more holistic analysis, which may lead to more drastic changes, such as moving supply chains nearby, or to different countries, as well as increasing the digitalizing of supply chains, with a view of creating a more sustainable operation for the future. A holistic analysis should be based on facts and include the modelling and testing of different scenarios. Change scenarios should also include a contingency plan that provides for the possibilities of having to quickly revert and adjust elements of the supply chain.