• Eighty million displaced people worldwide are among those most at risk during the coronavirus pandemic.
• The private sector has a key role to play in helping to provide refugees with aid and education.
• Refugees' resilience provides an example to follow in dealing with crises.

Refugees are no strangers to crises. Their difficult journeys to flee violence and persecution and rebuild their lives in an unfamiliar place have made them resourceful and resilient, and acutely aware of the importance of solidarity to create a better future for themselves and their loved ones.
This World Refugee Day (20 June), I want to bring special attention to the refugees working to fight against COVID-19. There are refugee health workers on the frontlines, tending to the sick alongside their peers in host communities. In refugee camps, where people are more at risk of the virus due to overcrowding and fragile healthcare facilities, refugees are also volunteering their efforts. In one week, Samir, a 24-year-old refugee from the Democratic Republic of the Congo, and his team sewed 300 masks for people at Kakuma camp in Kenya. In Angola, a group of Congolese refugees started a blog to raise awareness about COVID-19.
There are many more inspiring stories such as these. As we celebrate the courage and solidarity of refugees who are giving back to their communities, we cannot forget all the challenges they face.
COVID-19 respects no boundaries. Everyone is at risk. Some of the most at risk, however, are the nearly 80 million displaced people worldwide. Eighty percent of them are in countries or territories affected by acute food insecurity and malnutrition. Imagine going through this crisis without access to soap, clean water or enough food. No hope of isolating your family because you don't have a home to stay safely inside. That's the reality for millions of refugees.
Not only that, the pandemic has compounded existing challenges such as poverty, food insecurity, discrimination, and access to health services, livelihoods and education. COVID-19 is a new emergency on top of existing ones.
Since I started as High Commissioner, I have seen the valuable contributions made by our private sector partners, which have transformed the lives of refugees and the communities hosting them. Innovative businesses have worked with us to overcome barriers and develop solutions. The COVID-19 crisis has shown us that we need further collaboration to address this new challenge. We each have a role to play. Everyone can make a difference, and every action counts.
There are many ways to help. Businesses can provide support on logistics, transportation and supply to deliver humanitarian aid, or employ refugees, which is a win-win, especially for sectors with increased labour demand due to COVID-19. Ensuring continued access of refugee children to education is also a priority, and support is needed in areas such as connected learning. Private partners can also support cash assistance programmes to help cover basic needs. Financial service providers can offer access to credit, savings and insurance.
We can all use our voices and our communication channels to raise awareness and stand in solidarity with those who need it most. Together, we have the vital task of ensuring that we support the protection of people forced to flee, counter harmful stories rooted in prejudice, and help mobilize public- and private-sector support. We all have a role to play in shaping the narrative.
What is the World Economic Forum doing to manage emerging risks from COVID-19?
The first global pandemic in more than 100 years, COVID-19 has spread throughout the world at an unprecedented speed. At the time of writing, 4.5 million cases have been confirmed and more than 300,000 people have died due to the virus.
As countries seek to recover, some of the more long-term economic, business, environmental, societal and technological challenges and opportunities are just beginning to become visible.
To help all stakeholders – communities, governments, businesses and individuals understand the emerging risks and follow-on effects generated by the impact of the coronavirus pandemic, the World Economic Forum, in collaboration with Marsh and McLennan and Zurich Insurance Group, has launched its COVID-19 Risks Outlook: A Preliminary Mapping and its Implications - a companion for decision-makers, building on the Forum's annual Global Risks Report.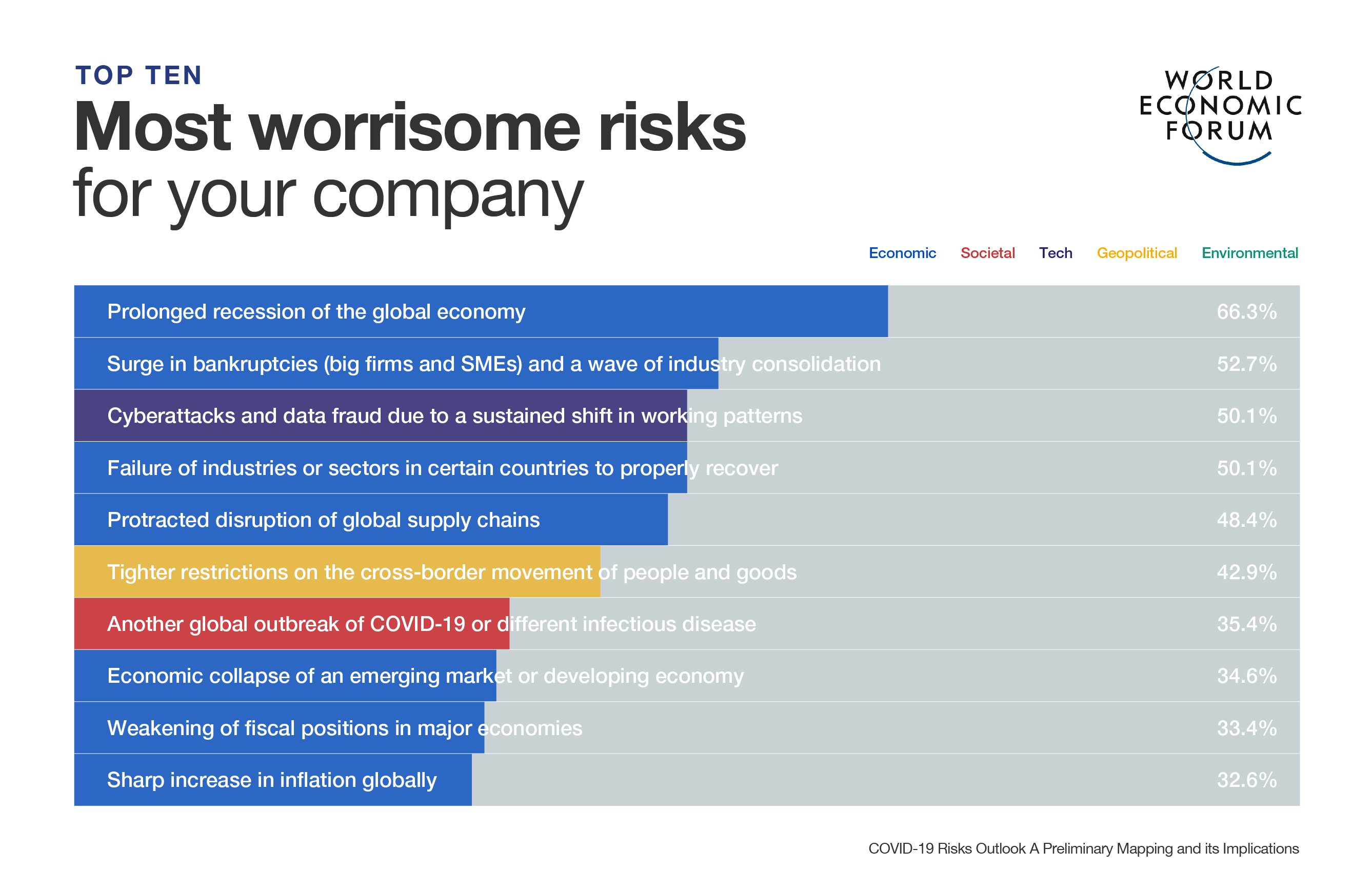 2020 has confronted us with a global health crisis that requires united action on an unprecedented scale, a crisis in which old certainties are being shaken, leaving us to face the unknown. It is a time to raise the hard questions, and, as we work to rebuild our economies and societies, ask ourselves what kind of world we want to live in.
Responding to this crisis is an extraordinary test of our resilience. I hope that we all take wisdom from our lessons learned from refugees and follow the path of solidarity and inclusion.