This daily round-up brings you a selection of the latest news updates on the COVID-19 coronavirus pandemic, as well as tips and tools to help you stay informed and protected.
Top stories: India's death toll passes 20,000; Melbourne is going back into lockdown; and a study shows Spain has not yet established herd immunity.
1. How COVID-19 is affecting the globe
Confirmed coronavirus cases have surpassed 11.6 million globally, according to Johns Hopkins University. More than 538,000 people are known to have died from the virus, while over 6.3 million are known to have recovered.
2. Herd immunity not yet achieved in Spain
A study in Spain has thrown into doubt the idea of herd immunity being a feasible way to tackle coronvirus.
Researchers said: "Despite the high impact of COVID-19 in Spain, prevalence estimates remain low and are clearly insufficient to provide herd immunity.
"This cannot be achieved without accepting the collateral damage of many deaths in the susceptible population and overburdening of health systems.
"In this situation, social distance measures and efforts to identify and isolate new cases and their contacts are imperative for future epidemic control."
What is the World Economic Forum doing to manage emerging risks from COVID-19?
The first global pandemic in more than 100 years, COVID-19 has spread throughout the world at an unprecedented speed. At the time of writing, 4.5 million cases have been confirmed and more than 300,000 people have died due to the virus.
As countries seek to recover, some of the more long-term economic, business, environmental, societal and technological challenges and opportunities are just beginning to become visible.
To help all stakeholders – communities, governments, businesses and individuals understand the emerging risks and follow-on effects generated by the impact of the coronavirus pandemic, the World Economic Forum, in collaboration with Marsh and McLennan and Zurich Insurance Group, has launched its COVID-19 Risks Outlook: A Preliminary Mapping and its Implications - a companion for decision-makers, building on the Forum's annual Global Risks Report.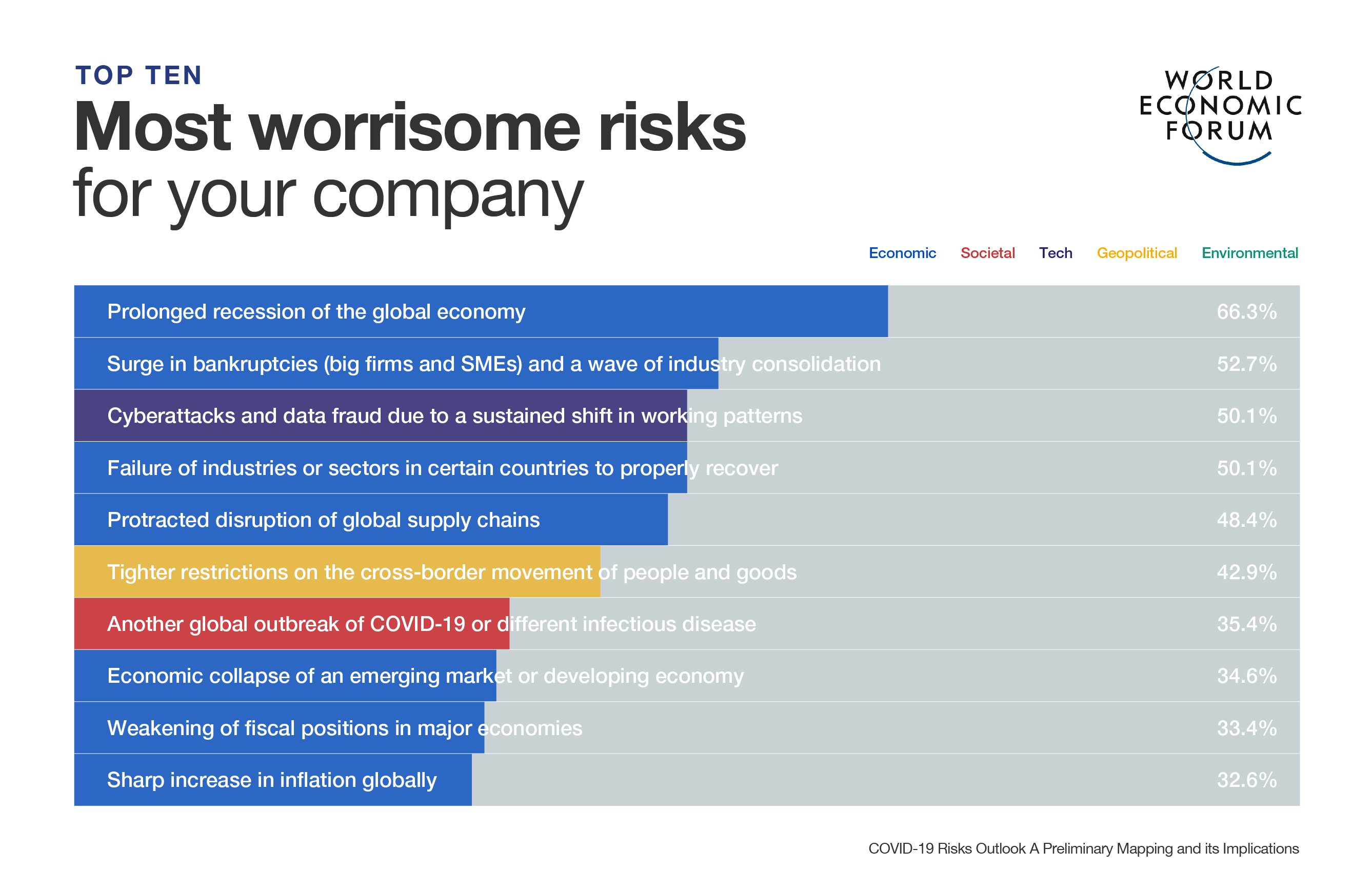 3. WHO warns of COVID-19 impact on access to HIV drugs
Countries are running out of antiretroviral (ARV) medicines due to the COVID-19 pandemic, according to a new survey by the World Health Organization.
More than 70 countries warned they are at risk of running out of supplies of the drugs used to treat HIV, while 24 countries reported having either critically low stock or disruptions in the supply of these life-saving medicines.
A six-month disruption in access to ARVs could cause AIDS-related deaths in sub-Saharan Africa to double in 2020, according to a modelling exercise conducted by the WHO and UNAIDS in May.
Some 8.3 million people were benefiting from ARVs in the 24 countries now experiencing supply shortages in 2019 - about a third of all people taking HIV treatment globally.
While there is no cure for HIV, ARVs can control the virus and prevent onward sexual transmission to other people.
Among the causes given for disruptions in the survey were failure of suppliers to deliver ARVs on time and a shut-down of land and air transport services, coupled with limited access to health services within countries as a result of the pandemic.
"The findings of this survey are deeply concerning," said Dr Tedros Adhanom Ghebreyesus, WHO Director-General.
"Countries and their development partners must do all they can to ensure that people who need HIV treatment continue to access it. We cannot let the COVID-19 pandemic undo the hard-won gains in the global response to this disease."