Air pollution in China has gone beyond pre-crisis levels for a 30-day period from mid-April.
Polluting industries are seeing a spike in activity.
Recent studies suggest a correlation between air pollution levels and deaths from coronavirus.
Air pollution in China has risen above levels seen before the coronavirus pandemic for the first time. Having dropped dramatically in the height of lockdown, the concentration of harmful gases seen recently surpasses levels during the same period last year, according to the Centre for Research on Energy and Clean Air (CREA).
The rebound appears to be driven by industrial emissions, and presents early warning signs that the country may be on track for a "dirty recovery" in which highly polluting industries lead the way, the CREA says.
What is the World Economic Forum doing to manage emerging risks from COVID-19?
The first global pandemic in more than 100 years, COVID-19 has spread throughout the world at an unprecedented speed. At the time of writing, 4.5 million cases have been confirmed and more than 300,000 people have died due to the virus.
As countries seek to recover, some of the more long-term economic, business, environmental, societal and technological challenges and opportunities are just beginning to become visible.
To help all stakeholders – communities, governments, businesses and individuals understand the emerging risks and follow-on effects generated by the impact of the coronavirus pandemic, the World Economic Forum, in collaboration with Marsh and McLennan and Zurich Insurance Group, has launched its COVID-19 Risks Outlook: A Preliminary Mapping and its Implications - a companion for decision-makers, building on the Forum's annual Global Risks Report.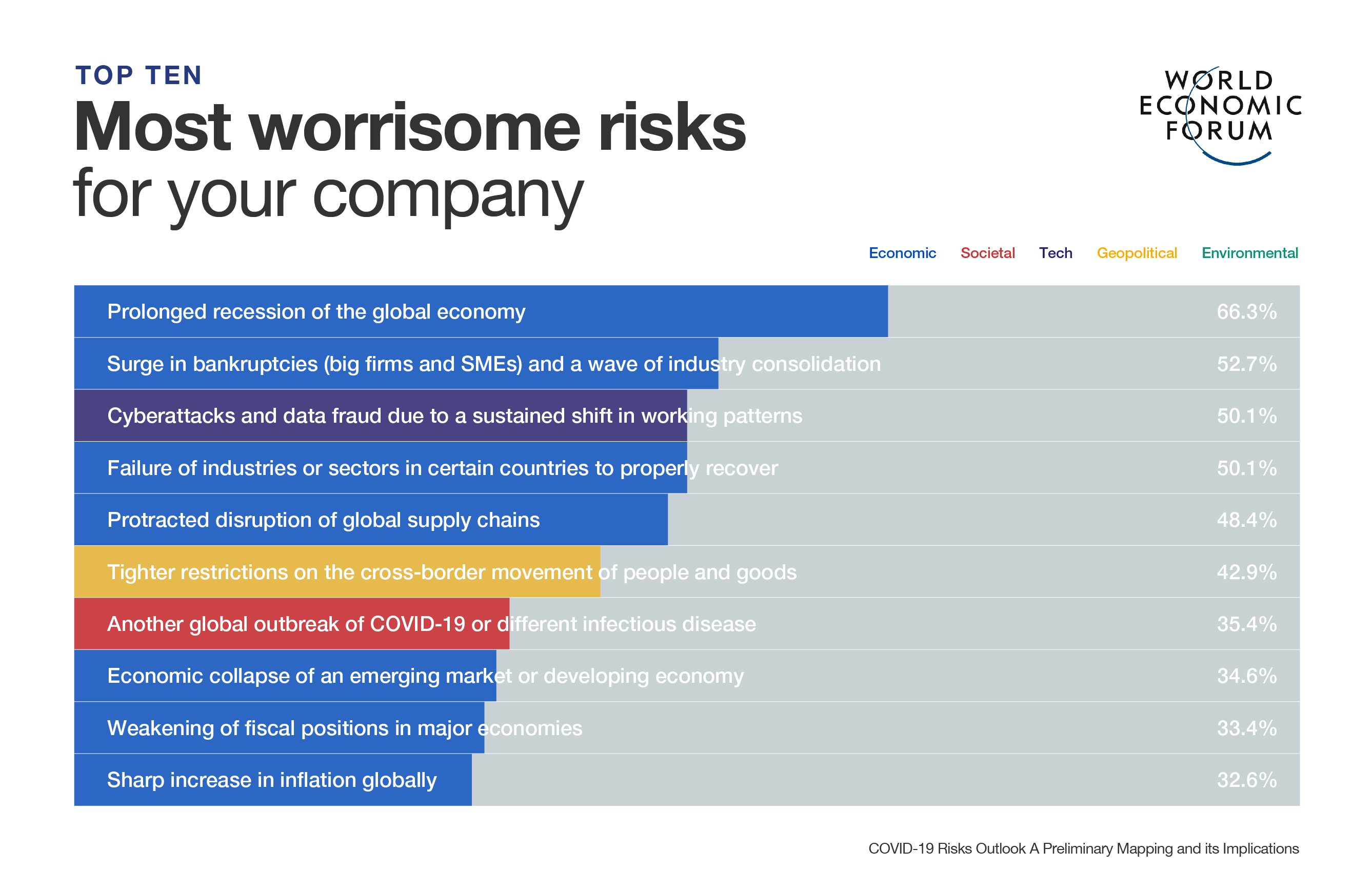 China is the first major economy to return to business after the pandemic, and the extent to which it prioritizes a green recovery is being watched. After previous downturns in the country following the global financial crisis in 2008 and the SARS epidemic in 2003, air pollution and CO2 emissions both surged.
The figures show that air pollution in the country fell to a low point in March, and at the height of the lockdown levels of some greenhouse gases dropped by as much as 40%. Activities including coal-fired power generation, cement manufacturing and oil consumption all plummeted during February and March.
But, since industrial activity has been rebooted, pollution levels for a 30-day period from 16 April were above pre-crisis levels. And ozone levels are close to record highs seen in 2018. Coal consumption at five major power generating companies in eastern China rose above 2019 levels for the first time in early May. And both cement and metals manufacturing increased year-on-year in April.
Other research from Harvard University looked at fatalities from the virus alongside historic levels of dangerous particulate matter across 3,000 US counties. They found that increases in particle pollution levels in the years before the pandemic were associated with an 8% rise in death rates.
Meanwhile, in the Lombardy region of Italy people with coronavirus are dying at a higher rate than elsewhere in the country. Milan's mayor Giuseppe Sala told the Financial Times that it was likely that his city's polluted air had exacerbated the impact.
A recent YouGov poll commissioned by philanthropic initiative the Clean Air Fund shows at least two-thirds of citizens in diverse countries - Great Britain, India, Nigeria, Poland and Bulgaria - support stricter regulation to tackle air pollution as lockdowns come to an end.