Global confirmed cases pass 19 million.
Victoria, Australia begins a 'total lockdown'.
Cases in India pass two million.
1. How COVID-19 is affecting the globe
Just 10 African countries account for 80% of testing on the continent, the Africa Centres for Disease Control and Prevention said on Thursday.
The Australian state of Victoria began a six-week total lockdown on Thursday, with shops and businesses closed. It reported its deadliest day on Wednesday, with 15 deaths and a record daily rise of 725 cases.
South Korea has lifted a ban on travellers from the Chinese province of Hubei, the original epicentre of the coronavirus outbreak.
2. Indian cases pass two million
Experts say the epidemic is likely to be months away from hitting its peak in India, as the virus spreads to smaller towns and rural areas.
Authorities also have to contend with multiple outbreaks, across the country's massive population.
"A country of India's size and diversity has multiple epidemics in different phases," said Rajib Dasgupta, head of the Centre of Social Medicine and Community Health at the Jawaharlal Nehru University in New Delhi.
The country has reported just over 41,000 deaths, but it's thought the real number will be higher.
What is the World Economic Forum doing to manage emerging risks from COVID-19?
The first global pandemic in more than 100 years, COVID-19 has spread throughout the world at an unprecedented speed. At the time of writing, 4.5 million cases have been confirmed and more than 300,000 people have died due to the virus.
As countries seek to recover, some of the more long-term economic, business, environmental, societal and technological challenges and opportunities are just beginning to become visible.
To help all stakeholders – communities, governments, businesses and individuals understand the emerging risks and follow-on effects generated by the impact of the coronavirus pandemic, the World Economic Forum, in collaboration with Marsh and McLennan and Zurich Insurance Group, has launched its COVID-19 Risks Outlook: A Preliminary Mapping and its Implications - a companion for decision-makers, building on the Forum's annual Global Risks Report.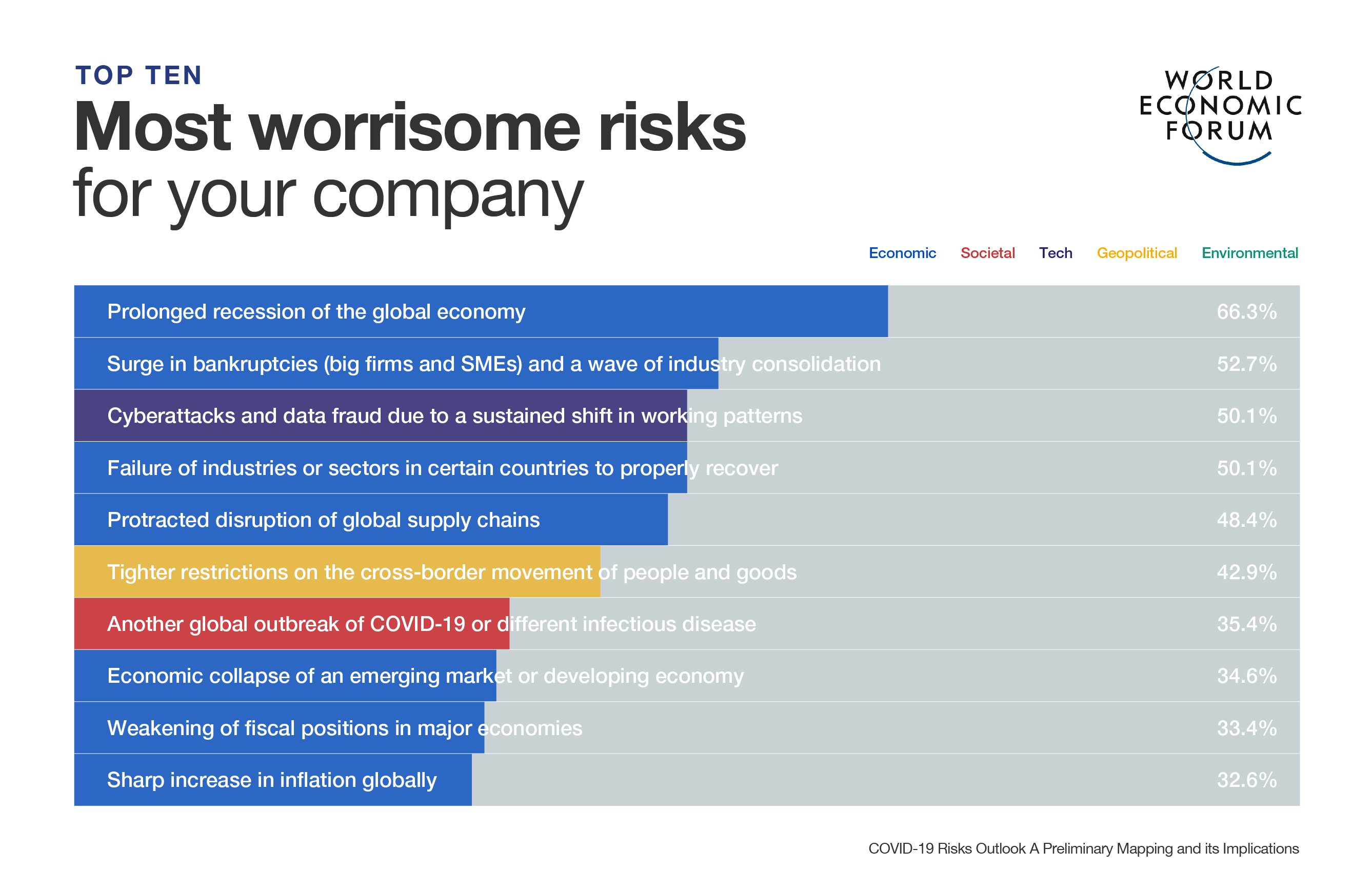 3. WHO calls for unity and investment in healthcare
World Health Organization Director-General Dr Tedros Adhanom Ghebreyesus called for global unity in facing global challenges, including the coronavirus pandemic.
"We must seize this moment to come together in national unity and global solidarity to control COVID-19, address antimicrobial resistance and the climate crisis," he told yesterday's media briefing.
"For all our differences, we are one human race sharing the same planet and our security is interdependent - no country will be safe until we're all safe."
He also called on countries to invest in health systems and universal health coverage:
"While health has often been viewed as a cost, the first coronavirus pandemic in history has shown how critical health investment is to national security."
Building back healthcare systems will require political will, resources and technical expertise, he added.