At their summit last month, Young Global Leaders identified the main systemic economic and social challenges facing the world today.
Two main threads emerged: market failures and a lack of accountability among public leaders.
The YGLs worked together to develop solutions to these challenges. Here's a rundown.
COVID-19 has both exacerbated existing crises and challenged people and nations to overcome the biggest economical and societal issues faced in years. On both national and global scales, a leadership deficit has hindered a speedy and coordinated response and recovery to the pandemic and its aftershocks.
The traditional paradigm of leadership must change to adapt to these challenges. It is not enough to deliver on short-term earnings. Leaders must also be accountable for their ability to inspire continuous innovation, the seedbed for longer-term growth, and earn sustainability and trust, which is achieved by attending to the interests of all stakeholders –not just shareholders.
The Forum of Young Global Leaders believes that emerging leaders play an important role in shaping this new model of leadership. In August, the World Economic Forum welcomed 700 Young Global Leaders (YGL), representing a diverse and innovative cross-section of society, to share and strengthen their collective action on the global challenges of today.
During the summit, YGLs mapped the systems-level challenges that span the domains of harmonizing the nature economy, accounting for social and economic justice, and the responsible governance of new technologies. Across all topics, two common threads appeared: market failures and the lack of accountability mechanisms in public leadership that created the most harmful externalities of economic growth in the pre-COVID world.
After identifying the problem, YGLs worked together to develop new solutions that could address these systemic issues and steward meaningful progress towards a more resilient, equitable and sustainable world.
Here are a few of the solutions being driven by YGLs.
1. Combating air pollution
Poor air quality is a major cause of death and disease globally. Air pollution, both indoors and outdoors, leads to diseases like acute respiratory illness and cancer and contributes to an estimated 7 million premature deaths globally. How do we engage the private sector to understand the business case for improving air quality? It starts with collecting data about the level of air pollution and the places in the world that are most affected. By persuading 100 businesses to commit to installing air pollution monitors in their buildings, YGLs believe this can promote accountability and acknowledgement about reducing air pollution.
"Clean air is a human right, yet nine in 10 of us are breathing air that is damaging our health. Over the last five years only around $300 million has been contributed in global grant funding to tackle air pollution, far below the billions spent annually by foundations and development agencies. We need to maximise collaboration – and increase funding – to achieve clean air for all in the fastest possible time."

—Jane Burston, Executive Director, Clean Air Fund and World Economic Forum Young Global Leader
2. Ending systemic racism
The killing of George Floyd, an African-American man in Minneapolis, United States in May 2020 sparked protests worldwide and a renewed push for racial justice. Coupled with the pandemic's unprecedented impact on the lives of marginalized communities globally, it made clear the enormous work that is needed to end systemic racism. Organizations from every sector have been put under the spotlight and called into this great reckoning as citizens and employees demand more from their leaders. YGLs focused on how to incentivize organizational change, and how to put in place systems that can propel racial equity and mechanisms for accountability. YGLs shared why a world that has achieved racial equity would bring profound advantage to both leaders and the communities they serve.
"For so long, racial minorities across the world have pushed for their safety and inclusion, often with minimal changes. Now more than ever, the work towards racial equality should not fall on the most marginalized. Systemic discrimination and violence do not go away with just one action, but rather with continuous intentional interrogation and putting in place countermeasures. There have been way too many wake-up calls; this must mean something."

—Rosebell Kagumire, Executive Director, Kweeta Uganda and World Economic Forum Young Global Leader
3. Safeguarding mental health
Mental health is still considered a taboo subject in many places around the world, and many people go undiagnosed and untreated. It is essential that awareness is increased and access is created to care for those who need support. YGLs believe one way to solve this is through leveraging technology and new telehealth solutions, as well as joining in with important global mobilization days to raise our voice for greater action. One important effort is World Mental Health Day, held annually on 10 October, which is focusing this year on greater access to and investment in mental health for all. Together with the organization United For Global Mental Health (led by YGL Elisha London), YGLs are preparing to support this campaign calling for greater action for access to mental health care for everyone, leaving no one behind – as part of the "#MoveForMentalHealth - let's invest" campaign.
4. Defeating non-communicable disease
In ten years, cancer will become the leading cause of death in the world, with the sharpest increase in case numbers found in lower and middle-income countries. No government can address this challenge alone. There is an information mismatch between how we educate people on how to live healthy lifestyles, and how our behaviours can result in cancer and other non-communicable diseases.
To achieve the greatest impact, YGLs propose a competition to develop a low-cost, low-maintenance health-monitoring device for the developing world. This will be a new initiative between governments, NGOs and private organizations to onboard 1 billion people of varying ages into a pilot programme by 2030. Led by Mike Moradi, founder and CEO of Sensulin, these YGLs are building upon the work done by the World Health Organization, NASA, the Joint European Disruptive Initiative, the World Economic Forum's Centre for the Fourth Industrial Revolution, and the X-Prize Foundation/Qualcomm (which funded the $10 million Tricorder prize).
What is the World Economic Forum doing to manage emerging risks from COVID-19?
The first global pandemic in more than 100 years, COVID-19 has spread throughout the world at an unprecedented speed. At the time of writing, 4.5 million cases have been confirmed and more than 300,000 people have died due to the virus.
As countries seek to recover, some of the more long-term economic, business, environmental, societal and technological challenges and opportunities are just beginning to become visible.
To help all stakeholders – communities, governments, businesses and individuals understand the emerging risks and follow-on effects generated by the impact of the coronavirus pandemic, the World Economic Forum, in collaboration with Marsh and McLennan and Zurich Insurance Group, has launched its COVID-19 Risks Outlook: A Preliminary Mapping and its Implications - a companion for decision-makers, building on the Forum's annual Global Risks Report.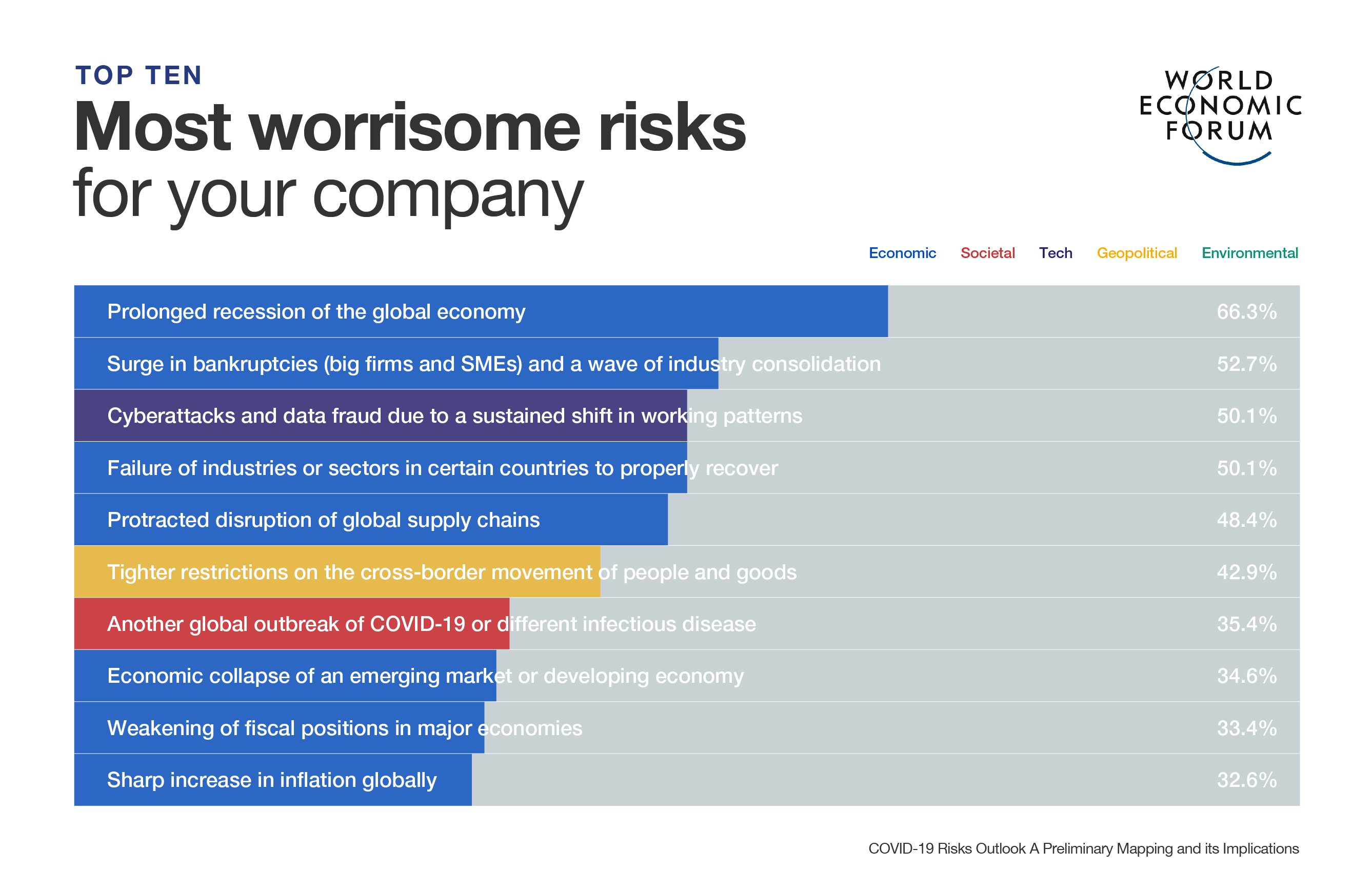 If there is anything we can take from 2020, it is that we must continue to learn and respond to the unexpected. The Great Reset, an initiative of the World Economic Forum, works to build on the issues we had faced pre-COVID and to resolve the challenges we face today.
The pandemic has magnified systems and processes that are neither sustainable nor equitable. We find ourselves with a unique opportunity for young leaders in local communities, government and businesses of all sizes to shape a bold new vision. As we cross this inflection point, we must all mobilize collectively to build on solutions that are both people and planet-centred.
Do we dare to dream of this better, fairer and more sustainable world?