The pandemic has given rise to many new conspiracy theories – and UNESCO wants to educate people to identify and debunk them.
Certain groups are more prone to being targeted, including particular religions and people with different sexual orientation.
Counter-actions include calling out false information, contacting the author, and taking care not to spread it further.
From those that question the moon landings to theories about JFK's assassination, you don't have to look far to find a conspiracy theory. And while we may find some of the most out-there theories laughable, the problem is, they're not always easy to recognize.
The internet is the perfect breeding ground for them, and the uncertainty created by the coronavirus outbreak is allowing them to flourish.
So UNESCO, the UN agency that supports education, the sciences, and culture, has launched a campaign to help people identify, debunk and report conspiracy theories to prevent their spread.
UNESCO is working with the European Commission, Twitter and the World Jewish Congress and has created a series of infographics to help people become better informed.
How conspiracy theories flourish
Conspiracy theories often start as a suspicion based on someone benefiting from an event or situation. 'Evidence' is then forced to fit around the theory. It can be hard to refute them because the person doing so is often seen as part of the conspiracy.
The theories can spread rapidly, particularly over social media, where people are easily taken in by them. Others spread them because they want to deliberately provoke or manipulate. Conspiracy theories can often target or discriminate against an entire group which are perceived to benefit. Some groups are particularly prone to being targeted, including people of particular religions or sexual orientation. For example, various conspiracies have falsely accused groups including people of assumed Asian origin, Jews and Muslims as spreading COVID-19 in Europe.
As a result, conspiracies can polarize societies, worsen existing tensions and fuel violent extremism.
What is the World Economic Forum doing to manage emerging risks from COVID-19?
The first global pandemic in more than 100 years, COVID-19 has spread throughout the world at an unprecedented speed. At the time of writing, 4.5 million cases have been confirmed and more than 300,000 people have died due to the virus.
As countries seek to recover, some of the more long-term economic, business, environmental, societal and technological challenges and opportunities are just beginning to become visible.
To help all stakeholders – communities, governments, businesses and individuals understand the emerging risks and follow-on effects generated by the impact of the coronavirus pandemic, the World Economic Forum, in collaboration with Marsh and McLennan and Zurich Insurance Group, has launched its COVID-19 Risks Outlook: A Preliminary Mapping and its Implications - a companion for decision-makers, building on the Forum's annual Global Risks Report.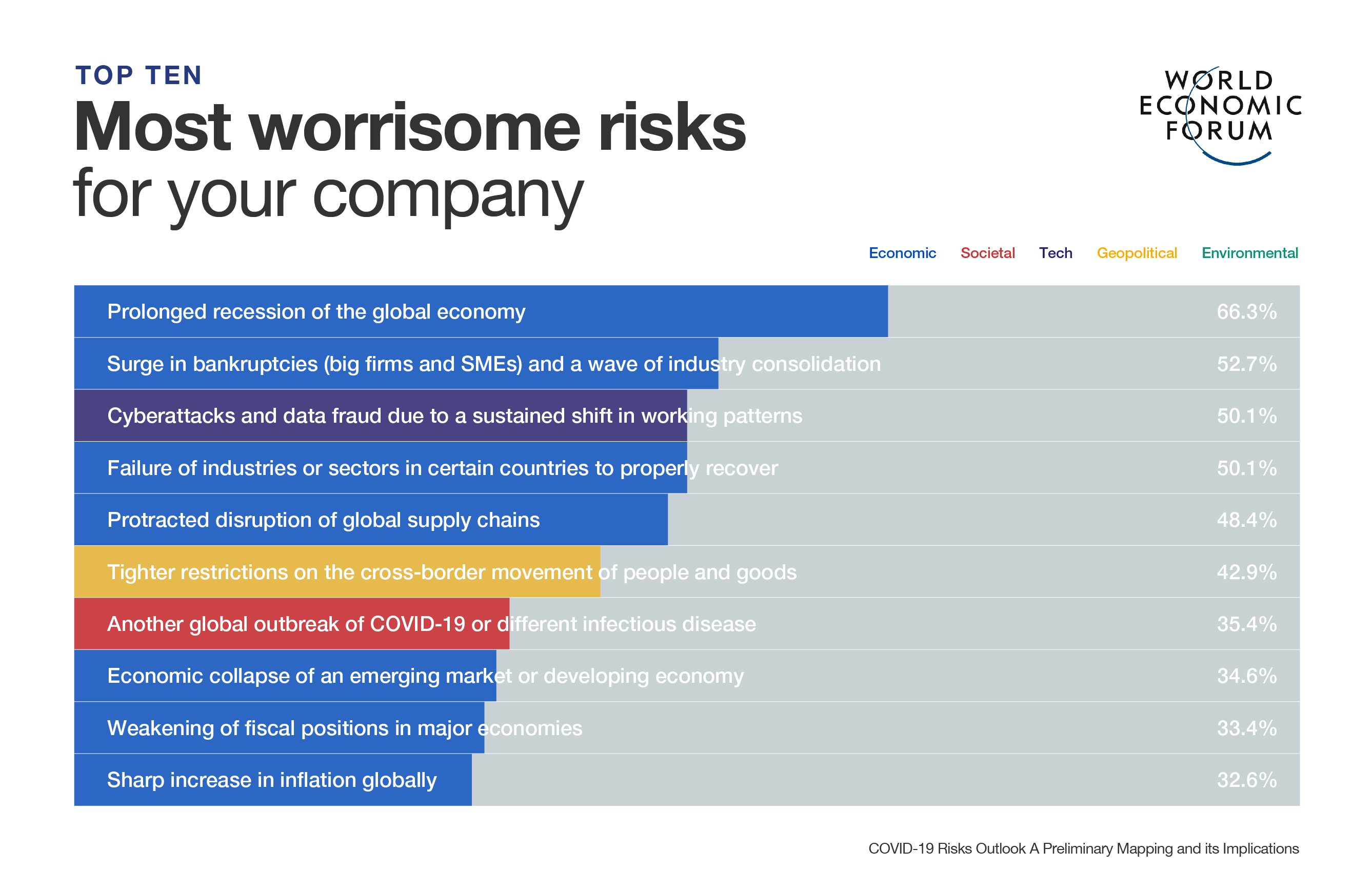 How to stop them spreading
Key to stopping the spread of conspiracy theories is educating people to be on the lookout for misleading information – and teaching them to be suspicious of certain sources. But there is no hard and fast rule as to how best to identify or react to potentially damaging and misleading information. It can be particularly difficult when the theories are being sent from friends and family.
Uncertainty and worry create the perfect environment for conspiracies to be born. Although it is still not confirmed where or how COVID-19 originated, theories abound. They largely ignore scientific evidence and attempt to come up with reasons why the pandemic happened and who stands to benefit.