This daily round-up brings you a selection of the latest news updates on the COVID-19 pandemic, as well as tips and tools to help you stay informed and protected.
Top stories: India records highest daily deaths in over a month; WHO warns world must prepare better for next pandemic; Spain cases pass 500,000.
1. How COVID-19 is affecting the globe
Confirmed cases of COVID-19 have now reached more than 27.3 million globally, according to the Johns Hopkins Coronavirus Resource Center. The number of confirmed coronavirus deaths now stands at more than 892,000.
The Dutch government has announced a plan to invest 20 billion euros ($23.6 billion) in education, infrastructure and R&D over the next five years. "It is clear we have to invest ourselves out of this crisis," said economy minister Eric Wiebes.
2. 'World must be better prepared for next pandemic'
Dr Tedros Adhanom Ghebreyesus, WHO Director-General, has warned that the world must be better prepared for future pandemics.
"This will not be the last pandemic," he said at a media briefing yesterday. "History teaches us that outbreaks and pandemics are a fact of life. But when the next pandemic comes, the world must be ready – more ready than it was this time."
He called on countries to invest in public health systems, as a foundation of social, economic and public stability.
"In recent years, many countries have made enormous advances in medicine, but too many have neglected their basic public health systems, which are the foundation for responding to infectious disease outbreaks," he added.
What is the World Economic Forum doing to manage emerging risks from COVID-19?
The first global pandemic in more than 100 years, COVID-19 has spread throughout the world at an unprecedented speed. At the time of writing, 4.5 million cases have been confirmed and more than 300,000 people have died due to the virus.
As countries seek to recover, some of the more long-term economic, business, environmental, societal and technological challenges and opportunities are just beginning to become visible.
To help all stakeholders – communities, governments, businesses and individuals understand the emerging risks and follow-on effects generated by the impact of the coronavirus pandemic, the World Economic Forum, in collaboration with Marsh and McLennan and Zurich Insurance Group, has launched its COVID-19 Risks Outlook: A Preliminary Mapping and its Implications - a companion for decision-makers, building on the Forum's annual Global Risks Report.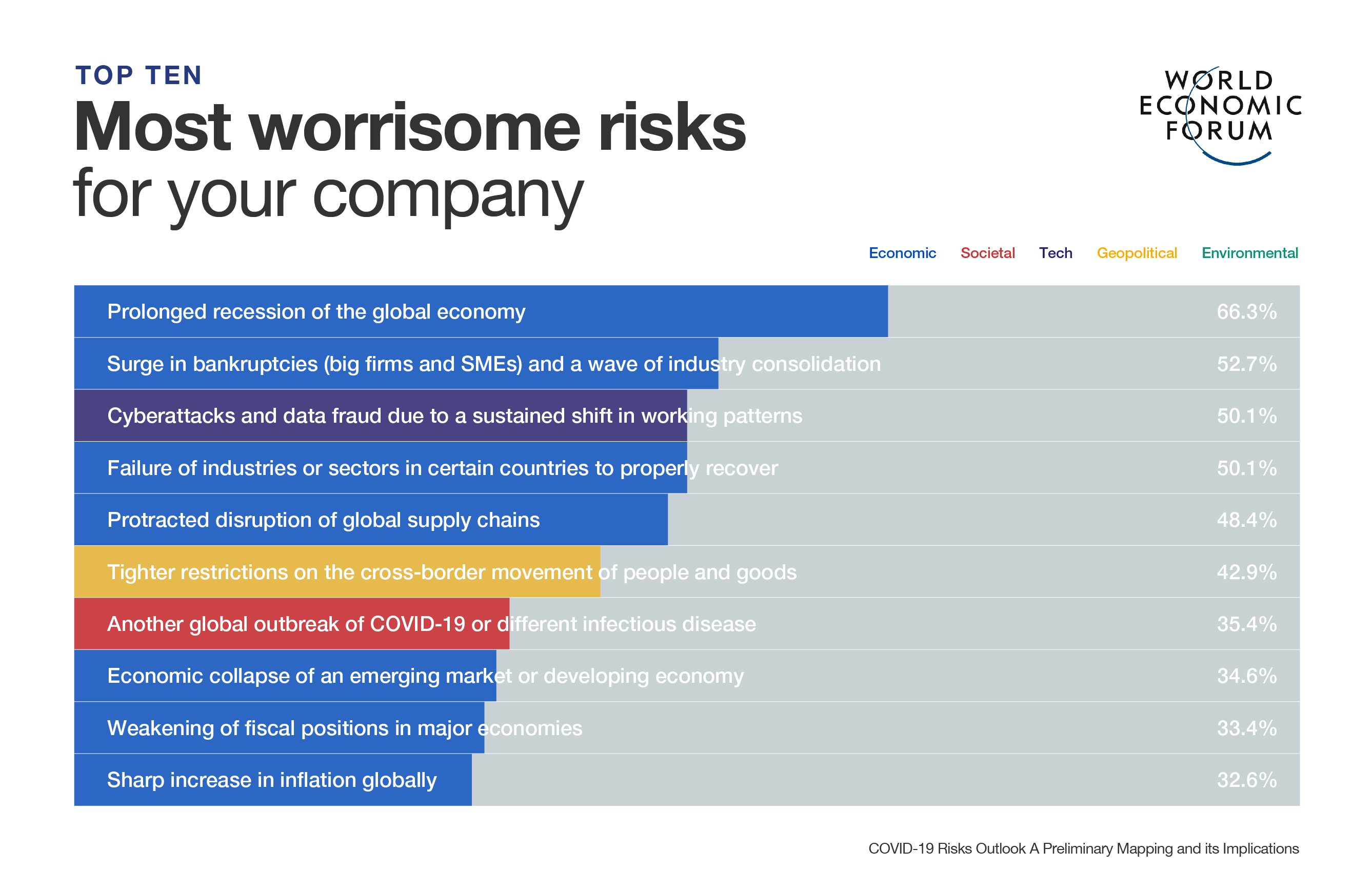 3. Cases pass 500,000 in Spain
Spain has become the first Western European country to record more than half a million cases of coronavirus. Health Ministry data shows a total of 525,549 in the country.
Recent cases are more common among younger people, reports Reuters. And the death rate remains far below the level recorded in March and April - 8 new deaths were reported yesterday.
New cases peaked at over 10,000 around 10 days ago, but have since receded again, with 2,440 reported yesterday.