Survey finds majority favour getting COVID-19 jab when available.
Vaccine hesitancy is higher in low-income households and among the young, poll finds.
World Economic Forum report urges moderate language and greater understanding of vaccine hesitancy.
A majority of people who haven't yet received a COVID-19 jab say they would get the vaccine if it were available to them, according to a survey of unvaccinated people in 15 countries.
The survey was carried out by Ipsos for the World Economic Forum. In 13 of the 15 countries surveyed, a majority of the 9,890 people who took part in the study said they 'strongly agreed' or 'somewhat agreed' when asked to respond to the statement: 'If a vaccine for COVID-19 were available to me, I would get it.'
The chart above suggests a strong desire to be vaccinated in countries that have suffered some of the worst outbreaks of COVID-19. In Brazil, 93% of people responding to the survey said they would get the jab if it was available. Brazil has the second-highest death rate globally from COVID-19, according to the Johns Hopkins University coronavirus tracker. In Mexico, another country badly hit by COVID-19, 88% of respondents said they wanted to get the vaccine. People in China also responded positively, with an 81% desire to be vaccinated.
Variations in vaccine confidence
But as the chart above illustrates, there is no consistent pattern in the desire for the vaccine based on numbers of infections and deaths. In the United States, which has suffered the world's worst outbreak, only 46% of people responding to the survey showed a strong appetite for the vaccine. Even fewer respondents in Russia (41%) expressed a strong desire to get a COVID-19 jab.
What is the World Economic Forum doing to manage emerging risks from COVID-19?
The first global pandemic in more than 100 years, COVID-19 has spread throughout the world at an unprecedented speed. At the time of writing, 4.5 million cases have been confirmed and more than 300,000 people have died due to the virus.
As countries seek to recover, some of the more long-term economic, business, environmental, societal and technological challenges and opportunities are just beginning to become visible.
To help all stakeholders – communities, governments, businesses and individuals understand the emerging risks and follow-on effects generated by the impact of the coronavirus pandemic, the World Economic Forum, in collaboration with Marsh and McLennan and Zurich Insurance Group, has launched its COVID-19 Risks Outlook: A Preliminary Mapping and its Implications - a companion for decision-makers, building on the Forum's annual Global Risks Report.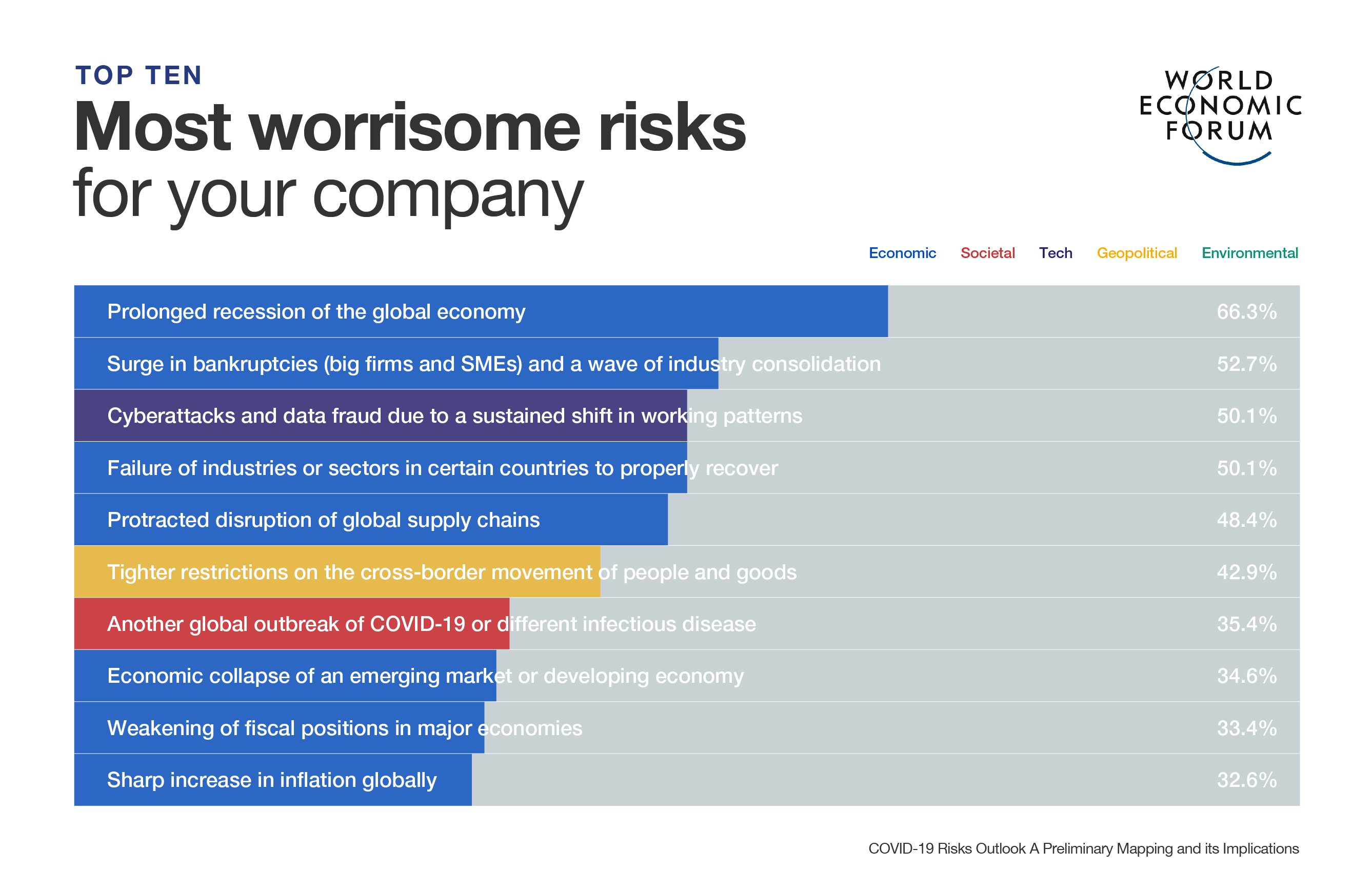 What's driving vaccine hesitancy?
The Ipsos survey also suggests that vaccine hesitancy is more common among people from low-income families and those with a lower level of educational attainment. Younger people were also more reluctant to get the jab.
Across the 15 countries surveyed, an average of 29% disagreed that they would get a vaccine if it was available. For those in lower-income households, the rate increased by seven percentage points. A four percentage point increase was recorded in those with a lower level of education. Respondents aged 16 to 23 were more likely to say they would refuse the vaccine by a rate of three percentage points.
Talking up vaccine confidence
For millions of people around the world, the vaccine debate has become a staple of their social media feeds, where vaccine evangelists and so-called anti-vaxxers do battle in emotionally charged conversations over the perceived pros and cons of vaccines.
A new report by the World Economic Forum, How to Build Trust in Vaccines seeks to understand how these online conversations can influence our beliefs around vaccines. Working in partnership with the Vaccine Confidence Project, researchers used AI tools to analyse online discussions.
The report identifies a complex web of interconnected sentiment that can drive a low level of confidence in vaccines, as the chart below illustrates.
The report offers some key insights aimed at shaping the language, nature and tone of future conversations around vaccines to build greater public faith in vaccination programmes.
Firstly, the most frequently used term in positive social media conversations about vaccines was "protection". The researchers advocate its use in future conversations about vaccines as it "speaks to the idea of avoiding personal risk" which is a strong driver of positive sentiment around vaccines.
On the flip side, suggestions on social media that people have a "moral responsibility" to take the vaccine risked provoking a backlash among the vaccine-hesitant. "Trying to understand the motives, concerns and fears that drive vaccine sentiments, and empathize with them, is far more effective than making judgments or moralizing when engaging in conversations about vaccines," the report concludes.
Trust is key to vaccine confidence
The report finds that above all, we need to encourage language that breeds trust. The researchers say, "trust in the individuals, institutions and overall system that together discover, develop and deliver vaccines is fundamental to vaccine confidence. Vaccines are the output of a complex system involving scientific research institutions, pharmaceutical companies, governments and the public health system. Lack of trust in any part of this system can undermine vaccine confidence".