Shifting to renewables is part of Enel's strategic commitment to meeting key climate-related sustainable development goals.

Since launching its first green bond in 2017, the energy group has accelerated sustainable investments.

This sustainability-linked financial strategy shows how an innovative approach is achieving tangible results.
In 2014 Enel kicked off a new course under the banner of sustainability and innovation. Since that time, Enel has rolled out a brand new strategy, switching from conventional energy generation to renewables, effectively reinforcing the digitalization of our fleet and our networks.
The mission of Enel's finance department has always been to serve the business of the company. In 2017 we were confident enough, both in front of our stakeholders and the market, to reflect our new sustainable footprint in our fixed-income transactions. In other words, we were finally ready to step into the sustainable finance market and to issue our first green bond.
We issued our first green transaction in January 2017, followed by other two green bonds between 2018 and 2019, totaling €3.5 billion issuance.
Birth of the sustainability-linked bond market
After the third green bond, we reflected on the role of sustainable finance and how, according to us, sustainable finance should be considered as an accelerator of capital towards sustainable investments, thus serving our sustainable strategy that targets four core sustainable development goals (SDGs): 7, affordable and clean energy; 9, industry, innovation and infrastructure, 11, sustainable cities and communities; 13, climate action.
Also taking inspiration from the sustainability-linked loan market, we realized that an equivalent product was missing in the fixed-income space – a product that should:
Reflect the sustainability strategy of the issuer, not focusing on a specific subset of green assets.
Incentivize the achievements of ambitious and core KPIs and targets, reflecting the sustainable strategy of the company.
Reflect the financial value of sustainable choices, with lower cost funding associated to the whole life of the transaction, if the sustainability targets are achieved.
Have general purpose characteristics, thus providing flexibility in the use of the funds.
Used by a wider range of issuers and sectors, not necessarily capex-intensive.
Support transition strategies, as KPIs and targets apply to the whole company instead of a specific transaction (i.e. hard-to-abate industries).
After defining the core pillars of these potential transactions, meeting face to face with investors, in 2019, was crucial to set the characteristics of a potential issuance of this kind. We engaged with investors at three roadshows across US and Europe.
Ahead of the 2019 UN General Assembly we issued the very first general purpose $1.5 billion five-year sustainability-linked bond with a 25 bps step up mechanism linked to our ability to achieve our SDG 7 target of 55% renewable capacity by 2021, marking the beginning of the sustainability-linked bond market.
In October the same year, we launched the first euro-denominated sustainability-linked bond, a $2.5 billion triple tranche transaction, from which two tranches were linked to the same renewables KPI set in the context of the first sustainability-linked bond, while the third one was linked to our Scope 1 greenhouse gas emissions reduction by 2030, a science based certified goal.
The response from investors in both cases was impressive, with more than $13 billion equivalent demand and an average pricing discount of around 15 bps, compared to conventional transactions.
What's the World Economic Forum doing about the transition to clean energy?
Moving to clean energy is key to combating climate change, yet in the past five years, the energy transition has stagnated.
Energy consumption and production contribute to two-thirds of global emissions, and 81% of the global energy system is still based on fossil fuels, the same percentage as 30 years ago. Plus, improvements in the energy intensity of the global economy (the amount of energy used per unit of economic activity) are slowing. In 2018 energy intensity improved by 1.2%, the slowest rate since 2010.
Effective policies, private-sector action and public-private cooperation are needed to create a more inclusive, sustainable, affordable and secure global energy system.
Benchmarking progress is essential to a successful transition. The World Economic Forum's Energy Transition Index, which ranks 115 economies on how well they balance energy security and access with environmental sustainability and affordability, shows that the biggest challenge facing energy transition is the lack of readiness among the world's largest emitters, including US, China, India and Russia. The 10 countries that score the highest in terms of readiness account for only 2.6% of global annual emissions.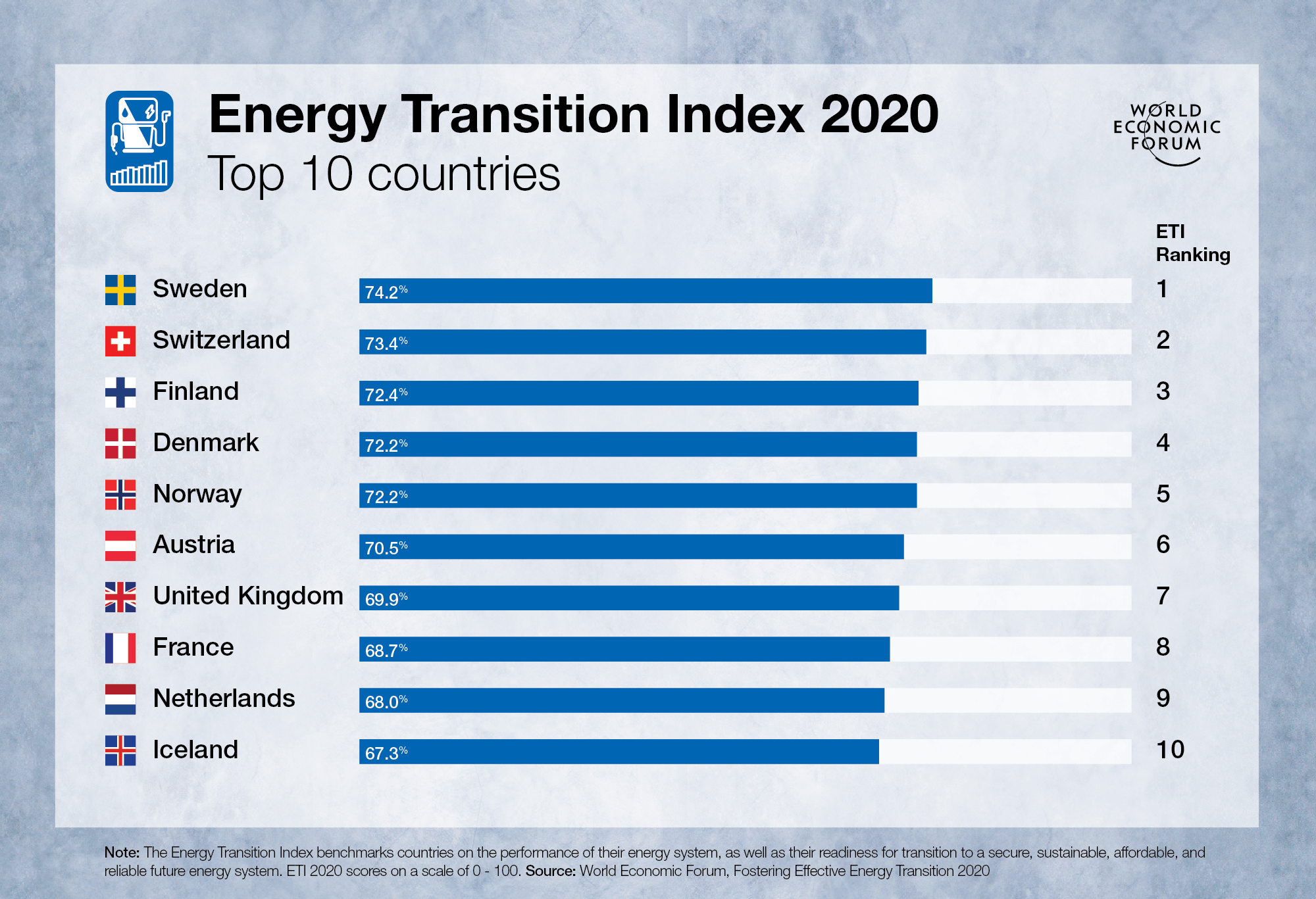 Additionally, the Mission Possible Platform (MPP) is working to assemble public and private partners to further the industry transition to set heavy industry and mobility sectors on the pathway towards net-zero emissions. MPP is an initiative created by the World Economic Forum and the Energy Transitions Commission.
Is your organisation interested in working with the World Economic Forum? Find out more here.
From sustainability-linked bonds to sustainability-linked financing framework
Mobilizing public and private capital to serve Enel's sustainable strategy is of crucial importance for achieving the SDGs, and for achieving the ambitious investment objectives set by the strategic plan that it disclosed in November 2020.
Developing sustainable finance for Enel means pursuing a decrease in the cost of debt through transactions that link the group's strategy to financial expenses. This is why during 2020, Enel extended the sustainability-linked approach to all its debt instruments by publishing the Sustainability-Linked Financing Framework, an all-encompassing document that governs the link between sustainability and loans, credit lines, commercial papers, and bond issues.
Two Key Performance Indicators (KPIs) were selected for the framework: reduction of Scope 1 direct greenhouse gas emissions and increase in generation from renewable sources in accordance with SDG 13 and 7. The associated targets are reviewed on an annual basis, in line with the group's strategic plan. In this respect, in October 2020, Enel announced a revision of its group's Scope 1 direct greenhouse gas emissions amount for 2030, with a reduction by 80% compared with the 2017 baseline. The target is certified by the Science Based Targets initiative (SBTi) as consistent with limiting global warming to 1.5C above pre-industrial levels
May 2020: Enel signed a €5 billion sustainability-linked credit line, followed by a €6 billion commercial paper programme linked to SDG 7, the first of its kind in the commercial paper space.
October 2020: the group issued the world's first sustainability-linked sterling bond, simultaneously innovating the derivatives market, with the world's first bilateral sustainability-linked cross-currency swap.
March 2021: Enel and its Dutch subsidiary Enel Finance International NV signed a five-term "Sustainability-Linked Revolving Credit Facility" worth $10 billion, the largest sustainable line in the market.
In 2020, 33% of Enel's gross debt was sustainable. This figure is expected to reach almost 50% by 2023 and over 70% by 2030 through refinancing and the issuance of new sustainable finance instruments.
Success of sustainability-linked financial strategy
The sustainability-linked financial strategy was welcomed by the market and three main results certify its success:
In June 2020 the International Capital Markets Association (ICMA) published the new Sustainability-Linked Bond Principles (SLBPs), providing essential guidelines to the issuers of this instrument.
Sustainability-linked bonds multiplied during 2020 and 2021, with issuers from different sectors and geographies – to date, sustainability-linked bonds amount to $44 billion dollars.
Sustainability-linked bonds are now part of the European Central Bank's purchase programmes.
Enel was also rewarded by the International Financing Review (IFR), the world's leading provider of intelligence on the global capital market, as "Sustainable Issuer of the Year", as part of the 2020 IFR Awards.
The award, which Enel won for the second consecutive year, recognized the group's commitment to a sustainable strategy that has translated into innovation in the finance market through a new range of financing instruments connected to the corporate sustainability-linked approach.