This daily round-up brings you a selection of the latest news and updates on the COVID-19 pandemic, as well as tips and tools to help you stay informed and protected.
Top stories: Lockdown extended in Melbourne, Australia; Nigeria set to restart vaccine rollout after supplies arrive; South Korea reports record daily rise in COVID-19 cases.
1. How COVID-19 is affecting the globe
Confirmed cases of COVID-19 have passed 204.06 million globally, according to Johns Hopkins University. The number of confirmed deaths stands at more than 4.31 million. More than 4.48 billion vaccination doses have been administered globally, according to Our World in Data.
China continues to attempt to contain a new outbreak of COVID-19, as the recent jump in cases enters its fourth week; 583 new infections have been reported in the past week.
US President Joe Biden has urged residents of hurricane-prone states to get vaccinated against COVID-19, in order to protect themselves should they need to evacuate their homes.
German Chancellor Angela Merkel has outlined plans to require those who aren't vaccinated to take COVID-19 tests to do many public activities. The government will also stop offering free tests from 11 October, except for those for whom vaccination is not recommended.
Antibody levels are a good predictor for how effective Moderna's COVID-19 vaccine is, according to a new study released yesterday. The finding could help speed up future clinical trials.
Moderna has also announced that it's agreed with the Canadian government to start domestic production of the mRNA vaccines.
South Korea has reported more than 2,200 new COVID-19 cases, a single-day record since the pandemic began.
Turkey's COVID-19 cases have climbed to a near three-month high, with 26,597 confirmed new cases reported yesterday.
2. Lockdown extended in Melbourne
It's the sixth such lockdown for Melbourne residents, which as been extended after authorities were unable to trace how several of 20 new confirmed COVID-19 cases contracted the disease.
It comes as Sydney reported near-record single-day COVID-19 case numbers, with 344 new infections. Its own lockdown has been extended to include Dubbo, a small city about 400km north-west.
India's leading COVID-19 last-mile responders
Each of our Top 50 social enterprise last mile responders and multi-stakeholder initiatives is working across four priority areas of need: Prevention and protection; COVID-19 treatment and relief; inclusive vaccine access; and securing livelihoods. The list was curated jointly with regional hosts Catalyst 2030's NASE and Aavishkaar Group. Their profiles can be found on www.wef.ch/lastmiletop50india.
Top Last Mile Partnership Initiatives to collaborate with: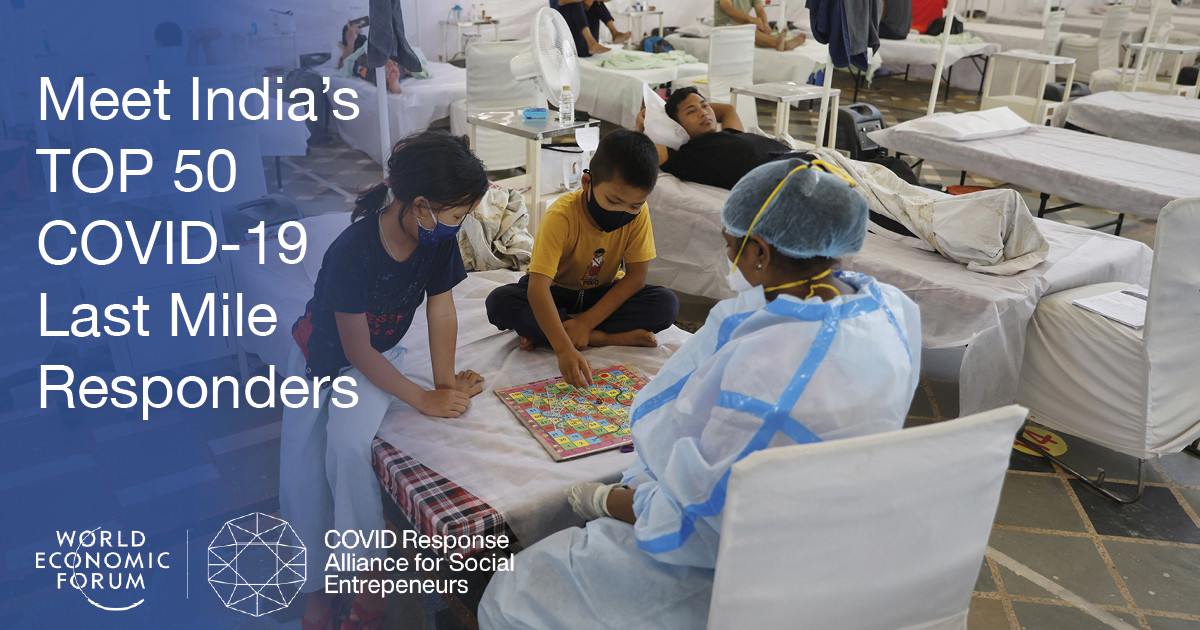 3. Nigeria to restart vaccine rollout
A shipment of the Johnson & Johnson vaccine is also due imminently, the head of the primary healthcare agency said yesterday.
Only 2 million Nigerians have received one dose and just 700,000 have received two – out of a population of 200 million – largely as a result of a lack of supply. The rollout had been halted on 9 July because supplies had run out.
"We want to call on all Nigerians to remain assured that the vaccines that we have are safe and will be deployed next week," said Faisal Shuaib, executive director of the National Primary Healthcare Development Agency.