The emergence of the Omicron variant of COVID-19 was accompanied by a new wave of misinformation being shared online.
COVID misinformation, not all of which is shared maliciously, can undermine public health efforts to control the global pandemic.
Tackling false information needs to happen at all levels and should be focused on accurate and positive messaging.
Omicron's surge was accompanied by a new wave of COVID misinformation as people across the world learned new lessons in how to live with COVID-19 and make decisions in their daily lives. But what are the dangers of this misinformation and how can we combat it?
The first case of Omicron was announced in South Africa on 26 November 2021 and case numbers soared worldwide due to the variant being between two to four times as infectious as the previously dominant strain, Delta.
But what was perhaps different this time around is that many people had received vaccines compared to when the Delta variant emerged – meaning there have been fewer deaths and fewer hospital admissions.
At the same time, restrictions in many parts of the world were gradually being eased after months of government-imposed lockdowns – putting the onus on the individual to find strategies to keep safe.
Omicron and confusion around testing
It is perhaps too early to draw any firm conclusions on specific trends, but the current focus on testing – correct or otherwise – is probably reflective of a wider confusion and unease surrounding COVID-19 as we enter the third year of the pandemic.
"I think people are asking about tests because it's very confusing as policies are very different depending on the country you're in, where you get them, whether you need them, what you need them for. People are just trying to understand what they need to do," says Heidi J Larson, Professor of Anthropology, Risk and Decision Science at the London School of Hygiene & Tropical Medicine (LSHTM).
Not all misinformation shared maliciously
Some of the false information about COVID is shared by groups with a political or ideological motive. Indeed, the Center for Countering Digital Hate recently found that two-thirds of anti-vaccination propaganda posted online was created by just 12 influencers, most of whom claimed to be political or medical leaders and were based in the US.
But misinformation is not always disinformation, the latter of which is shared with intent to deceive. Instead, much of what is shared online is often by people who are just trying to work out what they are supposed to do amid ever-changing guidelines and regulations.
In addition, surges in new (mis/dis) information throughout the pandemic tend to have been accompanied by resharing of previous posts, leading to vast swathes of advice and data – both official and unofficial – flooding the internet. So it's a problem that only increases.
"We're in this moment where so much information is trying to be generated and people are trying to understand their risk. Clearly, people are very fatigued with COVID and and it's like, how do I make decisions for my everyday life?" says Connie Moon Sehat, researcher at large at Hacks/Hackers.
COVID misinformation affects health decisions
Why does this matter? False information about COVID-19, particularly on how to reduce its spread, is a problem as it threatens to undermine public health efforts to keep the pandemic under control.
"Health-related misinformation is particularly dangerous because it affects health decisions and health behaviours," says Prof Larson. "This is quite serious and, in the context of a pandemic, it's even more serious because it's not just about your own health decision and behaviour – it affects groups of people."
Anti-vaccine content, for example, could encourage those already vaccine hesitant to remain unvaccinated, leaving them at higher risk of serious illness and death. Meanwhile, COVID misinformation about rapid tests could lead to questions about their reliability and discourage their use at a time when many recommend regular testing to reduce spread.
There are arguably wider societal concerns too. Misinformation also threatens our ability and rights as citizens to make informed choices on issues as important as one's own health. It can also undermine, or further undermine, trust in governments and democratic and/or public institutions at a time when they're particularly vital.
"I feel like it's a loss of agency over one's health, but also one's community's health, all at the same time," says Sehat.
How to combat COVID misinformation
Combating the spread of COVID misinformation needs to be done at all levels of society, but needs to be done in a way that is positive and not combative in order to be successful.
But tackling its spread requires more than just the tech giants and everyone has a role to play – from policy-makers to community leaders and individuals. However, we need to step back from simple fact checking, and provide correct alternatives surrounded by more positive health messaging, says Prof Larson.
"Because the reason people gobble up some of the COVID misinformation is because they're not telling a better story. We need to give a better story with the right information," says Prof Larson. For example, rumours about unauthorized drugs such as chloroquine being used to treat COVID should be surrounded by messaging about its harms.
An added complication is that Omicon also triggered uncertainty about what the definition of "fully vaccinated" meant as many countries introduced booster campaigns in response to the fast-spreading variant. This, Sehat observes, has somewhat obscured positive messaging on how great or potentially beneficial it is to be vaccinated – and that, in turn, has left a gap in public debate.
What is the World Economic Forum doing to manage emerging risks from COVID-19?
The first global pandemic in more than 100 years, COVID-19 has spread throughout the world at an unprecedented speed. At the time of writing, 4.5 million cases have been confirmed and more than 300,000 people have died due to the virus.
As countries seek to recover, some of the more long-term economic, business, environmental, societal and technological challenges and opportunities are just beginning to become visible.
To help all stakeholders – communities, governments, businesses and individuals understand the emerging risks and follow-on effects generated by the impact of the coronavirus pandemic, the World Economic Forum, in collaboration with Marsh and McLennan and Zurich Insurance Group, has launched its COVID-19 Risks Outlook: A Preliminary Mapping and its Implications - a companion for decision-makers, building on the Forum's annual Global Risks Report.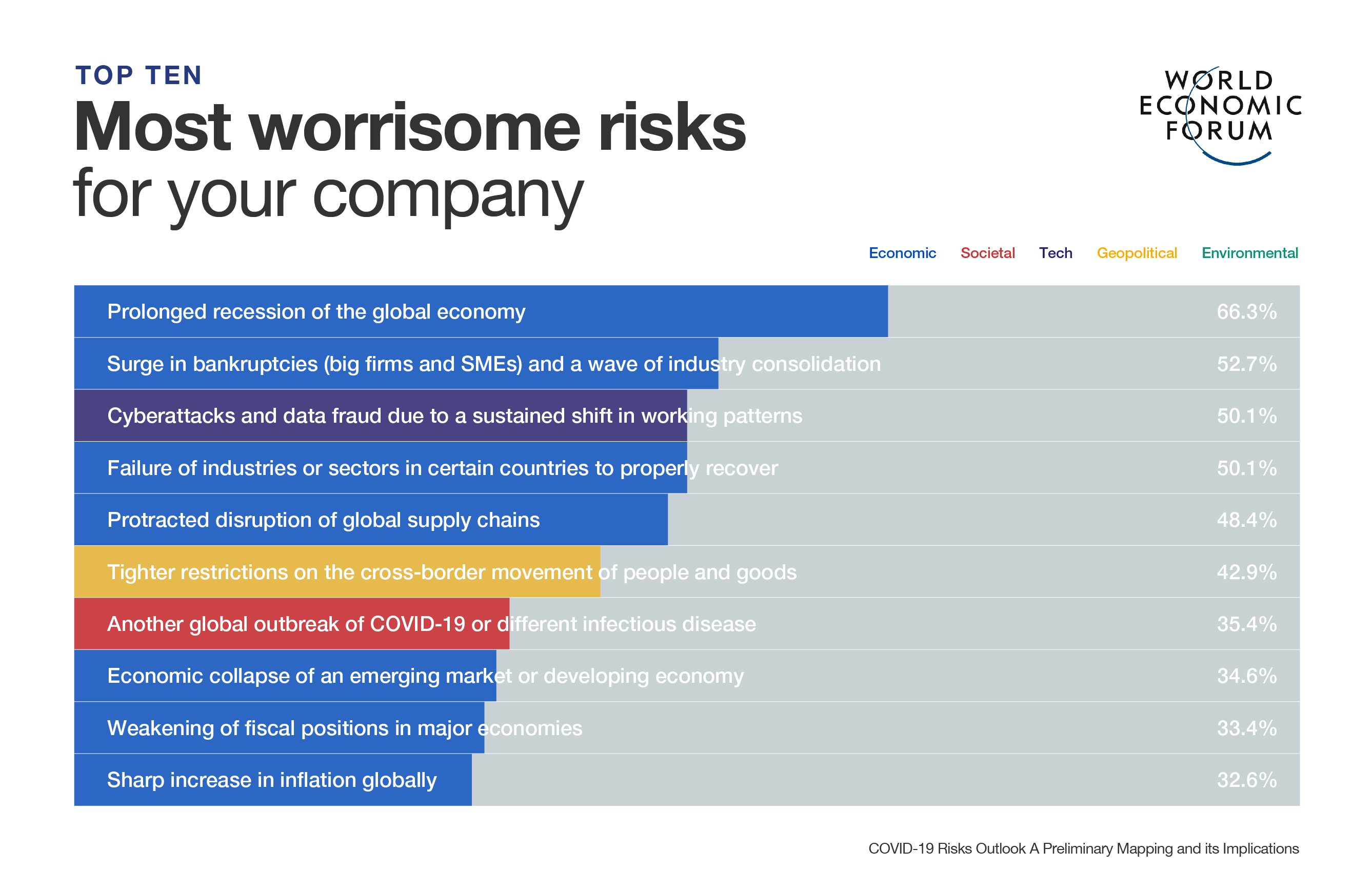 "And where there is a gap or an absence, or a void, is where there is a space for COVID misinformation, because there's a space for fear, there's a space for speculation and rumour and everybody who's normally just trying to get a handle on that situation," she explains.
Most people just want to know when the pandemic will end and want a roadmap to know how make decisions in the meantime. While the eventual solution may not yet be known, clear and positive public health messaging will continue to be essential.