It is very difficult to know what the migration impacts of Brexit will be, although that didn't stop the Leave campaign putting promises on migration at the centre of the debate, nor significant numbers of Britons voting to leave the European Union primarily because they believed them.
One reason that it is too soon to forecast migration outcomes is that they will depend on the deal that the UK strikes with the EU. As is the case for Norway and Switzerland, for example, it is perfectly feasible that the UK will maintain the free movement of EU labour, in exchange for access to the EU market, even once it leaves.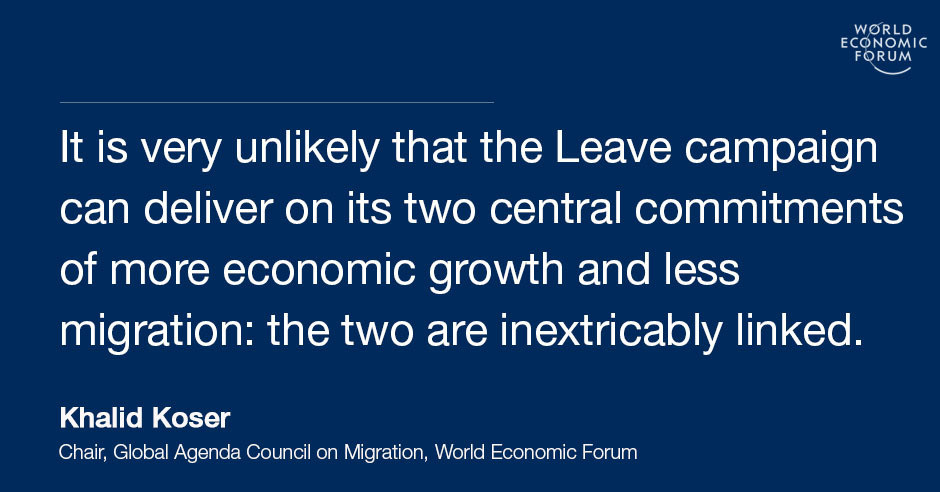 In addition, migration trends may also be affected by non-migration policies. For example, fewer migrants may be expected if the UK economy enters a recession; and more if it booms. To be clear, it is very unlikely that the Leave campaign can deliver on its two central commitments of more economic growth and less migration; the two are inextricably linked.
Finally, to an extent migration is simply unpredictable and unmanageable, especially irregular migration.
Bearing in mind these caveats, here are seven fairly safe predictions.
First, over the next few years we can expect an increase in the emigration of Britons, if for no other reason than disillusionment. Some 2.5 million Britons have already signed a petition for a second referendum, and the young, the significant majority of whom voted to remain, now feel betrayed. Their likely destinations will be Australia, Canada and New Zealand, given the uncertainty about their future status in EU countries. Over the last decade it has tended to be the educated and skilled who have emigrated from Briton, and the potential for a skills gap is real. It will need to be filled by migrants.
Second, Britons working abroad are now less likely to return home than they have been in the recent past. They overwhelmingly voted to remain. They are likely to seek extensions to their overseas postings, negotiate acceptable rates to be hired locally, or seek new employment abroad. A significant proportion of people who enter the UK each year are Britons returning from abroad; as their number decreases, the proportion of foreigners entering the country will increase.
Third, even if the number of EU migrants entering the UK decreases significantly, it will have a negligible overall economic impact. Research published by UCL a few years ago suggested that EU migrants in the UK contributed about 1.8bn GBP to the economy annually. On the one hand it is therefore worth emphasizing that EU migration has been a boon not a burden; on the other hand its contribution has been marginal, amounting to about 0.25% of government spending each year.
Fourth, the concentration of EU migrants in certain sectors, especially agriculture, manufacturing and food services, means that these sectors will need to adjust to any significant reduction in migration. They may do so through automation rather than employing Britons. Either option is likely to result in an increase in prices in the short term at least.
Fifth, Brexit will compound the effect of rising university tuition fees in England specifically to encourage more students to study abroad (and in Scotland), and fewer overseas students to come to enrol. Universities are likely to be big losers from Brexit, which makes them less attractive to students and staff, and is likely to limit their EU funding sources and research networks. It is surprising that British Universities did not campaign even more vigorously to remain.
Sixth, the UK will soon legitimately be able to exclude itself from ongoing EU negotiations on responsibility-sharing for asylum seekers and refugees. For many this alone may justify the decision to leave, but in reality it is a false sense of relief. The UK already attracts proportionally far fewer asylum seekers than other European countries like Germany and Sweden, and has long and successfully resisted EU efforts to harmonize asylum policy. I expect no significant reduction in asylum applications in the UK as a result of Brexit.
Seventh, finally, there is a sense that the UK – or large parts of it – has just become a slightly less welcoming place for migrants. Depending on your perspective, that may be a good thing and should help reduce the record number of migrants entering the UK in recent years. But it is also likely to unsettle resident ethnic minorities in the UK. Brexit is likely to make integration less easy; and may sow the seeds of greater, not less, tension and resentment within British society.
Measured against global migration trends – the number of international migrants worldwide is about four times the total population of the UK – Brexit is a sideshow. But still it illustrates the breadth of the migration spectrum, how migration is a systemic challenge and opportunity for the global economy; that it generates enormous passion, and is difficult to predict or manage. For all these reasons and more, the World Economic Forum will be developing a migration agenda through its new Global Future Council on Migration.