The World Health Organization held a media briefing on 22 June, to update the public on the COVID-19 coronavirus pandemic.
Dr Tedros Adhanom Ghebreyesus urged countries to ensure access to dexamethasone is equitable.
Countries that had success in suppressing the virus are seeing increases in cases.
More than 183,000 COVID-19 cases were reported to the WHO on Sunday - "easily the most in a single day so far" explained Dr Tedros Adhanom Ghebreyesus, WHO Director-General, at the start of the WHO's media briefing on 22 June.
Countries are facing a delicate balance between protecting citizens and minimizing social and economic damage, he said. "It's not a choice between lives and livelihoods, countries can do both," he added, urging countries to "be careful and creative in finding solutions that mean people stay safe while getting on with their lives."
Access to dexamethasone and healthcare
The potential of dexamethasone to help the most critically ill patients is a cause to celebrate, Dr Tedros said, but the next challenge is to increase production and ensure equality in access.
What is the World Economic Forum doing to manage emerging risks from COVID-19?
The first global pandemic in more than 100 years, COVID-19 has spread throughout the world at an unprecedented speed. At the time of writing, 4.5 million cases have been confirmed and more than 300,000 people have died due to the virus.
As countries seek to recover, some of the more long-term economic, business, environmental, societal and technological challenges and opportunities are just beginning to become visible.
To help all stakeholders – communities, governments, businesses and individuals understand the emerging risks and follow-on effects generated by the impact of the coronavirus pandemic, the World Economic Forum, in collaboration with Marsh and McLennan and Zurich Insurance Group, has launched its COVID-19 Risks Outlook: A Preliminary Mapping and its Implications - a companion for decision-makers, building on the Forum's annual Global Risks Report.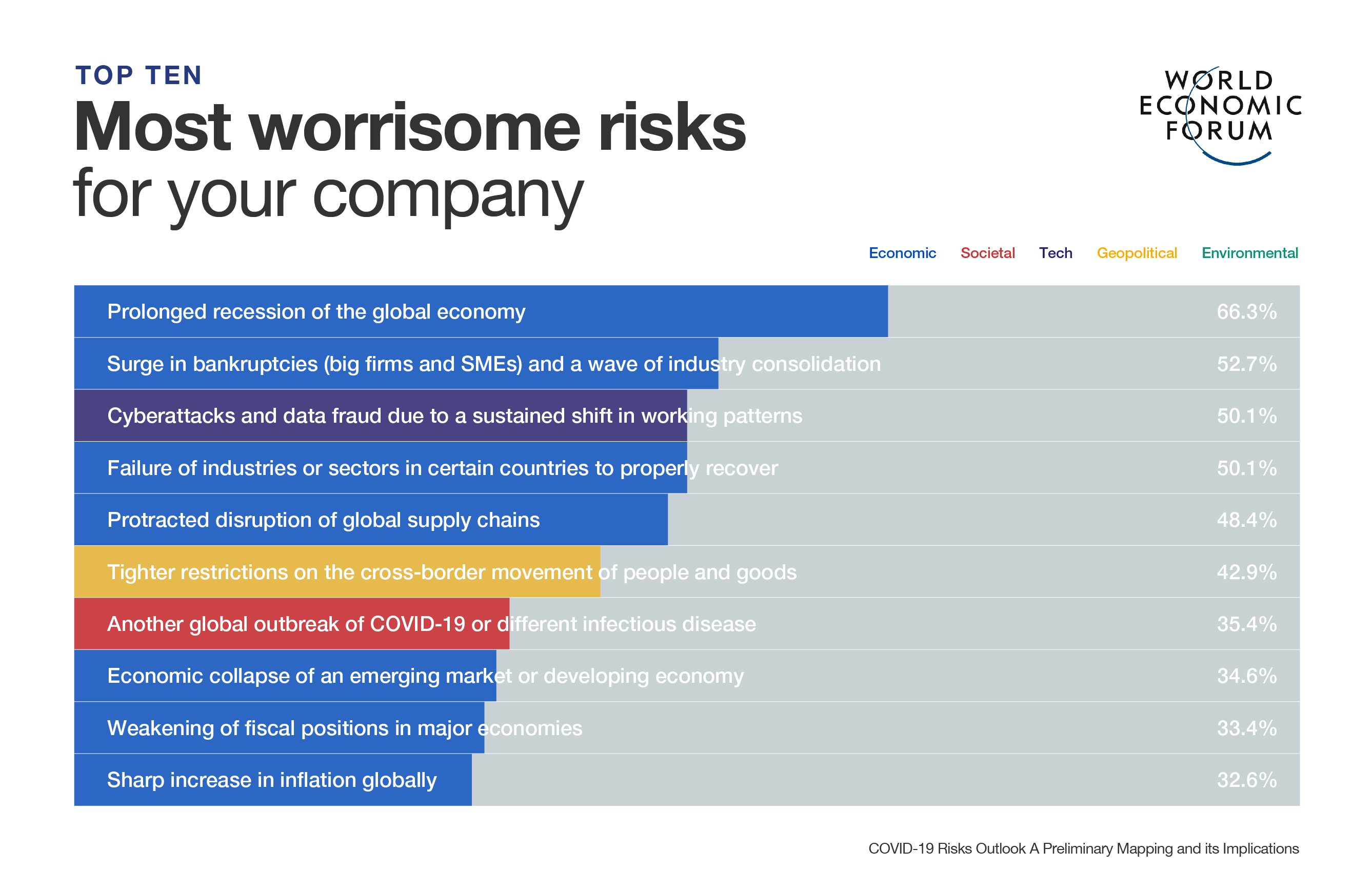 "Transparency and constant monitoring will be key to ensuring needs dictate supply rather than means," he said.
The pandemic has also shown the world that "health is not a luxury item", added Dr Tedros. He called on all countries to make universal health coverage a priority: "It's not a question of whether countries can afford to do this. It's a question of whether they can afford not to."
There are countries that have had success in suppressing transmission that are now starting to see increases in cases, explained Dr Maria van Kerkhove, WHO COVID-19 Technical Lead, in response to a question about South Korea.
"Any opportunity the virus has to take hold, it will," she explained. It's vital that countries are in a position to rapidly detect and isolate cases, to stop them becoming clusters and in turn these clusters don't turn into community transmission.
South Korea and other countries demonstrate that continued vigilance is very important, added Dr Michael Ryan, Executive Director, WHO Health Emergencies Programme.
"Even when you get down to very low incidence, you still have to have a very strong public health surveillance system," he said. "You still have to have a very capable public health infrastructure, you still have to have a population that is willing to take the necessary actions."