This daily round-up brings you a selection of the latest news updates on the COVID-19 coronavirus pandemic, as well as tips and tools to help you stay informed and protected.
Top stories: Latin America is the worst-affected region, lockdowns return to Asia amid a second wave, and the WHO warns about 'life and death' decisions.
1. How COVID-19 is affecting the globe
Confirmed cases of COVID-19 have risen to 16.2 million around the world, according to Johns Hopkins University of Medicine. The number of confirmed coronavirus deaths now stands at more than 648,000.
What is the World Economic Forum doing to manage emerging risks from COVID-19?
The first global pandemic in more than 100 years, COVID-19 has spread throughout the world at an unprecedented speed. At the time of writing, 4.5 million cases have been confirmed and more than 300,000 people have died due to the virus.
As countries seek to recover, some of the more long-term economic, business, environmental, societal and technological challenges and opportunities are just beginning to become visible.
To help all stakeholders – communities, governments, businesses and individuals understand the emerging risks and follow-on effects generated by the impact of the coronavirus pandemic, the World Economic Forum, in collaboration with Marsh and McLennan and Zurich Insurance Group, has launched its COVID-19 Risks Outlook: A Preliminary Mapping and its Implications - a companion for decision-makers, building on the Forum's annual Global Risks Report.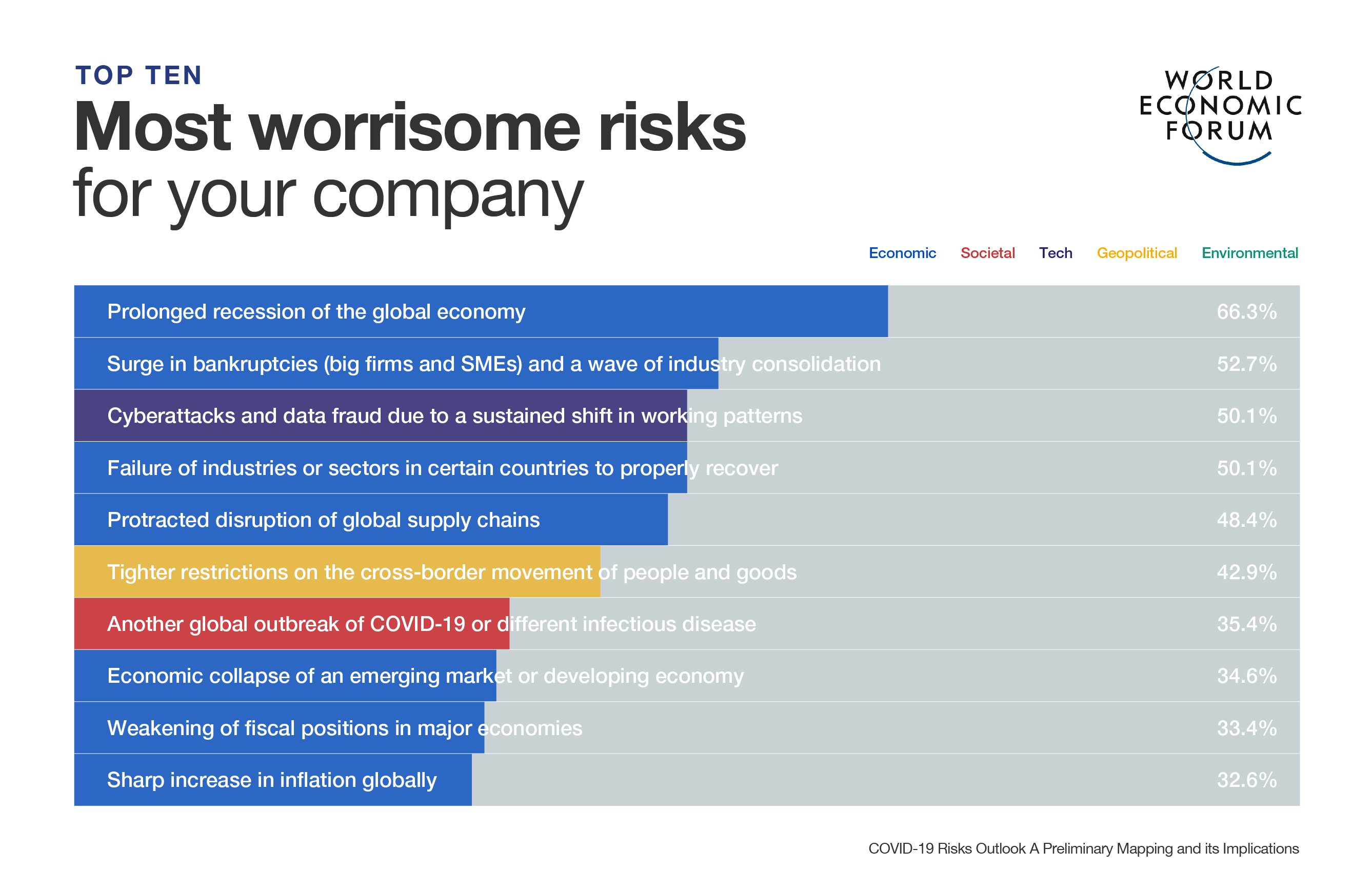 2. Asia-Pacific returns to lockdown amid second wave of infections
From Wednesday 29 July, Hong Kong will make mask-wearing outdoors mandatory, restrict gatherings to no more than two people and ban dining in restaurants. It expects to record another daily total of more than 100 cases, according to the South China Morning Post.
Professor Brett Sutton, Victoria's chief health officer, said: "We're at a very challenging stage with this wave. There's probably not a country in the world that has gone through a second wave that hasn't found it particularly challenging."
3. WHO chief: We're all making life and death decisions
Treat the decisions about where you go, what you do and who you meet as a matter of life and death, the Director-General of the World Health Organization has urged.
Speaking at a media briefing, Dr Tedros Adhanom Ghebreyesus said the pandemic has changed the way we live our lives for good, and finding ways to live them safely will depend on making "good choices".
"It may not be your life, but your choices could be the difference between life and death for someone you love, or for a complete stranger."
Recent outbreaks have been associated with nightclubs and other social gatherings, even in places where transmission had been suppressed, he said, calling on people to not let down their guard against the virus.
"We must remember that most people are still susceptible to this virus. As long as it's circulating, everyone is at risk.
"Don't expect someone else to keep you safe. We all have a part to play in protecting ourselves and one another."
Dr Tedros said people needed to understand their situation and how to minimize their exposure.
He urged everyone to ask themselves: Do you know how many cases were reported where you live yesterday? Do you know where to find that information? Are you being careful to keep at least one metre away from others? Are you still cleaning your hands regularly? Are you following the advice of your local authorities?
Catch up with the latest COVID-19 news and interviews via our World Vs Virus podcast: