COVID-19 has hit public perception of leaders' and institutions' ability to prepare for and manage risks.
From climate change to jobs, there is an opportunity to rethink economic and social models and also rebuild trust.
The private and public sectors both have central roles to play.
The COVID-19 pandemic has had significant impacts across the globe - including on the public perception of how well leaders and institutions can prepare for and respond to risks and shocks.
So, what's the way forward?
Our Great Reset call on 18 November tackled just this question, looking at restoring confidence in leadership and building a more resilient world after the COVID-19 crisis.
Ursula von der Leyen, President of the European Commission; Stephanie Kelton, Professor, Stony Brook University; John F. Kerry, Distinguished Fellow for Global Affairs, Yale University; M. Sanjayan, Chief Executive Officer at Conservation International; Arne Sorenson, President and Chief Executive Officer at Marriott International; and Ben Smith, media columnist for the New York Times.
On a common purpose and leadership
With so many people making so many sacrifices, I think it is so important that we're able to offer a sense of direction and sense of hope. We know we're not out of the woods yet and we won't be for a while, but there is an old word, which has long disappeared from the dictionary, which I think sums up where we are.

The word respair was used in the 15th century to describe the return of hope after a period of despair... I think it's time to respair and reset.

—Ursula von der Leyen
What is the World Economic Forum doing to manage emerging risks from COVID-19?
The first global pandemic in more than 100 years, COVID-19 has spread throughout the world at an unprecedented speed. At the time of writing, 4.5 million cases have been confirmed and more than 300,000 people have died due to the virus.
As countries seek to recover, some of the more long-term economic, business, environmental, societal and technological challenges and opportunities are just beginning to become visible.
To help all stakeholders – communities, governments, businesses and individuals understand the emerging risks and follow-on effects generated by the impact of the coronavirus pandemic, the World Economic Forum, in collaboration with Marsh and McLennan and Zurich Insurance Group, has launched its COVID-19 Risks Outlook: A Preliminary Mapping and its Implications - a companion for decision-makers, building on the Forum's annual Global Risks Report.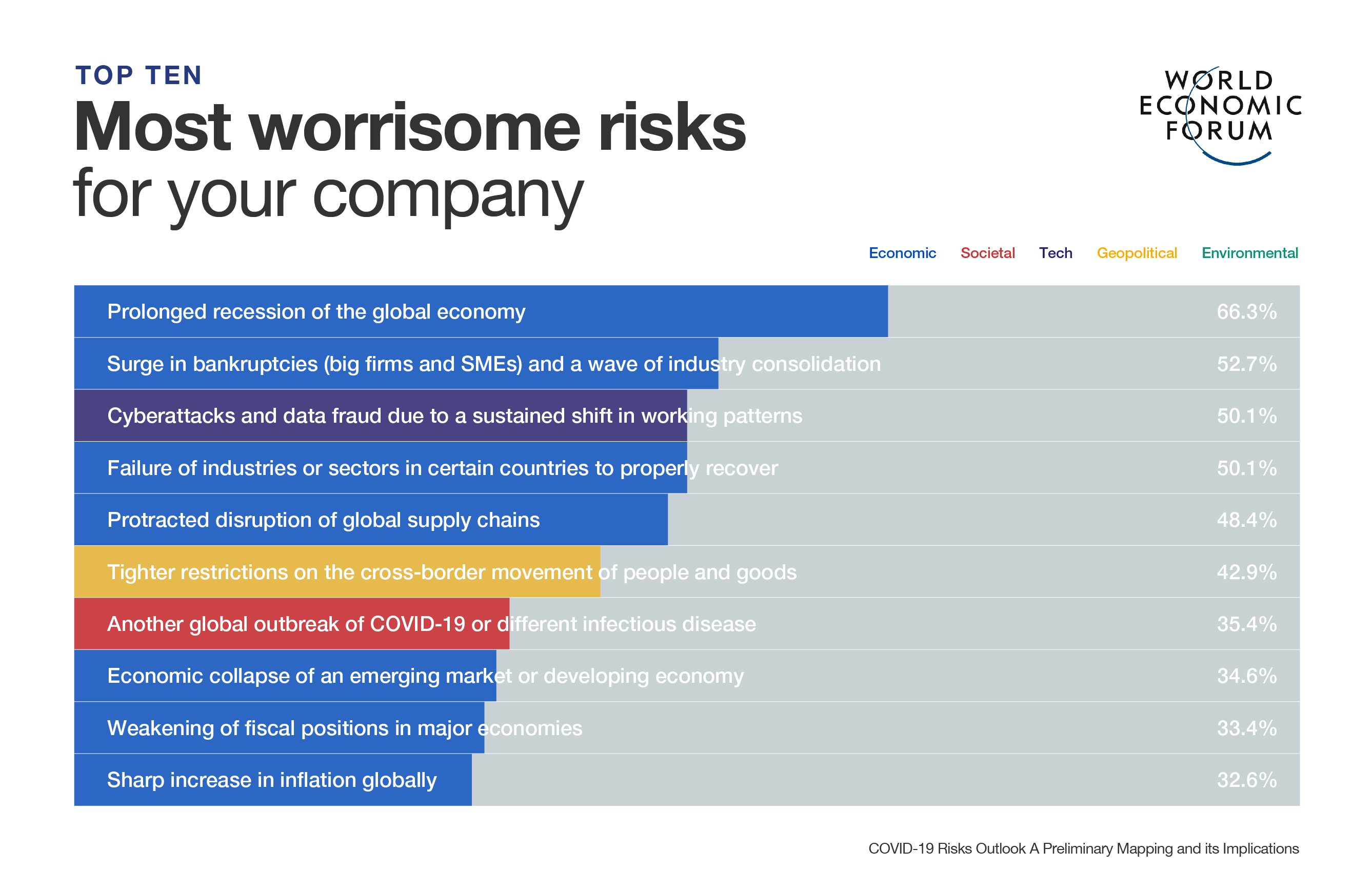 On the role of public and private sector