For the first time last year, South Korea's population declined as the number of babies being born hit a record low.
The figures are being driven by a trend of people marrying and having children later, or not at all, linked to concerns about the economy.
Coronavirus has added an additional dimension, further depressing the marriage and birth rate.
Globally, the birth rate has fallen significantly since 1950, with several countries now having a birth rate lower than the level required to sustain population levels.
More people died last year in South Korea than were born. It's unwelcome news in a country that already has the world's lowest birth rate.
Census figures released by the Ministry of Interior and Safety show South Korea had a population of 51.8 million at the end of 2020 – down 20,800 from the year before, according to the Yonhap news agency.
The number of babies born in the country last year hit a record low – down more than 10% on 2019. This came alongside a 3.1% increase in deaths year-on-year.
Although this is the first time South Korea's population has shrunk, the rate of population growth has been declining steadily for the past decade. In 2019 it grew just 0.05%.
There's a number of trends behind the figures. More people are living alone rather than starting families – almost 40% of households in South Korea are single people, more than any other household type. And people are getting married later and waiting longer to have children – or not having them at all.
The prolonged economic downturn in the country has been blamed for driving much of the disinclination to start a family. And coronavirus has further heightened delays in getting married.
What is the World Economic Forum doing to manage emerging risks from COVID-19?
The first global pandemic in more than 100 years, COVID-19 has spread throughout the world at an unprecedented speed. At the time of writing, 4.5 million cases have been confirmed and more than 300,000 people have died due to the virus.
As countries seek to recover, some of the more long-term economic, business, environmental, societal and technological challenges and opportunities are just beginning to become visible.
To help all stakeholders – communities, governments, businesses and individuals understand the emerging risks and follow-on effects generated by the impact of the coronavirus pandemic, the World Economic Forum, in collaboration with Marsh and McLennan and Zurich Insurance Group, has launched its COVID-19 Risks Outlook: A Preliminary Mapping and its Implications - a companion for decision-makers, building on the Forum's annual Global Risks Report.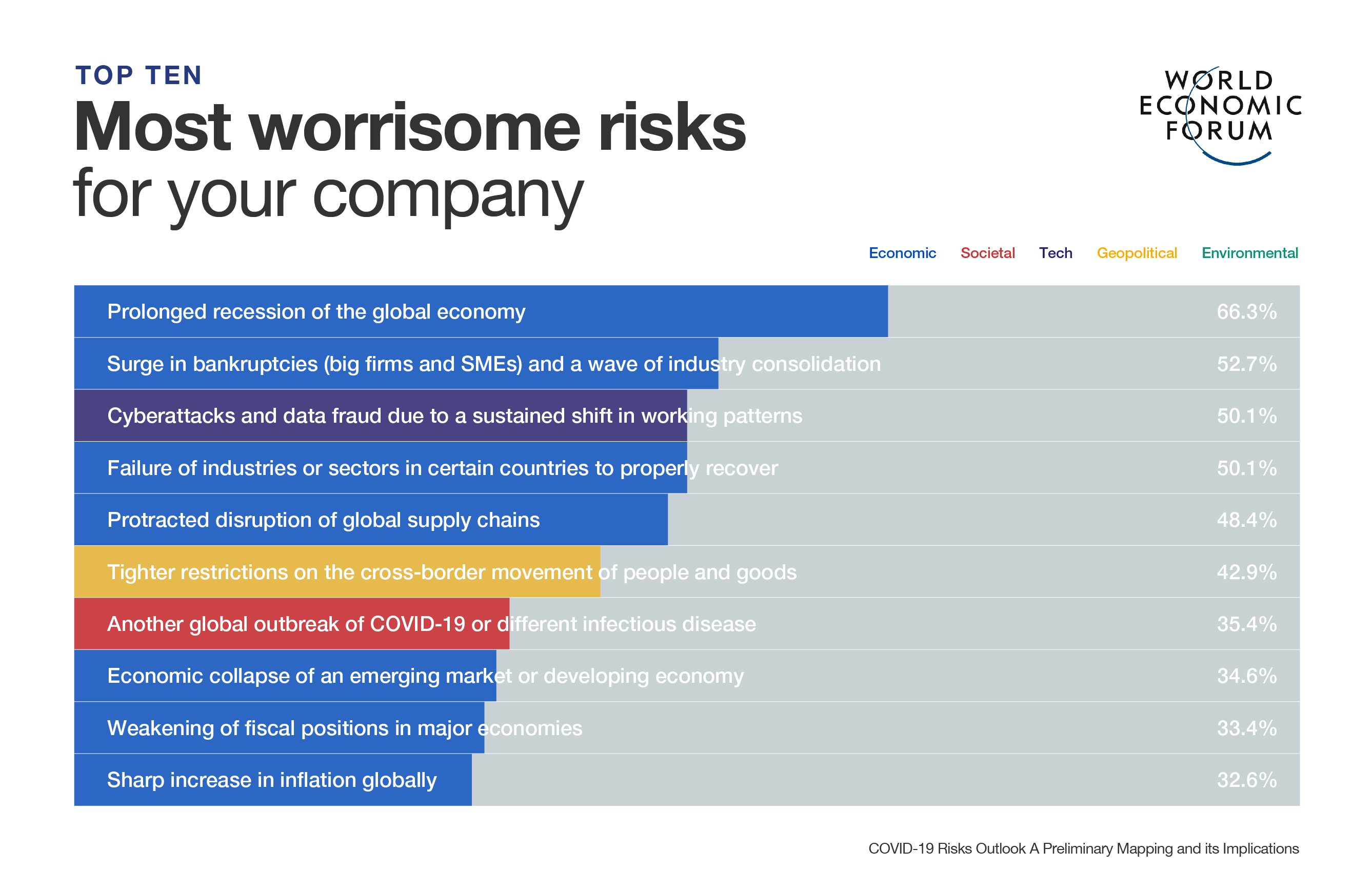 Far fewer babies are being born to mothers in rich countries
But it's not just South Korea that is contending with falling birth rates. A birth rate of 2.1 per woman is needed to sustain population size, but in many industrialized countries the average is well below this, according to a study of 195 countries published in The Lancet. In 1950, the total fertility rate globally stood at 4.7. By 2017, this had decreased to 2.4 live births.
These global trends do, of course, mask significant disparities between countries – in Cyprus the total fertility rate stood at 1.0 in 2017, whereas in Niger it was 7.1.
In 1950, the high-income, central Europe, eastern Europe, and central Asia regions made up more than a third of the global population, but by 2017 they accounted for less than a fifth. In this time the population living in south Asia, sub-Saharan Africa, Latin America and the Caribbean, and North Africa and the Middle East has increased substantially.
Rich populations are set to decline by 2050
A separate, forward-looking, study suggests that by 2050, 151 countries would have a total fertility rate lower than the 2.1 replacement rate. Countries including Japan, Spain and Thailand are all projected to have population declines greater than 50% between 2017 and 2100.
Declining birth rates are contributing to a shift in the average age of countries, putting strain on governments to support their pensioners.
In Japan, which has the most aged population in the world, former Prime Minister Shinzo Abe had declared the falling birth rate a "national crisis". And recent figures show that coronavirus has further depressed the number of babies being born.