Deals between pharmaceutical companies and rich countries enlarge chasms of inequity.
We will not recover from COVID-19 until we ensure vaccine access to all people, in all countries, without delay.
The People's Vaccine Alliance urges that vaccines are made available for all people, in all countries, free of charge.
While new COVID-19 lockdown measures swept the world late last year, 2021 has begun with announcements of new contracts to pave a rocky road to vaccine access. This access will neither be the sole responsibility, nor within the exclusive control of individual governments. Who sets the terms for vaccine access is a complex picture of pharmaceutical companies, national governments, multilateral agencies, development banks and philanthropic foundations. Philanthropy – drawing on its core tenet to promote the welfare of others – must be a voice for dismantling the barriers to accessing the vaccine.
South Africa recently secured one million doses of the Oxford University-AstraZeneca vaccine to arrive this month, with 500,000 more coming in February – cause for a moment of celebration. Yet it was also a moment haunted by dark realism. These 1.5 million doses will account for a little over 2% of the country's population and will be prioritized for health workers, though not necessarily all of them. It is not clear where the rest of the needed vaccines will come from, or when.
Meanwhile, some of the world's richest countries have contracted for volumes of doses far in excess of their needs. They are positioned to immunize their populations multiple times while poorer income countries face dangerous shortfalls.
Global collaboration for vaccine access is also stumbling. Recent risk assessment by Citigroup indicated that the failure of COVAX, the global facility set up to coordinate procurement and allocation of vaccines on behalf of countries across all income brackets, could leave people in poorer nations without any access to COVID-19 vaccines until 2024. The Economist Intelligence Unit's forecast is only slightly rosier with low-income countries not expected to have wide access before 2022-2023.
Access to the vaccine is fast becoming the defining barometer of inequality. How we address this inequality will determine the pandemic recovery. Winnie Byanyima, Executive Director of the Joint United Nations Programme on HIV/AIDS (UNAIDS), has drawn stark parallels between COVID-19 and earlier global health crises, stating: "This tragically echoes the early days of the AIDS response when treatment was only available to the rich, while poorer countries had to wait years before they could offer their people the same life-saving medicine. This was an avoidable tragedy and we cannot let this happen with the COVID-19 vaccine."
We will not recover from COVID-19 until we ensure vaccine access to all people, in all countries, without delay. But who will set the terms?
Individual pharmaceutical companies are offering concessions on pricing while the industry at large maintains enforcement of intellectual property rights which fundamentally stifles production and reduces supply. COVAX meanwhile is failing to leverage its market power to demand more of manufacturers.
Private foundations have firmly installed themselves at the table to address vaccine access. The Africa Donor Collective is an emerging initiative working to mobilize vaccine access, catalyzing and coordinating philanthropy and business mobilization to help stop the spread of COVID-19 in Africa and strengthening public health systems to mitigate the impacts of existing and future diseases on the most vulnerable.
This includes working with Africa Centers for Disease Control and Prevention (Africa CDC) on procurement, financing and distribution of COVID-19 vaccines and other technologies, and critically, on equitable allocation, prioritization, and uptake of limited vaccine and technology supplies.
At a global level, the Coalition for Epidemic Preparedness Innovations (CEPI), launched in 2017 by the governments of Norway and India, the Bill & Melinda Gates Foundation, Wellcome, and the World Economic Forum, brings together a range of institutions to develop vaccines for current and future epidemics.
Collaboration across stakeholders, including private donors, is essential to combat COVID-19, but must be grounded in solidarity, not the advancement of geopolitical or market interests. Critical voices have called out the Bill and Melinda Gates Foundation's unparalleled contribution to private vaccine financing as "based on what charity or the market will allow… prioritizing pharma monopolies of technology and intellectual property (IP) and secretive, technocratic, and top-down approaches that mostly exclude Low to Middle Income Countries (LMICs) from decision making as well as avoiding public scrutiny".
Private foundations and development assistance donors, whether bilateral or multilateral, have a pre-eminent role in the health policy making of lower income nations. Each of these constituencies must foreground a commitment to equitable access. The People's Vaccine Alliance, a movement of health and humanitarian organizations, world leaders, health experts, faith leaders and economists, urges that once safe and effective vaccines are developed that they be produced rapidly at scale and made available for all people, in all countries, free of charge.
What is the World Economic Forum doing to manage emerging risks from COVID-19?
The first global pandemic in more than 100 years, COVID-19 has spread throughout the world at an unprecedented speed. At the time of writing, 4.5 million cases have been confirmed and more than 300,000 people have died due to the virus.
As countries seek to recover, some of the more long-term economic, business, environmental, societal and technological challenges and opportunities are just beginning to become visible.
To help all stakeholders – communities, governments, businesses and individuals understand the emerging risks and follow-on effects generated by the impact of the coronavirus pandemic, the World Economic Forum, in collaboration with Marsh and McLennan and Zurich Insurance Group, has launched its COVID-19 Risks Outlook: A Preliminary Mapping and its Implications - a companion for decision-makers, building on the Forum's annual Global Risks Report.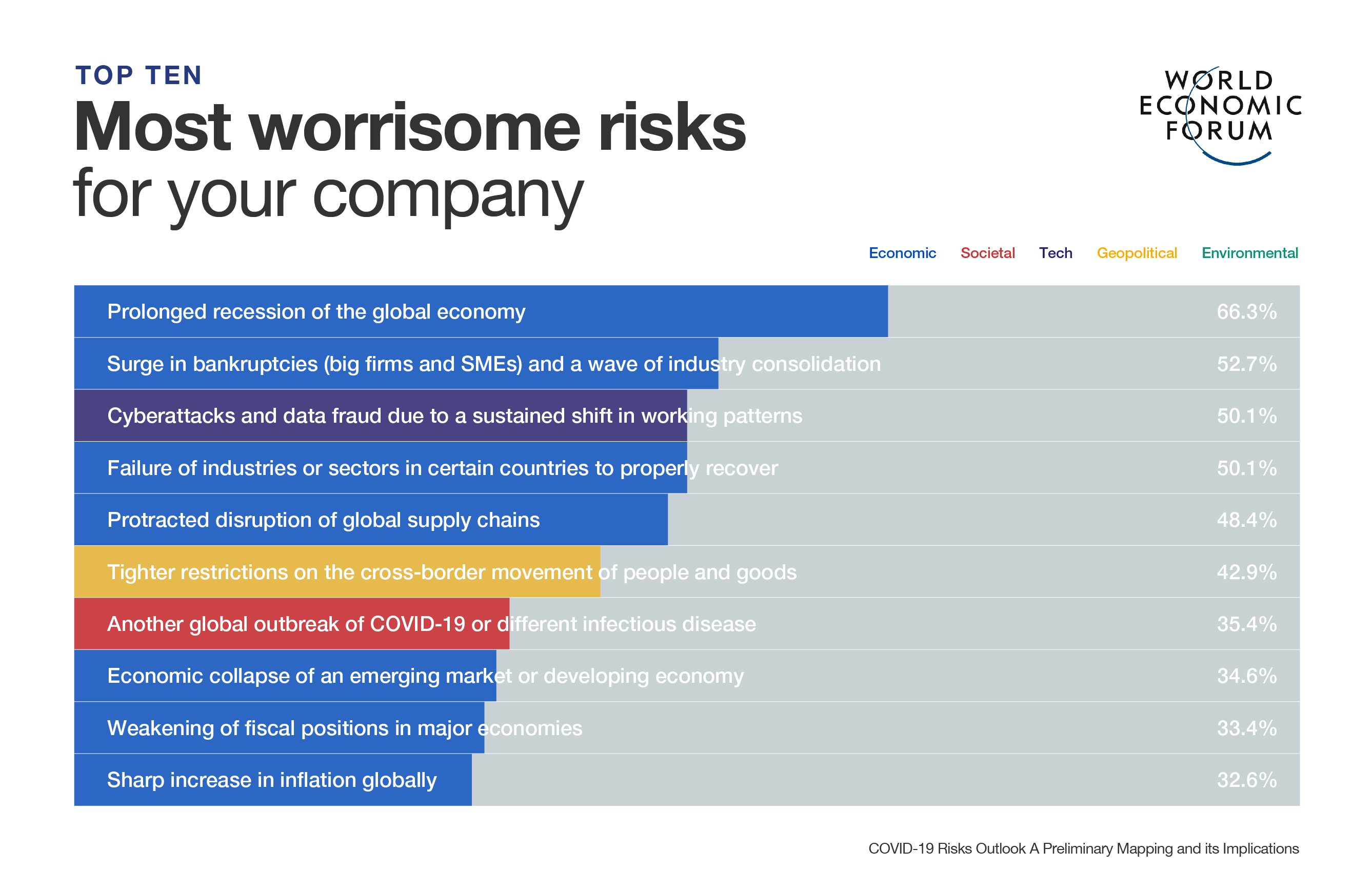 Equitable and timely vaccine access requires donors to align their engagement with demands that all pharmaceutical corporations and research institutions working on COVID-19 vaccines openly share their technology and intellectual property through the World Health Organization COVID-19 Technology Access Pool. This is critical to the timely manufacturing of billions more doses and safe and effective vaccines being available to all who need them.
It will also mean advocating for the full participation of governments in developing countries, as well as civil society from the global north and south, in decision making and ensuring transparency and accountability of all decisions. It will mean a more ambitious common agenda to build long-term vaccine manufacturing capacity in Africa.
Failure to address the structural barriers that prevent equity of access to essential medicines and health technologies will mean we revisit another variant of this vaccine scramble further down the line. If we are to address the systemic and structural drivers of inequality to "rebuild trust and address the fault lines that emerged in 2020" – as Klaus Schwab, Executive Chairman of the World Economic Forum suggested last month – equity of access to COVID-19 vaccines is where we must start.
Open Society Foundations is a signatory to the calls of the People's Vaccine Alliance for a "people's vaccine" for COVID-19, based on shared knowledge and freely available to everyone everywhere – a global common good.