Evidence shows vaccines are performing well in terms of preventing serious disease, hospitalization and death from COVID-19, WHO says.
There's no conclusive evidence that a COVID-19 booster shot is needed in most cases.
Some countries, including the US and UK, are offering booster jabs for older people and those at high risk.
But WHO says the focus should be on low-income countries that have low vaccination rates.
Should you get a COVID-19 booster shot – and what is the evidence about their safety and effectiveness?
That's a key question being asked around the world, as some countries weigh distributing a third round of COVID-19 shots. In the US, an FDA advisory panel recommended boosters for older people and those deemed to be at high risk, while in the UK, care home residents, health and social care workers, people aged over 50 and those with underlying health conditions can get a third jab.
The offering of such COVID-19 booster shots has sparked a fierce debate, with some countries questioning whether anyone should be considering booster shots while the rate of vaccination is so uneven. Globally, 5.5 billion vaccine doses have been administered, but 80% of those are in high- and upper-middle income countries, according to the World Health Organization (WHO).
Vaccines are working
There is little reason for most people to get a third COVID-19 jab, according to Dr Katherine O'Brien, WHO Director of the Department of Immunization, Vaccines and Biologicals, because the vaccines are performing well and preventing serious disease, hospitalization and death.
"The evidence shows that the vaccines people have received are holding up really well," she says. "That's really the primary intent of the vaccines."
There are three reasons a person might consider getting a third dose, she says. These include if they didn't respond adequately to the first two doses (for example if they are immunocompromised), if there is evidence that the immunity received from the first doses starts to wane, or if the performance of the vaccine is inadequate against some of the variants that have emerged.
"We do have some evidence that a small portion of people may need a third dose," she said, because they haven't responded to the first doses adequately. However there is little evidence that a widespread COVID-19 booster shot is needed, or would be effective or safe, she says. In fact, the evidence suggests that most people don't need a third dose.
COVID-19 booster shot is leading to vaccine inequity
WHO opposes booster shots being rolled out in a widespread manner, saying wealthier nations should share extra doses with countries with low vaccination rates.
Kenya, Ethiopia, Nigeria and Tanzania are among countries with fewer than 5% of people vaccinated, according to data compiled by Our World in Data, while many richer nations have vaccinated more than 70% of their populations and are now getting COVID-19 booster shots for their older citizens.
"The longer vaccine inequity persists, the more the virus will keep circulating and changing, the longer the social and economic disruption will continue, and the higher the chances that more variants will emerge that render vaccines less effective," says Dr Tedros Adhanom Ghebreyesus, WHO Director-General.
What is the World Economic Forum doing to manage emerging risks from COVID-19?
The first global pandemic in more than 100 years, COVID-19 has spread throughout the world at an unprecedented speed. At the time of writing, 4.5 million cases have been confirmed and more than 300,000 people have died due to the virus.
As countries seek to recover, some of the more long-term economic, business, environmental, societal and technological challenges and opportunities are just beginning to become visible.
To help all stakeholders – communities, governments, businesses and individuals understand the emerging risks and follow-on effects generated by the impact of the coronavirus pandemic, the World Economic Forum, in collaboration with Marsh and McLennan and Zurich Insurance Group, has launched its COVID-19 Risks Outlook: A Preliminary Mapping and its Implications - a companion for decision-makers, building on the Forum's annual Global Risks Report.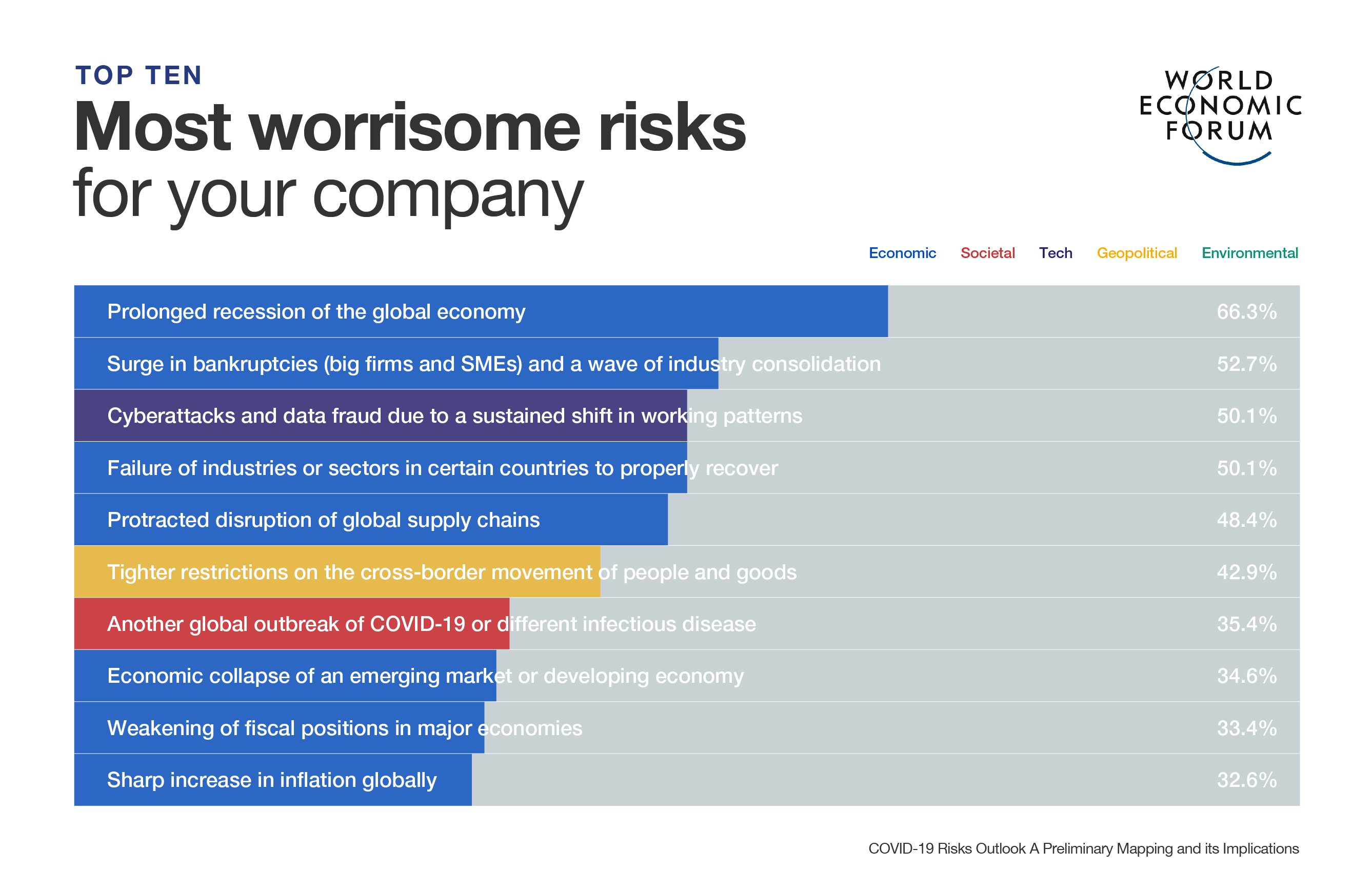 Ending the pandemic
"High-income countries have promised to donate more than 1 billion doses, but less than 15% of those doses have materialized," it says.
Nobody is safe until we all have the opportunity to be vaccinated, says Dr O'Brien. While that's still in progress, everyone needs to continue to focus on other measures like mask wearing, handwashing, social distancing and good ventilation, she says.
"Those are the things that, along with the vaccine, are going to protect you," she says. "That's what's going to end this pandemic."