Global Shapers Community Celebrating a Decade of Impact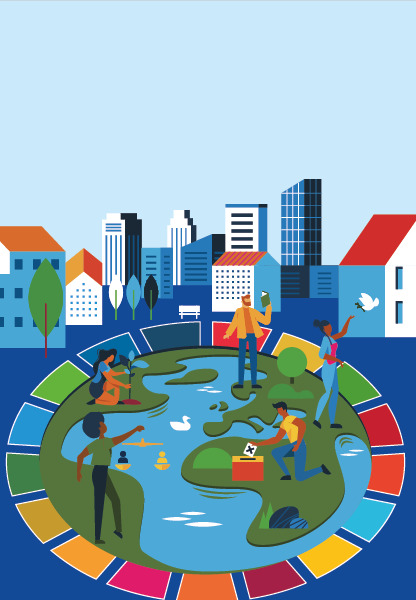 Driving Action to Achieve the Global Goals

The World Economic Forum's Global Shapers Community, a network of young people who volunteer their time and experiences to drive dialogue, action and change celebrates its 10 Year Anniversary. On this occasion, they reflect on the past and make commitments for the future.
Methodology
For this report, multiple data sources were used in a mixed-methods approach by two external evaluator partners, Accenture and Cuantix. The research included an analysis of historical data from the Global Shapers Community starting from 2017, two impact assessment surveys completed by more than 2,600 Global Shapers, and in-depth interviews of Global Shapers, alumni, and project beneficiaries.
Community Reach
The Global Shapers Community has grown to 14,000 Global Shapers and alumni in 455 city-based Hubs. Its ambitious goal is to grow to over 500 Hubs by 2022. This report highlights the Community characteristics and impact model that makes the Global Shapers Community unique.
Individual impact
Global Shapers develop a range of leadership skills, such as project management, conflict resolution and empathetic listening, and define their individual leadership styles. Members also describe the confidence that is gained from belonging to their Hub, learning to lead within their local communities and delivering effective solutions. Through the years of active community service, Global Shapers develop and perfect critical skills needed for effective leadership in the 21st century.
Collective impact
Over the past 10 years, the Global Shapers Community has engaged thousands of young people who have developed leadership skills and learned the importance of self-organizing for impact. Understanding that systemic change requires a multistakeholder approach, Global Shapers have worked tirelessly to implement projects to improve their local communities while contributing to the Sustainable Development Goals (SDGs)
Global Indicators of Impact
* Reflects data collected since 2017 from 613 local projects

~ 11,5 M

People reached or mobilized

~ 1,95 M

People directly benefitted

~ 46 K

Working days volunteered

37

Policies changed

17

Global goals advanced
Looking ahead
Acknowledging the breadth and complexity of global issues, the partner analysis identified six new impact areas, providing a framework to accelerate the accomplishment of the SDGs. This new framework aims to mobilize Hubs around the world to:
1. Protect the planet: reduce emissions, fight drought, respond to natural distastes, preserve biodiversity, conserve nature, promote sustainable consumption, and more



2. Reskill for the future: provide all people with better education, skills and jobs to ensure no one is left behind in the Fourth Industrial Revolution, along with promoting new standards of work, digital literacy, online safety, and more
3. Strengthen civic engagement: empower minority leadership, mobilize citizen voting, inspire youth to run for local politics, ensure representation in decision-making and solution building at all levels of society, and more

4. Create inclusive communities: advocate for human rights, modernize social norms and disrupt harmful stereotypes related to gender, race, sexual orientation, disability, homelessness, statelessness, and more

5. Improve health and well-being: achieve health equality, ensure access to health services, address the social determinants of health, advance youth mental health support, respond to pandemics, and more

6. Deliver basic needs: respond to local disasters, take humanitarian action, end hunger, fight extreme poverty, and more, to support the world's most vulnerable communities.