Last year saw a set of victories for the LGBT community, both in the United States and Europe. The call for a more diverse and inclusive world is gaining momentum, but it is important to remember that while diversity is becoming more widespread, there is a great deal of work still to be done for LGBT rights around the world.
What does LGBT mean?
LGBT is the most commonly used acronym for the lesbian, gay, bisexual and transgender community. This umbrella term is in fact the shorter version of a wide variety of other acronyms which are used to be more inclusive of other individuals. The list of possibilities subject to some debate. Sometimes an "I" is added to include intersex (people with the physical characteristics of both genders), and sometimes a "Q" for people who identify simply as queer. There are many other communities within LGBT such as (but not exclusively confined to) asexuals (people who are not attracted to anyone in a sexual manner or do not have a sexual orientation), pansexuals (people who are sexually attracted to all or a wide variety of gender identifications) and non-binary (people whose  gender identities  are not exclusively masculine or feminine) people.
What kind of problems do LGBT people face around the world?
The struggles of LGBT people vary dramatically around the world. While people living in the west have made massive strides in achieving equal rights, there are still many countries where gay marriage is still not recognised, and in some countries homosexual relationships are still punishable by death.
The right to marry
Around the world, there are 23 countries where same-sex marriage is legal. The majority of nations are in the Americas and Europe, with South Africa and New Zealand also on the list. In the UK, gay marriage is devolved to national parliaments, so is only legal in England, Wales and Scotland. In Mexico only certain jurisdictions have legalised same-sex marriage.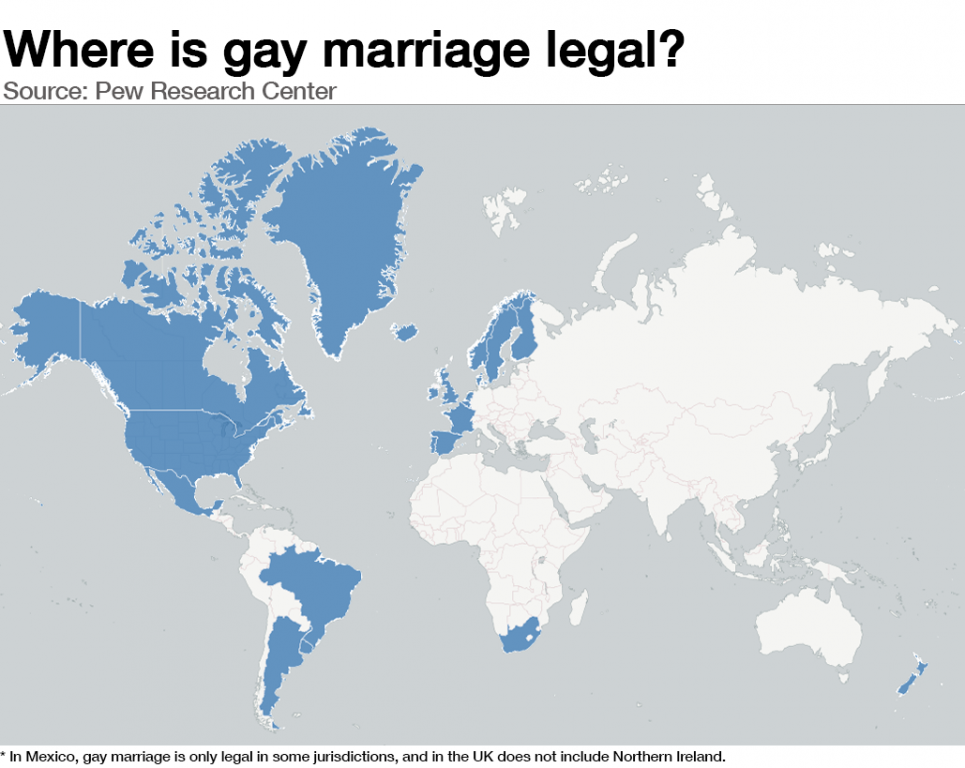 'Gay-friendly' nations and LGBT rights
While same-sex marriage is a strong indicator of nations opening up to the LGBT community, it does not guarantee that those nations are "gay-friendly" in a broader sense. In the United States, for example, numerous political candidates for the 2016 presidential elections are running on a platform of removing same-sex marriage and other LGBT protections.
Europe is arguably the most "gay-friendly" continent. When asked which countries were most gay-friendly, a recent survey showed that 8 out of the top ten were in Europe.
Nevertheless, Europe as a whole still has much work to do. In May 2015, ILGA released its LGBT equality ratings. The UK and Belgium lead the continent with over 80% of full equality achieved in both countries. Much of western Europe also achieves high levels of equality, but as the map moves further east, those numbers begin to plummet.
Same-sex relationships are still criminalised – or even punishable by death
There are many places in the world where being LGBT is not only illegal but punishable by death. The data on what is specifically happening to LGBT individuals in a given country of persecution is sometimes difficult to verify. In countries such as as Nigeria and Somalia, for example, there is evidence of the execution of LGBT people, even though homosexuality is not officially punishable by death. Regions controlled by ISIS are particularly brutal in their methods of execution towards LGBT people.
Mauritania, Sudan, Iran, Saudi Arabia and Yemen all have active legislation leading to the death penalty for LGBT people.
Is the situation improving?
In the west, LGBT rights continue to improve. Better education, changing cultural norms and the growing evidence of the economic benefits of diversity have all contributed to a more inclusive environment for LGBT people.
Changes in legislation and LGBT portrayal in the media are important, but a change in cultural attitudes must also follow. Despite Europe's progress, a 2012 report from the European Union Agency for Fundamental Rights showed that 47% of LGBT people had reported being the victims of harassment. Lesbian women in particular were targets (55%) as were people in lower income (52%) brackets.
This kind of cultural discrimination has an economic impact. One in five people reported being discriminated against in the workplace in 2012, while one in eight said that it had an impact on their seeking employment. That number soars to one in three for transgender people.
The most important lesson for progress in the west will be to remember that we are not yet finished.
In other parts of the world, however, the outlook is substantially less encouraging. In numerous countries, LGBT people have been discriminated against for political gain.
What is the cost of discrimination?
Discrimination against LGBT people is not a community issue, it is both a national and human issue. Mental health issues and suicide rates continue to be higher among LGBT persons than in other communities. In addition to the toll discrimination can take on a community, non-inclusive work environments have been shown to have a strong impact on productivity in the workplace.
In their 2014 report, The Economic Cost of Homophobia: A Case Study of India, the World Bank found that the Indian economy was losing as much as 1.7% of its GDP due to homophobia. The loss of labor force and shrunken productivity has been shown to cause a ripple effect.
Free and Equal, an initiative of the United Nations, explains that in a study of 39 countries, the marginalisation of the LGBT community was causing a substantial loss of potential economic output. In an economy the size of India's, as much as 32 billion dollars a year are lost, resulting in a drag on growth and lower tax revenues, which in turn damages education and health funding.
What can be done to push forwards on LGBT rights?
Discrimination can be stopped, both through legislation and education. The European Union, for example, has set out a ten point plan for improving the understanding of LGBT issues, particularly among youth, as well as passing stronger universal diversity laws. Creating a safe and welcoming workspace is also a key factor in ensuring LGBT inclusiveness. Every year, the campaigning organisation OUTstanding presents a list of executives who are working to that end.
The state of LGBT rights, and what can be done by both the business community and governments, will be discussed at the World Economic Forum's Annual Meeting in Davos later his month.
Author: Donald Armbrecht is a freelance writer and social media producer. 
Image: Participants hold a giant rainbow flag during the Brussels LGBT Pride Parade. REUTERS/Francois Lenoir