Women and girls make up more than half the world's population — and they are on the frontlines, often more deeply affected than men and boys by poverty, climate change, food insecurity, lack of healthcare, and global economic crises.
Their contributions and leadership are central to finding solutions, yet persistent discrimination prevents them from living up to their potential. Only one in five Parliamentarians worldwide are female; women earn 23% less than men on global average, and at least one in three women and girls are subjected to physical or sexual violence in their lifetimes.
Adopted by global leaders in September 2015, the 17 Sustainable Development Goals (SDGs) represent the global community's roadmap for achieving a more equitable, safe and just world for all by 2030. Women's empowerment and gender equality are recognized as key factors for success for this ambitious agenda. UN Women's "From where I stand" series presents snapshots from women's lives around the world to showcase how their struggles illustrate the problems each SDG seeks to address, and how women are at the center of bringing about change.
When I was 21, my husband 'stole' me from my father. I was a student at the time. My father agreed, on one condition—if my husband would allow me to finish law school. But we ended up having two kids and I couldn't complete my studies.
I wasn't the type to stay at home so I got involved in community affairs. As a Roma woman, I wanted to make sure the rights of Roma are respected in our community, so I became a community mediator between the Roma and the local administration. It didn't take long before I got elected to the local council. In 2015, I became one of the first two Roma women councillors in Moldova. But I am only 28 years old and as a young Roma woman, it is difficult to get recognition.
My husband accuses me of abandoning my children. Day after day, from sunrise to sunset, I try to help other children, while a nanny takes care of my own. For my husband, a woman must stay home to take care of household chores and children. I try to persuade him that my purpose is to help disadvantaged people and to fight for justice.
But my efforts are bearing fruit. Since I became councillor, 79 Roma children have been registered in schools. Now, the streets inhabited by Roma have lighting and garbage bins have been installed. You may think these are minor accomplishments, but I fought hard to get them done. My future plan is to graduate from law school and build a community centre for women and children from vulnerable groups. I feel that this is my mission here."
Laura Bosnea, 28, was elected to the local council in Râșcani City in 2015, as one of the first Roma women councillors in Moldova.
Where I come from, police officers are some of the most highly respected people, and becoming one brought pride to my family. However, being a female police officer in Kenya can pose challenges. Kenyan culture is part of the African old patriarchal system where women are not placed in places of power. In most cases men will feel degraded if I arrest them. Sometimes they even use sexual advances, thinking that's what I need to get them off the hook.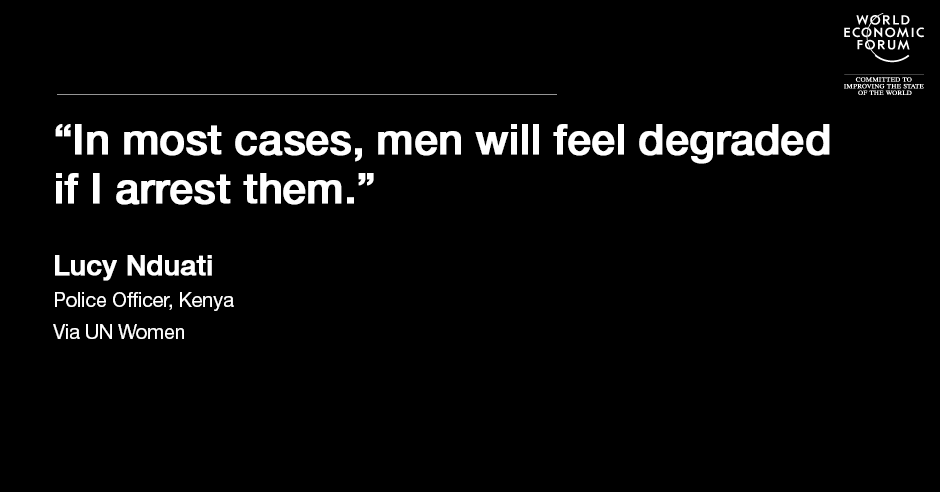 It is important that women are part of the police force because most people find women more understanding. Women have a unique way of policing that is generally based on communications.
I have been part of the Administration Police Headquarters for the last six years.
In my tenure as the Secretary of the Kenya Association of Women in Policing, I have gained an immense interest in cases relating to sexual or gender-based violence. I am currently running a network of middle and junior management-level police officers and we push for cases they are handling to reach successful prosecution.
Lucy Nduati is a 34-year-old single mother and a police officer from Nairobi. Over the course of her career, she has handled cases of sexual and gender-based violence and has been relentless in helping survivors obtain justice.
I am the only woman bus driver in the city, among 202 men drivers. I've always wanted to drive big vehicles. I learned how to drive when I was 10 with my father's four-wheel-drive, but it was my mother who taught me how to drive.
One day, my son noticed the municipality's call for applications for women bus drivers online. I was very interested but I had to get a special license for public transportation, which is 10 times more difficult than getting a regular driver's license. My male colleagues were taken aback by me in the beginning. They started a rumour among themselves that I would have an accident or would quit in no time. But after a while, they became convinced that I'm a good driver.
This is an incredibly demanding job. We work very long hours and have only one day off. For my male colleagues, their work ends here and when they go home, they can rest. But when I arrive at home, I wash my hands and head straight to the kitchen. I feel like I'm resting more in the bus while driving.
I love what I'm doing, it would have been impossible to do this job otherwise. My only rule in life is to continue what I start. I'm not a quitter, and I will go on doing my job for as long as I can.
Pelin Aslantaş, 43, is the only female bus driver in the city of Edirne, in north-western Turkey.
Farmers didn't think that I would be able to handle this business, because I am a woman and this is not a woman's job.
When I started working to process and export saffron to international markets, the farmers and saffron producers didn't want to give me their saffron to process and export because they thought that as a woman, I was too weak to handle this business. With the help of my husband and male members of my family, I sat down with the saffron producers and I explained to them that I have good knowledge, some experience and the ability to run this business. I assured them that they would not suffer losses if they put their trust in me. After many discussions, a couple of saffron farmers agreed to work with me, to test whether I had the ability to handle this business.
Then, I had to convince women to work with me. In my village, women were not used to working outside the home. I talked to their husbands and other members of their families and explained to them the benefits of working outside the home. I told their husbands: 'your wives and daughters will earn money to boost the family income. And the place where your women would work are all full of women.' After many, many conversations with each family, they agreed to work with me. Now most of them are businesswomen and they run their own companies.
Gaining visibility, however, brought with it death threats from the religious extremists because I was going out in the markets. Despite several challenges, I never gave up because I knew the only way to eliminate violence against women is to help women become economically independent and empowered. With this in mind, I worked hard and struggled to help women to learn, work and earn. And this worked."
Atefe Mansoori, 52, from Heart Province, Afghanistan, is Director of Abdullah Muslim Company, which processes and exports saffron.
I was 6 years old when I was cut. But for me, the most traumatic experience was seeing what my older sister went through. She wasn't as lucky as me. She suffered terrible injuries and almost died. The scars will remain with us for life. Where we live, more than 80 per cent of girls go under the knife.
Some 20 years ago, I decided I wanted to become a leader and educator and devote my energy to combating gender-based violence. My first battle was to save my own girls. I have four daughters, aged between 19 and 27, and not one has been cut. It wasn't easy for my husband, but he listened to my arguments. My first-hand experience and other testimonies convinced him.
We have a duty to act and to ensure that every girl is able to live a dignified and fulfilled life. I love my job. I have no shame or fear. My role is to save lives and to protect people's dignity. I've saved thousands of lives by asking women and men to sign agreements and to take formal oaths. In doing so, they agree not to engage in female genital mutilation themselves, and not to stand back and allow it to happen to others. On average, I secure at least 100 new signatures each month. I've also managed to persuade two leading cutters in Kita, which has one of the highest rates of FGM in Mali, to stop performing female genital mutilation."
Assétou Touré is a 49-year-old woman from Mali and a survivor of Female Genital Mutilation.