Dubai has announced plans to build the world's largest concentrated solar power (CSP) facility by 2030 as part of a wider push towards renewable energy.
The plant, located within the Mohammed bin Rashid Al Maktoum Solar Park, is set to generate 1,000 megawatts of power by 2020, and up to five times that amount by 2030.
The announcement comes after Morocco just switched on the $765 million Noor-Ouarzazate complex, which is projected to generate about 580 megawatts of power by 2020, enough to meet the needs of more than 1 million people.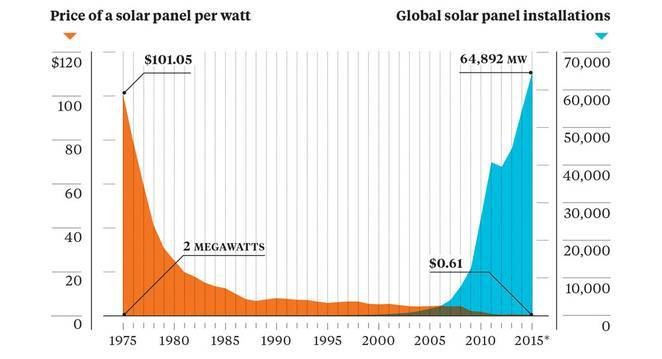 Concerns about low oil prices and the impact of climate change have laid bare the consequences of relying on fossil fuels. And unlike its oil-rich neighbours, Dubai has diminishing reserves of crude and has made efforts to diversify its economy over the past few decades.
The new CSP plant is part of the emirate's plan to shift to renewables – Dubai is hoping to generate 7% of its total power from clean energy by 2020, followed by 25% in 2030, and 75% by 2050.
At the Middle East and North Africa Renewable Energy Conference in April, the Gulf Cooperation Council (GCC) states – Bahrain, Kuwait, Oman, Qatar, Saudi Arabia and the UAE – pledged to free up $100 billion for renewable energy projects over the next 20 years.
Countries with the most solar capacity
The ranking shows which countries are generating the most raw power from solar, not who is providing the greatest percentage of their nation's energy with it. Leading the way are Germany, China and Japan.