When we think of the internet, it's tempting to picture a world with no rules, and no limits. In reality, though, what is allowed in one country is very different to that allowed in another.
According to a recent study by Freedom on the Net, two-thirds of all internet users – 67% – live in countries where criticism of the government, military, or ruling family is subject to censorship.
The organisation ranks each country by its internet freedom: 0 is the best, 100 is worst. The areas in darkest red score the highest, in other words, have the least internet freedom. China, for instance, scores 88, and South Africa 25.
The report found that only a quarter (24%) of the internet's population had completely free access. Twenty-nine percent had partly free access, and 35% had no free access at all. It was not possible to assess 12% of the internet population.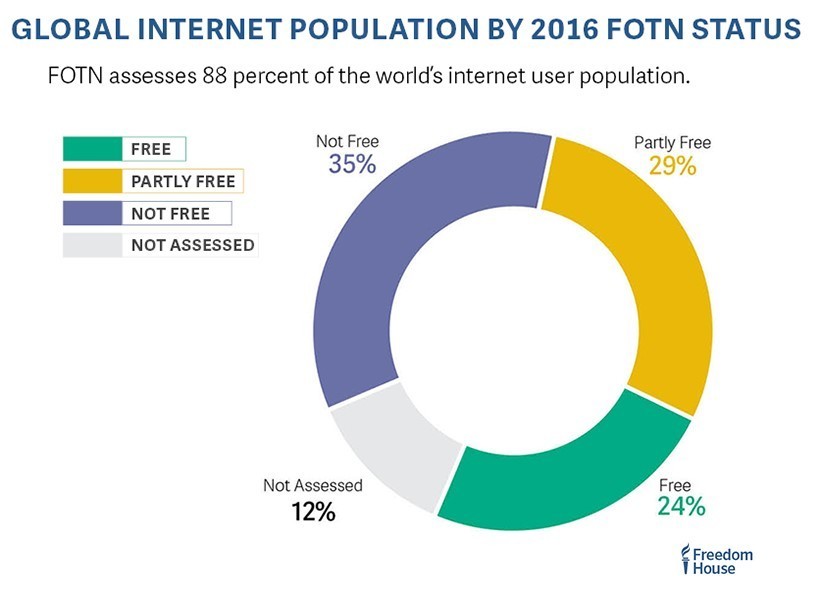 The study found that internet freedom around the world declined in 2016 for the sixth consecutive year, and that many people are being punished for their use of social media.
Globally, 27% of all internet users live in countries where people have been arrested for publishing, sharing, or merely "liking" content on Facebook. Authorities in 38 countries made arrests based on social media posts over the past year. That's compared to 21 countries where people were arrested for content published on news sites or blogs.
But it's not just the social networking sites where some users can be at risk; internet messaging systems are also being targeted. WhatsApp faced the most restrictions, with 12 out of 65 countries blocking the entire service or disabling certain features, affecting millions of its one billion users worldwide, during the period of the study (June 2015 and May 2016).
Among the trends noted by the report was an expansion in the things some governments looked at. For instance, sites and pages through which people initiate digital petitions or calls for protests were censored in more countries than before. Censorship of images was also found to be increasing.
But it's not only direct censorship that affects internet freedom. The reports says that in some areas, free-to-access internet phone providers have had their use restricted, or even ended, in order to reduce competition with the traditional telephone networks.
Another trend highlighted in the report was the increase in legal changes to allow governments to monitor people's online communication. This is a topic of intense debate, and is happening in both democratic and non-democratic nations.
The most frequently stated reason for the changes is governments wanting to protect their citizens from terrorist activity; intelligence and law enforcement agencies argue that they need access to information in order to prevent and prosecute terrorist attacks.
Of the 65 countries assessed, 34 have been on a negative trajectory since June 2015, but 14 countries registered overall improvements. Of the 65 countries assessed, governments in 24 countries impeded access to social media and communication tools, up from 15 the previous year.