"The global economy isn't working for everybody." That was the assertion made by US Senator Bernie Sanders in the wake of the UK's vote to leave the European Union in June last year. The British voters had vented their economic frustrations at the ballot box, and the backlash against globalization delivered an even greater shock later in the year with Donald Trump's victory – on a platform of bringing manufacturing jobs back to the US – in his country's general election.
"So what we need to do is create a situation where there is some more international cooperation ... But at the same time we do not forget about the people left behind and we make sure we have jobs, and income, and health care for all of our people."
That was the then-presidential hopeful's recommendation, but what do others think? How can we create, as Oxfam's Winnie Byanyima puts it in this article, "an economy that works for the 99% " and not just the fortunate few?
We asked 10 Davos participants for their thoughts; here's what they had to say.
Diane Coyle, Professor of Economics, University of Manchester
I would pay teachers at schools in poor communities such high wages that the very best people would want to take the job. That's not the only change needed in education. We must also think more seriously about the skills our children will need for the world they'll graduate into, and how to equip them with those skills. And the needs will differ from place to place, so more local control over education policy would make sense, too. But the top priority should be getting society's most talented people on the task of preventing whole communities from falling further and further behind.
Kenneth Rogoff, Thomas D. Cabot Professor of Public Policy and Professor of Economics, Harvard University
The rise of India and China over the past several decades has led to the most significant reduction in global inequality since the industrial revolution, a phenomenon captured in Nobel Prize winner Angus Deaton's book The Great Escape. Branko Milanovic's now famous "elephant curve" summarizes the rough facts: the global middle class has done extremely well over the past few years, as have the very rich.
However, the several hundred million people living in conflict-ridden states have been left behind, while incomes for the middle class of the rich world have flattened, though they are still very high by global standards.
Trade protectionism will not bring back disappearing manufacturing jobs to the United States or Europe. Instead it will only raise prices of many goods that low-income consumers depend on, and accelerate the pace of mechanization. The best solution to inequality in advanced economies lies in greater redistribution through taxes and transfers, and in improved – and more equal – education at all levels.
Robert J. Shiller, Sterling Professor of Economics, Yale University. Awarded the Nobel Memorial Prize for Economic Sciences in 2013
There are are some ideas about long-term insurance I have been urging for decades, but which have not been implemented anywhere in the world.
We need to see private insurance companies offering insurance of livelihoods by occupation. A young person launching a career should be able to buy livelihood insurance against declines over their lifetime in an index of income accruing to people in that occupation. This would encourage more risk-taking in career choice, and better outcomes. This would be an extension of disability insurance already offered privately, beyond just insuring physical disabilities, towards economic disabilities.
We also need to see government-sponsored inequality insurance. This would take the form of a plan for automatic increases in the progressiveness of the income tax in response to increases in income inequality. Adopting the plan today has no effect on progressiveness today. It has effect only years later if inequality worsens. It is important that it be done in advance of any worsening of inequality. You can't insure a house after it burns down. Framing the plan as insurance is important, so that beneficiaries have a clear right to their benefits that cannot easily be canceled by another government in future decades.
Diana Farrell, Chief Executive Officer and President, JPMorgan Chase Institute
The evolution of the global economy has been largely motivated and justified by its enormous contribution to economic growth over the past few decades. To the extent that broad-based social inclusion was given any consideration in that process, it was primarily limited to ex-post redistribution of any economic gains. That approach will need to change, not only to make globalization work for more people than it has to date, but to ensure that globalization has enough of a constituency to continue, and thus play a role in driving economic growth at all.
We must shift the debate on economic policy – about reforms to international governance, consumption and production policies, trade and investment agreements and more – to solve the issues of growth and social exclusion, and we must do it now rather than later. This must be the case even if it results in a substantially modified form of globalization with potentially dampened growth. To do so, we must establish better venues for deliberating the impacts of future globalization efforts and include more people than are currently involved in making this change happen.
Ian Bremmer, President, Eurasia Group
I think the answer starts with acknowledging two things: first, that there isn't a single, silver bullet that can magically be deployed to rid us of all of globalization's grievances. We need to think about this issue holistically. Second, we can't think about the "solution" to the complaints against globalization solely from a top-down, technocratic perspective. Sure, leaders could do a better job at a political level, but a big part of the answer has to come from the way we all act as citizens on a daily basis. For one thing, we've all got to be far more empathetic than we've so far been with those who've suffered at the losing end of the globalization supercycle. Despite all his rhetoric, that's the one thing Trump did brilliantly and correctly. So it starts with respect at a humane level, and that's something that's got very little to do with elite policy-making.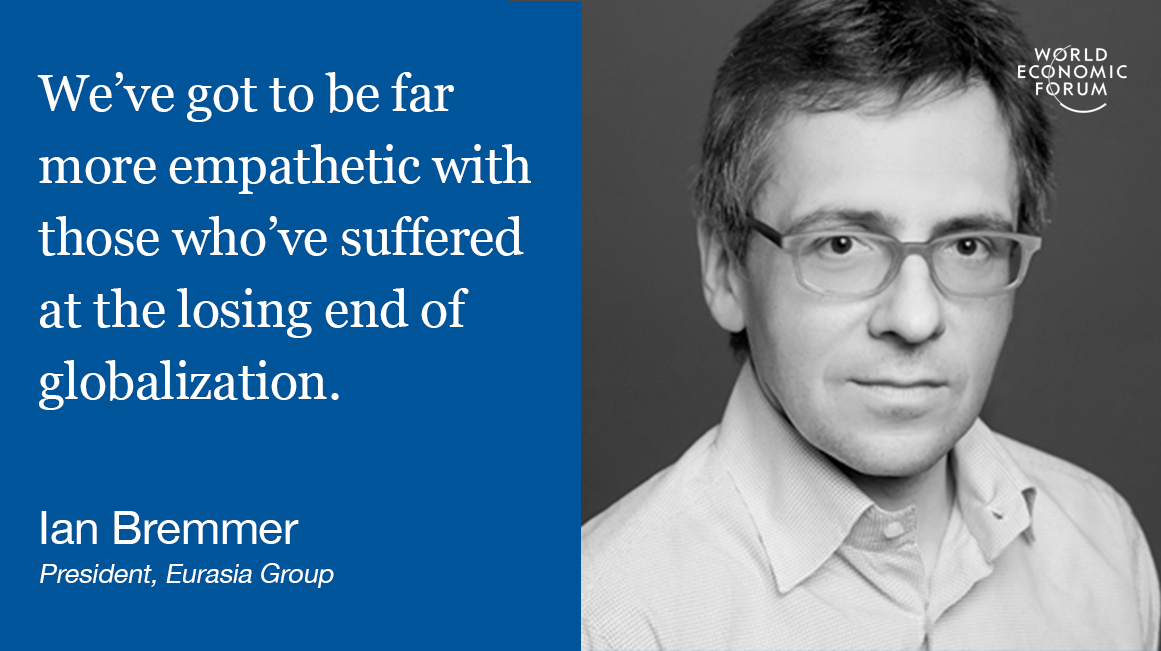 Now, if you ask me about a specific policy, I'd say taxing financial transactions – particularly on capital outflows, but not only – would probably be a place to start. The levy need not be high, but even a symbolic amount would, in its compound effect, reduce the risks of boom-bust cycles that make managing the structural strains of globalization even harder. When that fails, a financial tax would also be a source of useful revenue to underwrite adjustments – maybe even someday financing universal basic incomes. And finally, by targeting one of the sectors that has benefited most visibly from globalization over the past several decades, such a move would help assuage some of the passions that have gotten out of hand of late and would otherwise be sure to grow.
Rania A Mashat, Advisor, International Monetary Fund
The perception that the global economy isn't working for all and that globalization has led to destabilizing economic effects, evidenced in growing inequality, has undermined efforts to push global reforms forward. In addition, this has led to a rising rhetoric for the implementation of greater controls on capital movement and protectionist trade measures.
To change this, governments must adopt strong and transparent institutional frameworks focused on policies, not short-sighted procedures. Governments should design policies within frameworks that have clear objectives and instruments aimed at sustainable and equitable economic growth, which should be communicated regularly. The tendency to rely on short-sighted procedures for short-term gains will eventually exacerbate the claimed negative effects of globalization.
Sharan Burrow, General Secretary, International Trade Union Confederation
The global economy is failing.
The economic model that has profited the 1% is a failed model of low wages, insecure and often unsafe work where freedom of association and other rights are denied by corporations outsourcing responsibility. This now means that up to 94% of the workforce they depend on is a "hidden workforce" which even encompasses informal work and pockets of modern slavery.
And wage share continues to fall further behind both productivity and profits. People are fighting back at the ballot box but tragically the alternatives offered by populist political leaders, with people excluded by race, religion, gender or sexual preference, will not offer inclusive solutions. Governments are caught in the web of corporate capture and fail to regulate or to defend their own people by prosecuting corporations for human and labour rights abuse. Tax fraud and unjust corporate tax concessions threaten essential public services.
Fossil fuel companies are bullying governments and risking the jobs of working people as they fail to transition to renewable energy in a just way. The threat of an unregulated approach to the Fourth Industrial Revolution lays open the potential for a Darwinian scramble for low-wage work with the potential loss of secure jobs in many areas. The rapid escalation of cyber-attacks, including financial, institutional and political attacks, threatens democracy, the integrity of the internet, responsible businesses and social development.
There is only one answer: we need to change the rules and give people hope. I would like to see:
A global pay rise. Reverse the income flow to the 1% with universal social protection, minimum living wages and collective bargaining. We should also increase labour market optimism with investment in jobs through infrastructure and the care economy.
Security at work. Reduce workplace fear with the elimination of zero hours and sham short-term contracts.
Rights, the rule of law and corporate responsibility. End the oppression in supply chains with freedom of association as a foundation for human and labour rights, and mandate due diligence across borders for big business
Regulate the digital economy. Ensure effective regulation in the digital economy to promote employment, rights and formal business models that works for people.
Root out the cheaters. End tax fraud with the implementation of BEPS, and transparency through 'beneficial ownership' laws for corporate structures.
Mandate disclosure. Workers have a right to know where their pension money is invested, so the Financial Stability Board recommendations must be mandated.
A just transition. Climate action is an imperative and measures to protect the jobs and livelihoods of workers as we transition to a more sustainable economy is non-negotiable.
A welcome for refugees. We should offer safe haven, resettlement and the right to work. Leaders must show the political courage to combat xenophobic propaganda and hate speech against migrants and refugees in national debates.
Kalin Anev Janse, Secretary-General, European Stability Mechanism
We need to adopt a more entrepreneurial and innovative spirit, especially in Europe. Rising inequality is less of a problem in Europe than it is in the US, but there is still a lot of room for improvement. There are a lot of young people with a good education but without a job. There is also an older generation that struggles in the job market. Traditionally, these groups looked to the government and large corporations to take care of them. This needs to change. We need more entrepreneurs.
Areas such as fintech, artificial intelligence, clean energy, healthcare and technology should be breeding grounds for start-ups. Initially small, these young enterprises will create a buzz that pulls more and more people into the economy, and unemployment will drop as a result.
Technological innovation has a second major benefit: it raises the potential output of the European economy. That means more wealth on average for each citizen. Governments can spur this change through investment, better education, and by easing the rules for setting up a business, and for venture and private equity capital.
Alicia Bárcena Ibarra, Executive Secretary, United Nations Economic Commission for Latin America and The Caribbean
The global recessionary bias and the lack of sustainability of the prevailing growth patterns entail worsening economic and social exclusion, inequality and environmental degradation. These are among the factors fueling the new generations of unrest and conflicts, threatening social and political cohesion and stretching societies' stability and resilience to new limits.
The challenges posed by peace, security and sustainable development are increasingly interconnected. To address them, "business as usual" is no longer an option and it is urgent that we rethink our global and regional governance schemes in key areas such as financial stability, trade, investment, tax, technology transfer, the internet and other information and communication technology, urban development, migration and natural resources management. Likewise, we must urgently strengthen the fragile social compact between governments, the private sector, civil society, academia and multilateral organizations.
We must rebuild trust, with the effective participation of women, young people, the elderly, and the most vulnerable, and jointly devise, invest and scale in innovative approaches and solutions geared towards a "big environmental push" with equality at its heart. This renewed vision of development, embodied in the Sustainable Development Goals, requires us to make the most of the rebalancing global order and seize the historic opportunity generated by the Fourth Industrial Revolution.
Anabel González, Senior Director, Trade and Competitiveness Global Practice, The World Bank
To make globalization work for all we need to bring down barriers, empower people and connect countries. First, trade costs need to be reduced to open more opportunities to trade and include more people in its benefits. Second, people everywhere must have access to skills and training so they can benefit from the opportunities of trade. Finally, countries need better physical and digital infrastructure, and a conducive business environment to connect to the global economy. It is about expanding the benefits of globalization and equipping people and countries with what they need to reap those benefits.