The report acts as a guide for policy-makers, ranking them in key areas, helping them easily identify areas for improvement and offering a straightforward comparison to their peers. What this year's report makes clear is that environmental and sustainability agendas cannot be pursued separately from economic success – they must be fully integrated.
"The index puts a premium on agility and adaptability, on human capital, and on innovation," says Thierry Geiger, Head of Analytics and Quantitative Research, Global Competitiveness and Risks at the World Economic Forum. "This capacity to adapt, this agility can be hard to master, because some of it is to do with cultural aspects, for example when it comes to risk taking or when it comes to embracing new ideas."
What do we mean by 'competitiveness'?
What is economic competitiveness? The World Economic Forum, which has been measuring countries' competitiveness since 1979, defines it as: "the set of institutions, policies and factors that determine the level of productivity of a country." Other definitions exist, but all generally include the word "productivity".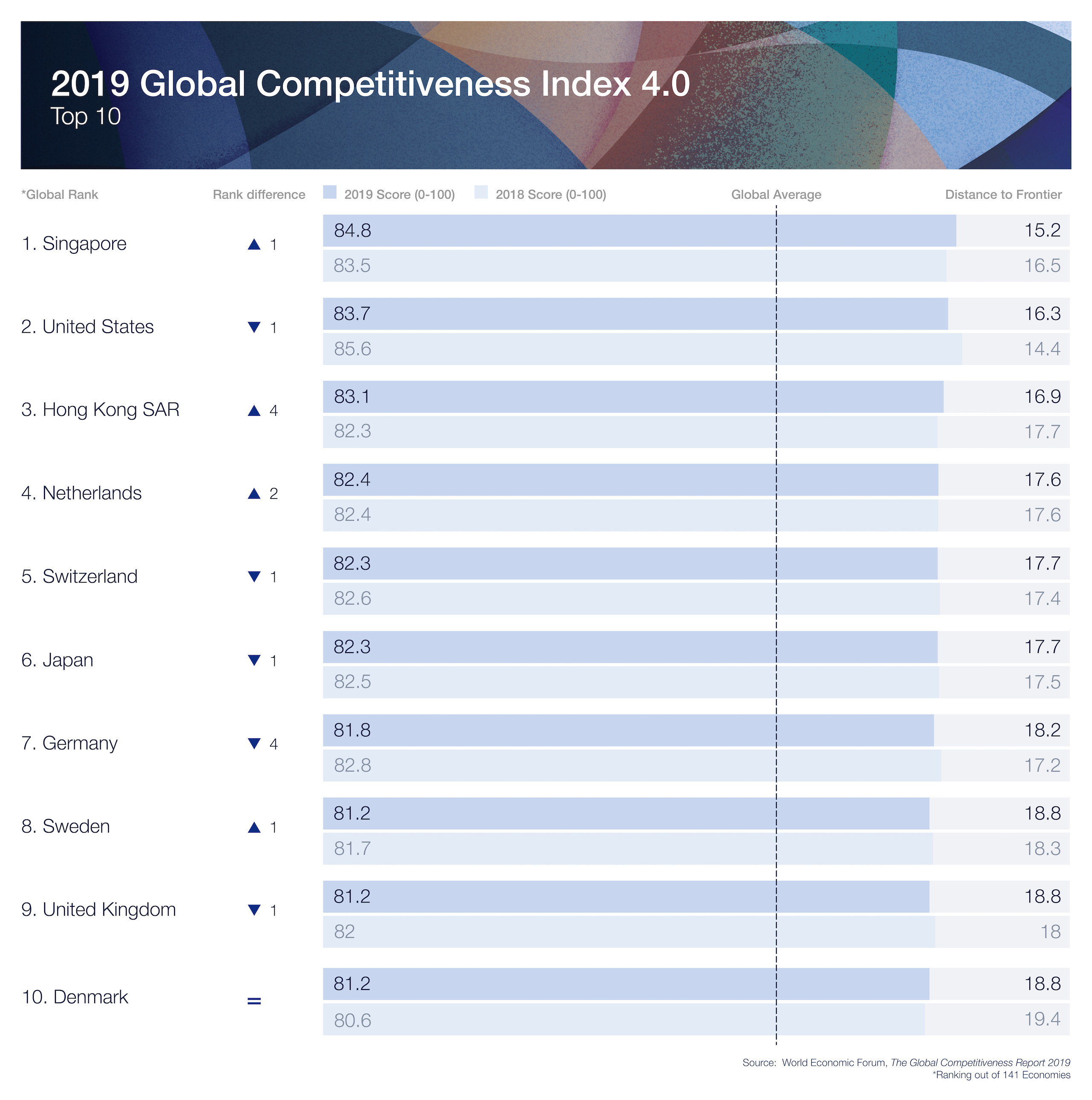 The Global Competitiveness Report is a tool to help governments, the private sector, and civil society work together to boost productivity and generate prosperity. Comparative analysis between countries allows leaders to gauge areas that need strengthening and build a coordinated response. It also helps identify best practices around the world.
The Global Competitive Index forms the basis of the report. It measures performance according to 114 indicators that influence a nation's productivity. The latest edition covered 141 economies, accounting for over 98% of the world's GDP.
Countries' scores are based primarily on quantitative findings from internationally recognized agencies such as the International Monetary Fund and World Health Organization, with the addition of qualitative assessments from economic and social specialists and senior corporate executives.
This year, there was an improvement in overall global competitiveness, driven by better adoption of information technology. Even so, there's still a 40-point gap to close before the best possible scenario becomes a reality, and it's not a zero-sum game: all countries can improve at the same time.
Consistency is key to achieving a good ranking, with the top nations performing well across all 12 pillars assessed. At the top of the tree, Singapore is ranked among the top five for eight of the categories.
"What is striking is that you cannot make up for one weakness with a strength elsewhere," says Geiger. "So you cannot make up for good governance with technology. Those at the top of the rankings, they are the ones that typically have a high profile across all categories."
Being forward-thinking and embracing the future is another key theme for the top players, alongside making technology an integral part of policy. The US, which is second on the overall list, comes top for business dynamism and second for innovation capability.
"What really is a differentiating factor is the innovation ecosystem," Geiger says. "Creating the conditions for innovation to become part of the entire economy, not just pockets of excellence. That takes a lot of effort."
Even so, just innovating isn't enough. Talent adaptability must keep pace, with countries like Korea, Italy, France and Japan needing to make sure their skills base is keeping up with their innovation capability.
By highlighting the ways in which these factors interact, and showcasing how the strongest performers do well across the board, the Global Competitiveness Index aims to encourage long-term future-orientated policy-making and offers a guide for government officials around the world.
With stark differences both among and within regions, it offers food for thought for all countries.