The private sector has a leading role to play in driving the energy transition.
A balance must be struck between widening access to energy and building in resilience.
Digitalization, decarbonization, diversification and discovery are the strategies that can underpin this process.
When energy changes, so does the world. As a new decade beckons, the pace of change needs to accelerate.
Extreme weather, widespread crop failure, species extinction and sea-level rise are all aspects of our changing climate being felt by communities, families and businesses across the globe. Meanwhile, billions of people in developing countries lack access to modern energy sources like electricity and natural gas, instead relying on highly-polluting fuel sources. With the global population forecast to rise to 9 billion by 2040, our current challenges will only become amplified.
How can we meet people's basic needs and improve access to clean water, food, and economic and social opportunity? How can we do this responsibly and sustainably?
Our opportunity is to determine how to transition to a new energy ecosystem that sustainably supports the more mature economies of OECD countries, while also addressing the need for developing countries to access the energy they need to grow and modernize their communities.
With 2020 upon us, we need to be thoughtful as an industry about how best to support the global energy transition. Certainly, constructive public policy will be essential, as well as multilateralism in the form of trade and cooperation between nations. Far more impactful, however, are the decisions and investments being made today by the private sector.
According to a 2018 report from the Brookings Institution, the role of private capital investments in sustainable infrastructure is vital to addressing the effects of climate change. With global public debt running at an all-time high of over 80% of global GDP, it will increasingly fall to the private sector to make the critical investments in smart new energy infrastructure that will bring energy access and resilience to people around the world.
That is why some of the largest energy companies in the world are working collaboratively with academia, regulators and governing boards to find innovative ways to support the energy transition. It all begins with integrated solutions that leverage the multiplier effect of digitalization, the environmental benefits of decarbonization, the resilience afforded by diversification, and the discovery of innovative new energy solutions, like advanced battery technology and hydrogen.
Managing severe weather conditions
One example of integrated energy solutions can be found in California, where severe weather is contributing to more frequent and more intense wildfire conditions. To protect against risk to life and property from wildfires, power companies in California implement public safety power shutoffs during extreme and potentially dangerous weather conditions.
San Diego Gas & Electric, a Sempra Energy utility, has recruited meteorologists and has invested over $1.5 billion in fire hardening and advanced weather centre technologies like drones and artificial intelligence (AI) to better predict wildfires, while taking steps to narrow the windows of time in which customers' electricity supplies may be disconnected. At the same time, the utility is investing in comprehensive stakeholder engagement programmes to support local communities, first responders and other stakeholders in the face of difficult weather conditions.
The benefits of integrated technology and stakeholder innovations are evident as this utility gains more accurate insights into the specific impacts of high winds, heavy rain and extreme heat on its infrastructure. Replacing wooden poles with steel, improving aerial observation methods, installing hundreds of weather stations, utilizing drones and investing in advanced fire-fighting equipment are among the steps utilities can take to prepare for and withstand severe weather events.
Improving resiliency
While anticipating severe weather is key, utility companies are also taking steps to further strengthen the energy grid through integrated energy solutions that include digitalization, decarbonization and diversification.
Many utilities across the globe are taking steps to harden the electricity grid through massive investment programmes, including the installation of smart meters and intelligent devices. Distributed energy resources like batteries and natural gas fuel cells can also play an important role. These investments are enabling utilities to restore power up to four times faster and ensure that hospitals and other critical community resources are energized quickly after extreme weather events impact an area.
Additionally, concrete and steel poles can withstand higher winds than their wooden counterparts, while smart monitoring systems enable technicians to pinpoint and resolve problems quickly. In some cases, digital monitors can also help anticipate and prevent infrastructure damage caused by excessive flooding. New materials coupled with innovative technologies and processes can transform the resilience of electricity grids around the world.
What's the World Economic Forum doing about the transition to clean energy?
Moving to clean energy is key to combating climate change, yet in the past five years, the energy transition has stagnated.
Energy consumption and production contribute to two-thirds of global emissions, and 81% of the global energy system is still based on fossil fuels, the same percentage as 30 years ago. Plus, improvements in the energy intensity of the global economy (the amount of energy used per unit of economic activity) are slowing. In 2018 energy intensity improved by 1.2%, the slowest rate since 2010.
Effective policies, private-sector action and public-private cooperation are needed to create a more inclusive, sustainable, affordable and secure global energy system.
Benchmarking progress is essential to a successful transition. The World Economic Forum's Energy Transition Index, which ranks 115 economies on how well they balance energy security and access with environmental sustainability and affordability, shows that the biggest challenge facing energy transition is the lack of readiness among the world's largest emitters, including US, China, India and Russia. The 10 countries that score the highest in terms of readiness account for only 2.6% of global annual emissions.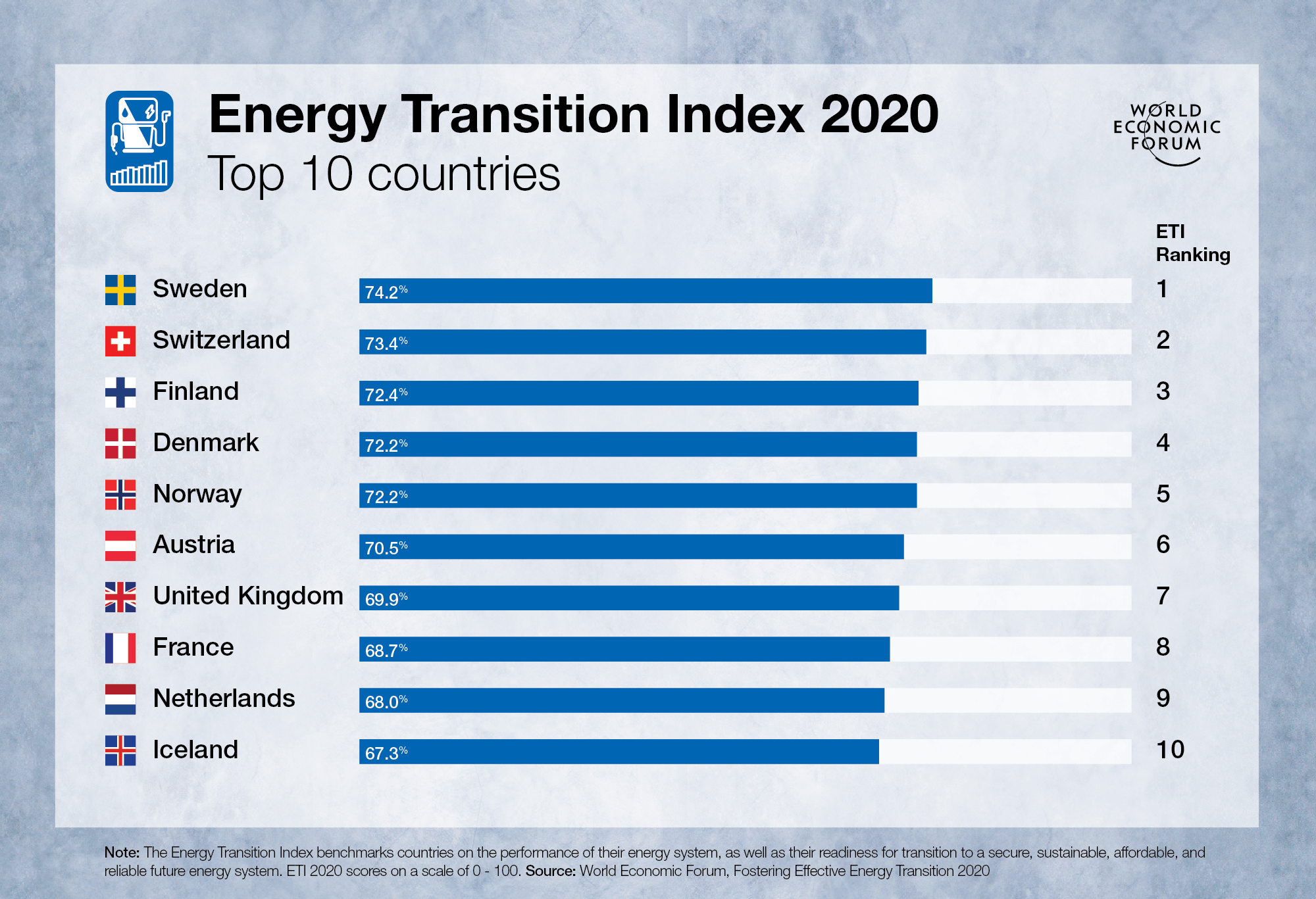 Additionally, the Mission Possible Platform (MPP) is working to assemble public and private partners to further the industry transition to set heavy industry and mobility sectors on the pathway towards net-zero emissions. MPP is an initiative created by the World Economic Forum and the Energy Transitions Commission.
Is your organisation interested in working with the World Economic Forum? Find out more here.
Ushering in the energy transition
Digitalization, decarbonization, diversification and discovery are strategies that fundamentally underpin our industry's ability to respond to severe weather and climate-related risks while supporting the needs of developed and developing communities for affordable and resilient energy.
While progress on all four core areas is essential, diversification strategies may have the greatest global impact. Across the world, the energy sector is integrating multiple forms of cleaner energy into the mix with a view toward supporting an effective energy transition. As one example, the establishment of a flexible, transparent and competitive global liquefied natural gas (LNG) market is expected to lower greenhouse gas emissions in countries where coal and fuel oil are the predominant feedstock for power generation. In fact, China's reliance on natural gas is expected to grow by 60% by the middle of the next decade, with roughly half of its natural gas supplies expected to come from LNG by 2040.
This is truly a sea change for energy resilience and sustainability, and an inflection point for the energy transition.
Global challenges require global solutions
The global energy picture is comprised of many parts, each requiring tailored solutions based on a host of underlying factors, but all united by one commonality: a desire to access cleaner, safer and more sustainable energy.
There is an old military adage that says "pursue one great decisive aim with force and determination". Such focus is required from industry and government alike to deliver energy to a world that desperately needs it.
Global challenges require global solutions that can only be delivered if we unite. The world deserves nothing less.