Track-and-trace programmes are being used or planned by number of governments who have ramped up testing.
United Kingdom is the latest nation to roll out tracing scheme.
However, while track and trace can be a useful tool to help restart economic life, some countries have seen a rise in infections.
There are also concerns about data privacy.
"In this war on the virus, ultimately we are all on the same side and we've all got a part that we can play." So said the UK's health secretary, Matt Hancock, as he launched the country's new 'track and trace' system.
Having raised its test-processing capacity to 200,000 per day, the UK has become the latest country to alert people who may have been in contact with someone infected with COVID-19.
The International Labour Organization (ILO) says tracking and tracing can play a key role in getting people back to work. And from Austria to South Korea, there are now several ways of doing this – from app-based schemes to "manual" detective work.
However, spikes in cases have been seen in some of the first countries to use track and trace. There are also concerns about the data collected by governments and about the effectiveness of having so many – very different – schemes.
How contact tracing works
Many countries have developed their own track and trace solutions so there are now several different models.
The latest, in England, is a "manual" system. People in the country with symptoms of the virus can request a test, and if it's positive, they're asked to log on to a National Health Service website or to speak to a contact tracer.
They are then asked to provide their personal information and details of people they've recently been in close contact with. This includes people they have had face-to-face contact with at less than one metre away, people they have been within two metres of for more than 15 minutes, and people they have travelled with in a car, or on a plane.
Contacts believed to be at risk are asked to voluntarily self-isolate for 14 days.
What is the World Economic Forum doing to manage emerging risks from COVID-19?
The first global pandemic in more than 100 years, COVID-19 has spread throughout the world at an unprecedented speed. At the time of writing, 4.5 million cases have been confirmed and more than 300,000 people have died due to the virus.
As countries seek to recover, some of the more long-term economic, business, environmental, societal and technological challenges and opportunities are just beginning to become visible.
To help all stakeholders – communities, governments, businesses and individuals understand the emerging risks and follow-on effects generated by the impact of the coronavirus pandemic, the World Economic Forum, in collaboration with Marsh and McLennan and Zurich Insurance Group, has launched its COVID-19 Risks Outlook: A Preliminary Mapping and its Implications - a companion for decision-makers, building on the Forum's annual Global Risks Report.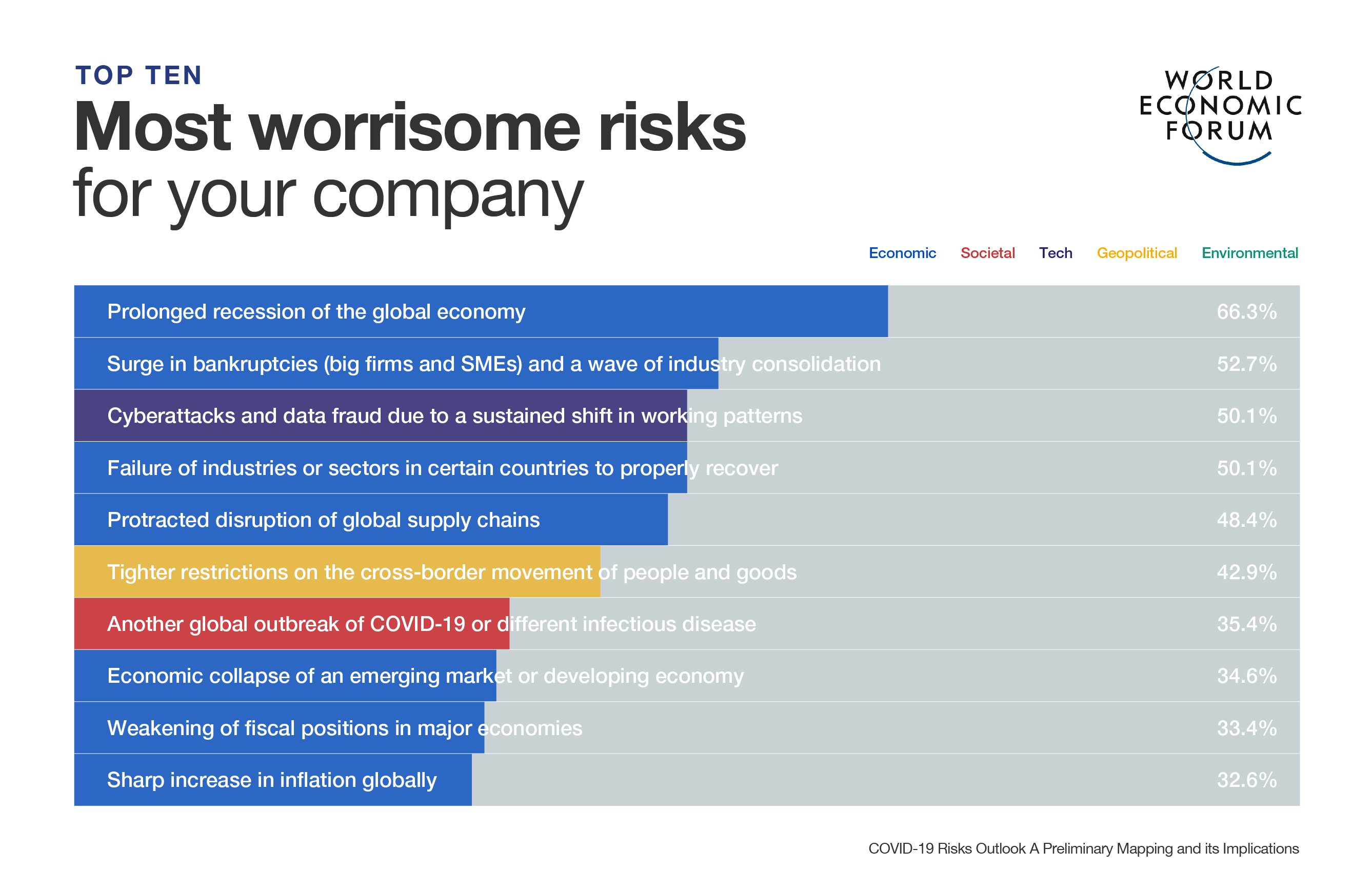 Other countries – including Norway, Iceland and Austria – have launched contract tracing apps instead. England's app is still being tested.
Some nations have launched more in-depth tracing programmes. South Korea, for example, monitors CCTV and credit card records.
Analysis by the ILO has found effective track and trace measures can significantly soften the economic harm of COVID-19 restrictions – reducing lost working hours by as much as 50%.
This is because such measures can give employees and employers the confidence to begin to return to work. The ILO warns that a weaker intensity of tracking and tracing will mean nations lose 7% more hours to lockdown disruption than ones with higher intensity programmes.
However, there are other examples of countries that have experienced rising numbers of cases despite the use of mass testing, tracking and tracing.
Singapore has faced a similar pattern, initially winning plaudits for its "two hour" infection tracing targets, but then seeing a spike in cases.
Another difficulty such schemes have encountered is privacy: how much data should governments be able to collect?
If users of the French app test positive for COVID-19, an alert will be sent to people who have been in close proximity to them. But although geolocation data will not be collected, the app has sparked a privacy debate among some politicians, because matches from the app will be done centrally on a computer server.
Apple and Google say they have the solution to that: a decentralized programme which carries out the matches on owners' own devices. However, many national governments appear to favour their own systems.
That raises another potential concern: if every country has a different track and tracing system, is it harder to coordinate a global response to the pandemic?