Corporate power purchase agreements (aka corporate PPA or CPPA) can be a powerful tool in helping Europe's private sector to decarbonize.
However, there are several challenges to overcome in order to unlock its potential as a driver of the energy transition.
Green stimulus packages, such as those delivered by the EU, can iron out these barriers and generate demand.
COVID-19 induced lockdowns have achieved what no other climate activism or international agreement on climate mitigation could have hoped for: CO2 emissions globally for 2020 will prospectively see an 8% decline compared to 2019 (2 gigatonnes [Gt] in total). This will be the largest year-on-year emissions reduction ever, six times larger than the previous record reduction of 0.4 Gt during the global financial crisis in 2009.
However, this temporary reduction does not solve the still pending challenge of sustainable transformation. In fact, the impact of COVID-19 on global economic activity will heavily constrain the corporate financial means needed for it. In addition, the effect of the one-time emissions will by far not be enough to achieve global climate targets. To limit global warming to 1.5°C, emissions will need to see the 2020's rate of decline for the next 30 years.
Aside from emissions, COVID-19 has a significant effect on energy markets too. Across Europe, power demand plummeted by 10-20% and commodity prices by over 40%, leading to power prices 30-40% lower on average across Europe. A return to pre-COVID levels is not expected over the near term. As a side effect, COVID-19 resulted in record-high shares of renewables in the generation mix as conventional generation is pushed out of the market.
Crisis as an opportunity for corporate PPAs
COVID-19 has been a litmus test of the credibility of the many corporate announcements on decarbonization made before the outbreak of the pandemic – and it turns out companies are not bailing out on climate action in view of an economic crisis.
On the contrary, climate-mitigation momentum is picking up again stronger than ever. Now that policy-makers are turning their attention from short-term rescue to economic recovery measures, sections of the general public, corporates, and governments are raising their voices to make the economic stimulus packages 'green'. More than 180 corporate leaders and European ministers have joined up to prioritise low-carbon investments in their post-COVID-19 economic recovery plans. In effect, recent research has shown that the right policies – such as supporting clean energy physical infrastructure – can deliver both economic recovery and decarbonization at the same time.
The EU Commission has announced that at least 25% of its €750 billion ($843 billion) 'Next Generation EU' COVID-19 recovery package will be used to support decarbonization in addition to the €1 trillion EU Green New Deal that was announced in January. This is good news for corporates that strive to become net carbon-neutral. In fact, several major companies have recently pressed the European Commission to introduce measures such as credit support and speedier roll-out of renewable power purchase agreements as part of the rescue plan.
In the following paragraphs we want to draw attention on how stimulus packages could help the emergence of a powerful tool for corporate decarbonization: Green power procurement via corporate power purchase agreements (cPPAs).
The role of corporate PPAs
Worldwide, cPPAs have experienced a big uptake in the last two years. The US has been leading the development of PPAs, with more than 70% share of global activity in 2019. In contrast, most EU countries are currently still lagging behind.
While there is no silver bullet that can make the EU carbon neutral, corporate renewable PPAs can play an important role in enabling the private sector to drive decarbonization. It is a way to enable renewables build-out beyond direct government support.
For the off-taker, the value of a corporate PPA is not only determined by its competitive price, but also by the strong sustainability claim that comes with it. In order to materialize corporate green commitments, a corporate PPA based on existing or new renewable assets provides that tangible link between the action of the corporate off-taker and the sustainable change of the energy system.
In fact, despite the turmoil that power prices experienced during the past few months, corporate PPA activity has been ongoing during the crisis and the market has shown high resilience so far. For instance, ACCIONA has recently signed a new corporate PPA in Europe to supply 100GWh renewable energy to Telefonica through a 10-year contract.
CPPA - Challenges ahead
As the figure below shows, even under a conservative scenario, corporate PPA supply will not be met by corporate demand in the current environment.
The reality is that the cPPAs market has been growing because it is beneficial for both suppliers and off-takers. However, if corporate PPAs are expected to play a larger role in the European energy transition, there are challenges to overcome:
1. Lack of credit worthiness of off-takers, which is required by the supplier to secure financing
2. Limited willingness and incentives for off-takers to take on long term power market risks
3. The appearance of derivative contracts, the so-called virtual PPAs, raise additional complexity to the accounting of these instruments
While these obstacles have been limiting the development of the cPPA market even before COVID-19, its outbreak has only amplified the uncertainties about the future power market development.
How policy can boost corporate PPA demand
Green stimulus packages present a unique chance to set a clear regulatory framework to allow cPPAs to take off in the EU. Potential policies supporting PPAs should aim at overcoming the obstacles to merchant renewable buildout. Below, we show an overview of supporting policy objectives:
Mandated shares of renewable consumption, incentives to reduce emissions and the imposition of green conditions in bail-outs – as imposed on Air France, for example – could be additional measures towards the achievement of the 2030 climate targets.
What's the World Economic Forum doing about the transition to clean energy?
Moving to clean energy is key to combating climate change, yet in the past five years, the energy transition has stagnated.
Energy consumption and production contribute to two-thirds of global emissions, and 81% of the global energy system is still based on fossil fuels, the same percentage as 30 years ago. Plus, improvements in the energy intensity of the global economy (the amount of energy used per unit of economic activity) are slowing. In 2018 energy intensity improved by 1.2%, the slowest rate since 2010.
Effective policies, private-sector action and public-private cooperation are needed to create a more inclusive, sustainable, affordable and secure global energy system.
Benchmarking progress is essential to a successful transition. The World Economic Forum's Energy Transition Index, which ranks 115 economies on how well they balance energy security and access with environmental sustainability and affordability, shows that the biggest challenge facing energy transition is the lack of readiness among the world's largest emitters, including US, China, India and Russia. The 10 countries that score the highest in terms of readiness account for only 2.6% of global annual emissions.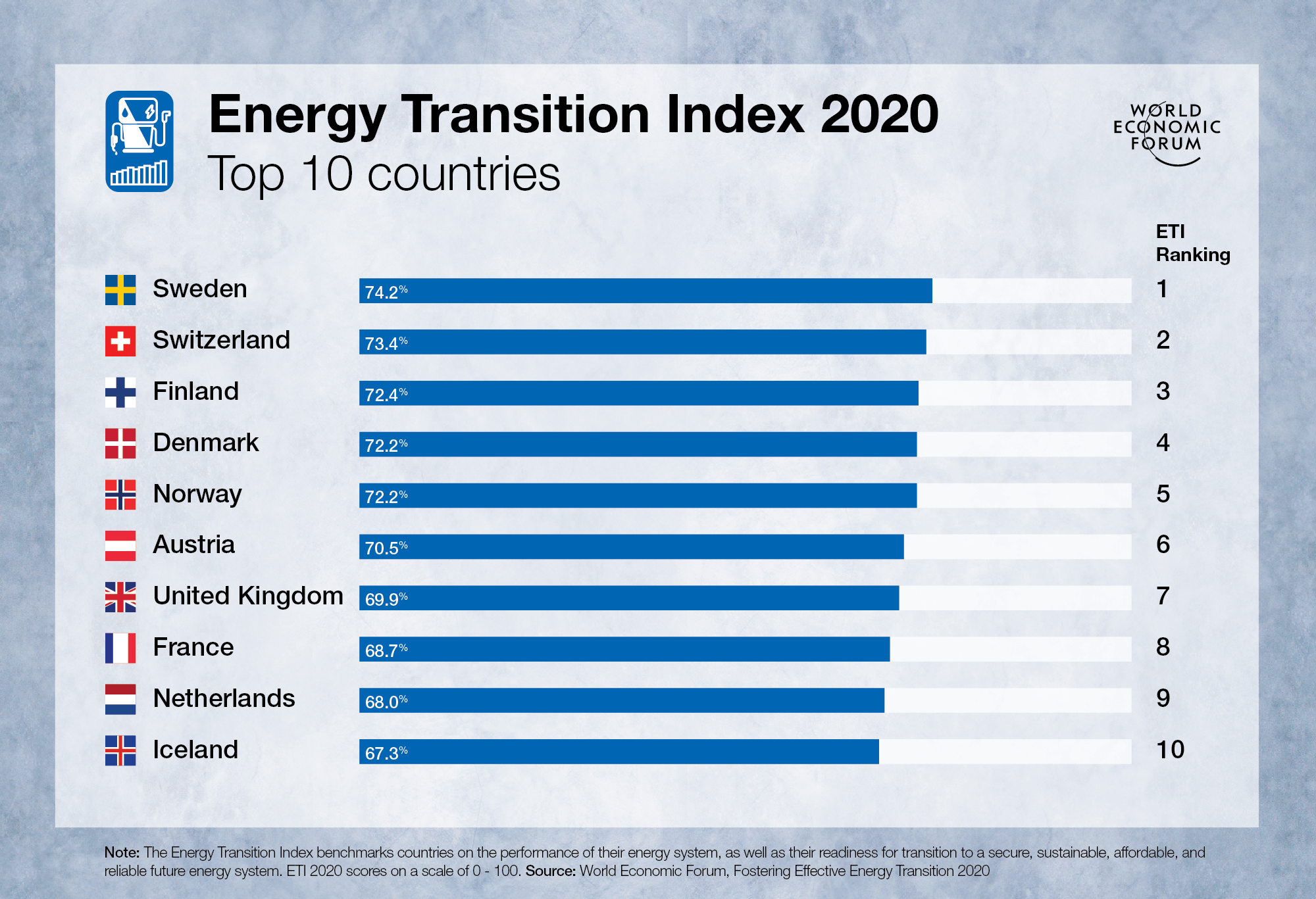 Additionally, the Mission Possible Platform (MPP) is working to assemble public and private partners to further the industry transition to set heavy industry and mobility sectors on the pathway towards net-zero emissions. MPP is an initiative created by the World Economic Forum and the Energy Transitions Commission.
Is your organisation interested in working with the World Economic Forum? Find out more here.
Now is the right time to act
The past has shown that short-term fixes in response to economic recessions often result in adverse environmental impacts, including increasing emissions once the economy recovers. This time, policy-makers need to focus on long-term value in order to foster a resilient economy, and to deliver the biggest economic, social and environmental returns. Furthermore, stimulus funding is most effective when it is aligned with long-term price signals.
These emissions and costs savings should empower the private sector to decarbonize through corporate PPAs. Europe needs to switch from fossil fuels to renewables at an unprecedented speed. Finding cost-efficient solutions to the resulting system integration challenge cannot be left to the regulator alone; it requires the innovative power of all market participants. This is where corporate PPAs can play an important role – and now is the right time to act.