This daily round-up brings you a selection of the latest news updates on the COVID-19 coronavirus pandemic, as well as tips and tools to help you stay informed and protected.
Top stories: Australia closes borders of two states for first time in a hundred years, India now third behind US and Brazil for COVID-19 cases, and WHO stops drugs trial.
1. How COVID-19 is affecting the globe
Confirmed cases have surpassed 11.4 million globally, according to Johns Hopkins University. More than 534,000 people are known to have died from the virus, while over 6.1 million are known to have recovered.
2. India now the world's third most affected country
India has overtaken Russia to have the third highest number of confirmed coronavirus cases in the world, behind the US and Brazil.
It has had almost 700,000 and 20,000 deaths - and the outbreak shows no sign of slowing.
On 5 July, there was a record one-day increase of 25,000 cases.
What is the World Economic Forum doing to manage emerging risks from COVID-19?
The first global pandemic in more than 100 years, COVID-19 has spread throughout the world at an unprecedented speed. At the time of writing, 4.5 million cases have been confirmed and more than 300,000 people have died due to the virus.
As countries seek to recover, some of the more long-term economic, business, environmental, societal and technological challenges and opportunities are just beginning to become visible.
To help all stakeholders – communities, governments, businesses and individuals understand the emerging risks and follow-on effects generated by the impact of the coronavirus pandemic, the World Economic Forum, in collaboration with Marsh and McLennan and Zurich Insurance Group, has launched its COVID-19 Risks Outlook: A Preliminary Mapping and its Implications - a companion for decision-makers, building on the Forum's annual Global Risks Report.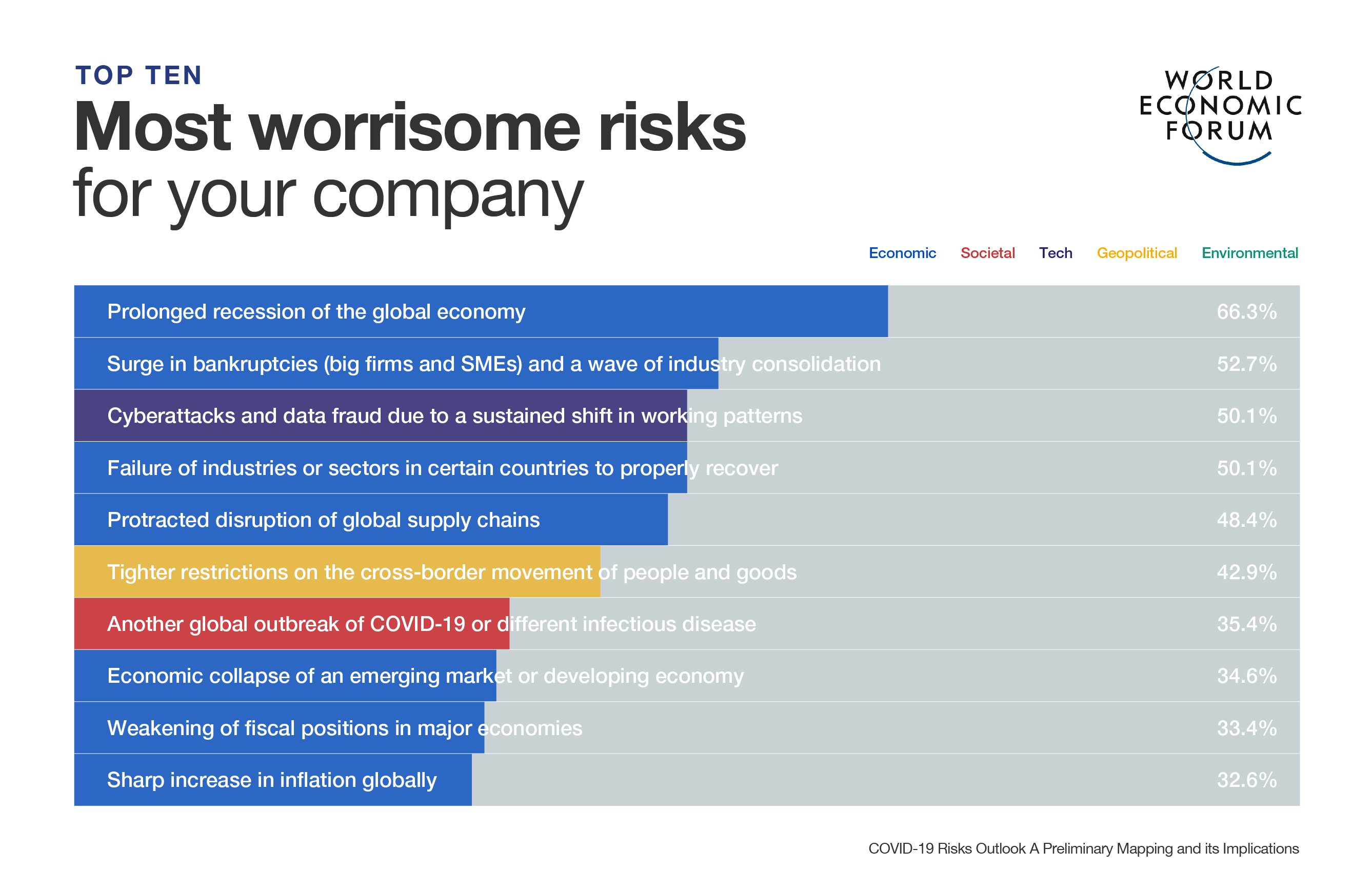 The country's most famous landmark, the Taj Mahal, in Agra, will remain closed to visitors - reversing a decision to reopen - after a spike in new cases in the area.
3. Will COVID-19 usher in a new age of outdoor living?
From today, people can sit outside in beer gardens and at outdoor cafes, with venues able to welcome customer indoors from 15 July.
Strict social distancing and hygiene rules will be in place and people will have to leave their contact details so they can be traced in the event of an outbreak.

Scotland follows England, which reopened pubs and restaurants at the weekend. New laws were introduced to make it simpler for pubs to serve alcohol outside of their premises, which could usher in a new era of more outdoor socializing.
The Lithuanian capital of Vilnius became one of the first cities in Europe to reopen restaurants and bars, closing streets to allow the venues to make full use of public space.
In San Francisco, a Shared Spaces programme allows businesses and eventually restaurants to use parts of outdoor public spaces – from sidewalks to plazas – with free, fast-tracked permits.