Increasing energy generation from cleaner sources demands an increase in transmission and distribution networks.
Doing so, along with greater interconnectivity amongst grids, can counter renewables' intermittency and create more stable networks.
Texas - the US' largest producer of wind energy - is a case in point.
As the world makes a push towards the Great Reset, there is considerable talk about powering our future with renewable energy (RE). However, the allure of harnessing the wind and sun as sources of sustainable source of energy is not new. In 1931, Thomas Edison told his friend, Henry Ford, "I'd put my money on the sun and solar energy. What a source of power! I hope we don't have to wait until oil and coal run out before we tackle that".
Yet almost a century on, the RE movement is still trying to gain momentum – and that's only in certain regions of the world. As foreshadowed by the sagacious Edison, the world is still heavily dependent on oil and coal for energy. More than 80% of the world's energy is sourced from coal, natural gas, and oil. So why is it that despite all the environmental benefits, developed and developing countries alike are struggling to make the switch?
The solutions are often complex. Initiatives such as carbon pricing can be very potent, if done right, and are essential in the long run – however, haggling between rival political parties can render such initiatives toothless and too timid to make a serious dent in the monopoly of hydrocarbons and coal. There is a laundry list of other laudable policy initiatives, including renewable portfolio standards/clean energy standards, feed-in tariffs and biofuels. However, most of these proposals, like carbon pricing, are partisan issues that can ultimately fall across political lines.
But while there needs to be a multifaceted response to the current climate emergency, there are some low-hanging fruits on which countries can focus in the short term. The hype around the construction of renewable projects is not misplaced; more wind and solar projects need to be built. However, what is often overlooked is the importance of transmitting that energy to the grid and the ability to dispatch that electricity to end consumers. Wind farms often require significant real estate, and are therefore built far from urban centres in remote areas where land is cheap and available, and so the ability to move the electricity generated by RE projects to urban load centres through the electric grid is crucial.
Any attempt to increase energy generation from cleaner sources needs to be accompanied by an increase in transmission and distribution networks. An inadequate transmission and distribution network leads to constant congestion and curtailment issues, which affect the economic viability of projects. Investors are reluctant to build clean power plants if electricity from their projects will be curtailed due to congestion. Lenders will be unwilling to finance projects that could be riddled with such risks, affecting the projects' financial viability.
What's the World Economic Forum doing about the transition to clean energy?
Moving to clean energy is key to combating climate change, yet in the past five years, the energy transition has stagnated.
Energy consumption and production contribute to two-thirds of global emissions, and 81% of the global energy system is still based on fossil fuels, the same percentage as 30 years ago. Plus, improvements in the energy intensity of the global economy (the amount of energy used per unit of economic activity) are slowing. In 2018 energy intensity improved by 1.2%, the slowest rate since 2010.
Effective policies, private-sector action and public-private cooperation are needed to create a more inclusive, sustainable, affordable and secure global energy system.
Benchmarking progress is essential to a successful transition. The World Economic Forum's Energy Transition Index, which ranks 115 economies on how well they balance energy security and access with environmental sustainability and affordability, shows that the biggest challenge facing energy transition is the lack of readiness among the world's largest emitters, including US, China, India and Russia. The 10 countries that score the highest in terms of readiness account for only 2.6% of global annual emissions.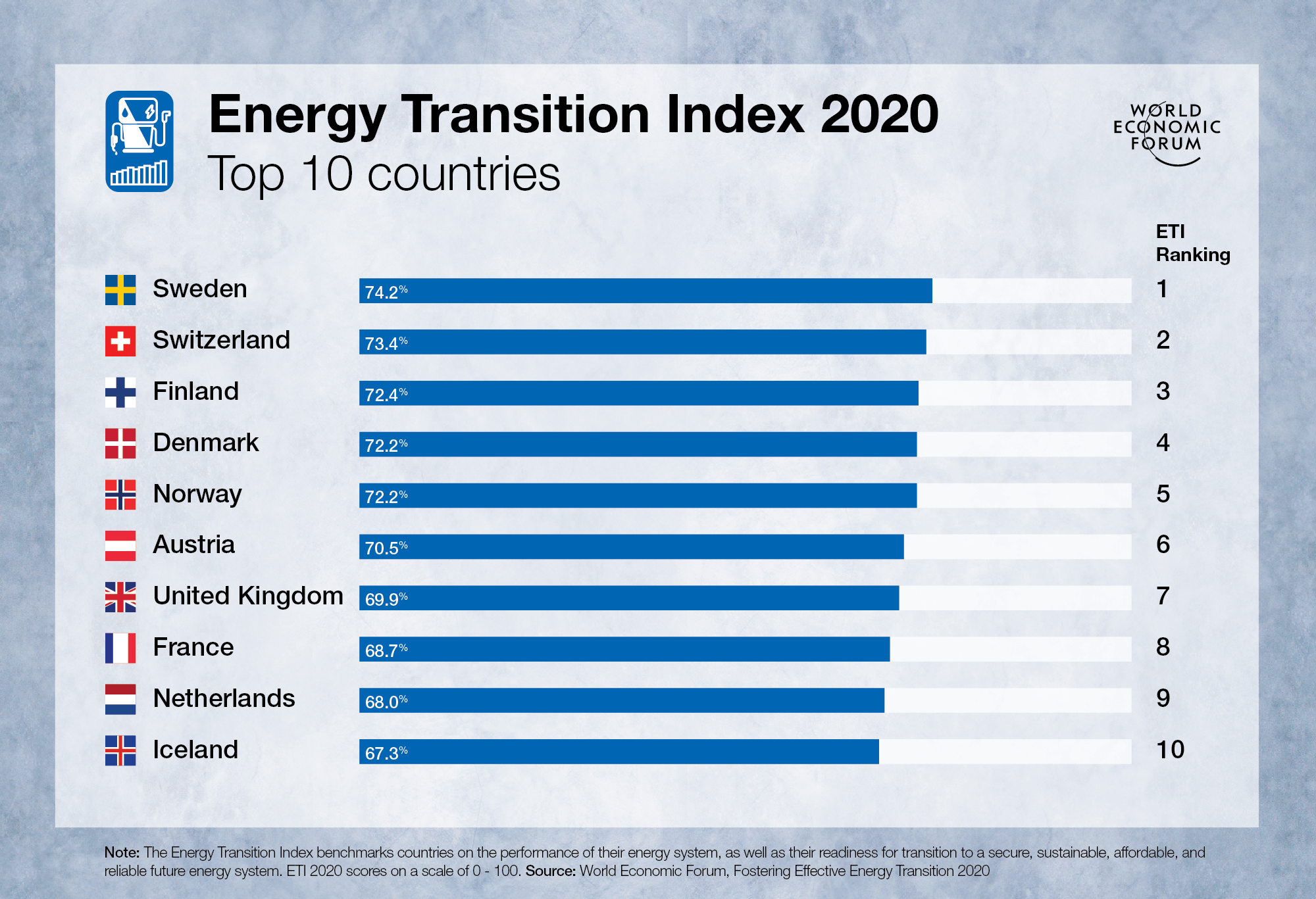 Additionally, the Mission Possible Platform (MPP) is working to assemble public and private partners to further the industry transition to set heavy industry and mobility sectors on the pathway towards net-zero emissions. MPP is an initiative created by the World Economic Forum and the Energy Transitions Commission.
Is your organisation interested in working with the World Economic Forum? Find out more here.
Even if new RE projects are built, it would be of little use if they are hampered from being dispatched to the grid, owing to congestion on the transmission network. California epitomizes this problem. California aims to produce 100% clean energy by 2045, and it has been rapidly installing new renewable capacity. However, without a corresponding increase in its transmission network and no adequate storage facility, a significant amount of energy sourced from renewables is wasted due to curtailment. For instance, for the period of Jan-May 2019, an aggregate of 630,864 MWh of wind and solar generation was curtailed in California, a 2.19 times increase on the same period in 2018. Between 2018 and 2019, 50-60% of such curtailment was due to transmission constraints.
Texas, on the other hand, provides the best example of how to address this issue. The Lone Star State, generally synonymous with the production of oil and gas, also boasts the highest wind generation capacity in the US and is rapidly increasing its solar generation capacity too. In 2019, Texas accounted for approximately 28% of all US wind-powered electricity.
This is not a small achievement by any means, and it provides a clear insight into other regions. To incentivize investment and harness its wind resources, the Texas legislature overcame the 'chicken and the egg' problem by tasking the Public Utility Commission of Texas (PUCT) to identify areas for development of large wind farms and the construction of new transmission lines. PUCT directed the Electric Reliability Council of Texas (ERCOT) to assess wind resources throughout Texas along with the transmission constraints from such wind energy resources. Based on ERCOT's assessment, PUCT designated multiple Competitive Renewable Energy Zones (CREZ), identifying the routes for construction of new transmission lines. To facilitate their construction, and to incentive developers, the Texas legislature permitted PUCT to "disregard two key factors – the adequacy of existing service and the need for additional service".
Once the CREZ regions were identified, the next hurdle was financing them. Instead of allocating costs to utilities and creating perverse incentives, Texas socialized the cost of additional transmission capacity by adding a surcharge to all electricity users' bills. The state used those funds to construct roughly 3,600 miles of new transmission network, costing around $7 billion, to cater to 18,500 MW of wind energy. Texas now has the largest wind capacity (29,000 MW) in the US, more than the combined total of the next three states – Iowa, Oklahoma and California. Curtailment from wind energy facilities in texas "fell from 17% in 2009 to 0.5% in 2014" due to the increases in the state's transmission and distribution network, and this has also generated a lot of interest in solar projects, with a projected increase of 55 GW, out of which projects totalling approximately 9.5GW have already entered into interconnection agreements.
I would concede that the independence of PUCT and lack of FERC jurisdiction played a role in the expedition of the CREZ project. Nevertheless, this was quite an avant-garde approach to incentivize developers to construct wind generation facilities and is a model for the rest of the world to boost their renewable generation capacity over a short period. Increase in transmission and distribution network is a fuel-neutral cause which is unlikely to cause a rift across the political divide. Yet, it is so essential in any effort to increase renewable energy capacity to the grid. The intermittency of wind and solar energy is a frequent criticism leveled against renewables – an increase in transmission and distribution networks, along with greater interconnectivity amongst grids, would not only overcome that issue but also translate into greater network stability.