This daily round-up brings you a selection of the latest news updates on the COVID-19 coronavirus pandemic, as well as tips and tools to help you stay informed and protected.
Top stories: Global deaths pass 750,000; more confirmed cases in New Zealand; 500,000 cases in Peru and Mexico.
1. How COVID-19 is affecting the globe
New Zealand reported 12 new confirmed cases on Friday. All have been linked to a cluster of 30 in Auckland, first detected this week. As a result, lockdown measures have been extended in Auckland for another 12 days. Social distancing measures have also been extended across the country.
Both Peru and Mexico have passed more than half a million confirmed cases of COVID-19. More than 55,000 have died in Mexico, the third highest total globally.
Brazil reported 60,091 new cases of COVID-19 in the last 24 hours, the health ministry said. More than 3.2 million cases have been confirmed in total, with over 105,000 deaths.
And the UK has announced that arrivals from France, the Netherlands, Monaco, Malta, Turks and Caicos, and Aruba will be forced to spend 14 days in quarantine from Saturday. France has warned the decision will lead to 'reciprocal measures.'
2. WHO issues call for funding
"The ACT-Accelerator funding gap can't be covered by traditional development assistance alone," said Tedros, calling the initiative a key route out of the pandemic and to global economic recovery.
"The real beauty of the ACT-Accelerator and its work is that stimulus investments and globally coordinated rollout of new vaccines, tests and therapeutics would have a major multiplier effect on our economies," he said.
It has an immediate need of US$31.3 billion.
What is the World Economic Forum doing to manage emerging risks from COVID-19?
The first global pandemic in more than 100 years, COVID-19 has spread throughout the world at an unprecedented speed. At the time of writing, 4.5 million cases have been confirmed and more than 300,000 people have died due to the virus.
As countries seek to recover, some of the more long-term economic, business, environmental, societal and technological challenges and opportunities are just beginning to become visible.
To help all stakeholders – communities, governments, businesses and individuals understand the emerging risks and follow-on effects generated by the impact of the coronavirus pandemic, the World Economic Forum, in collaboration with Marsh and McLennan and Zurich Insurance Group, has launched its COVID-19 Risks Outlook: A Preliminary Mapping and its Implications - a companion for decision-makers, building on the Forum's annual Global Risks Report.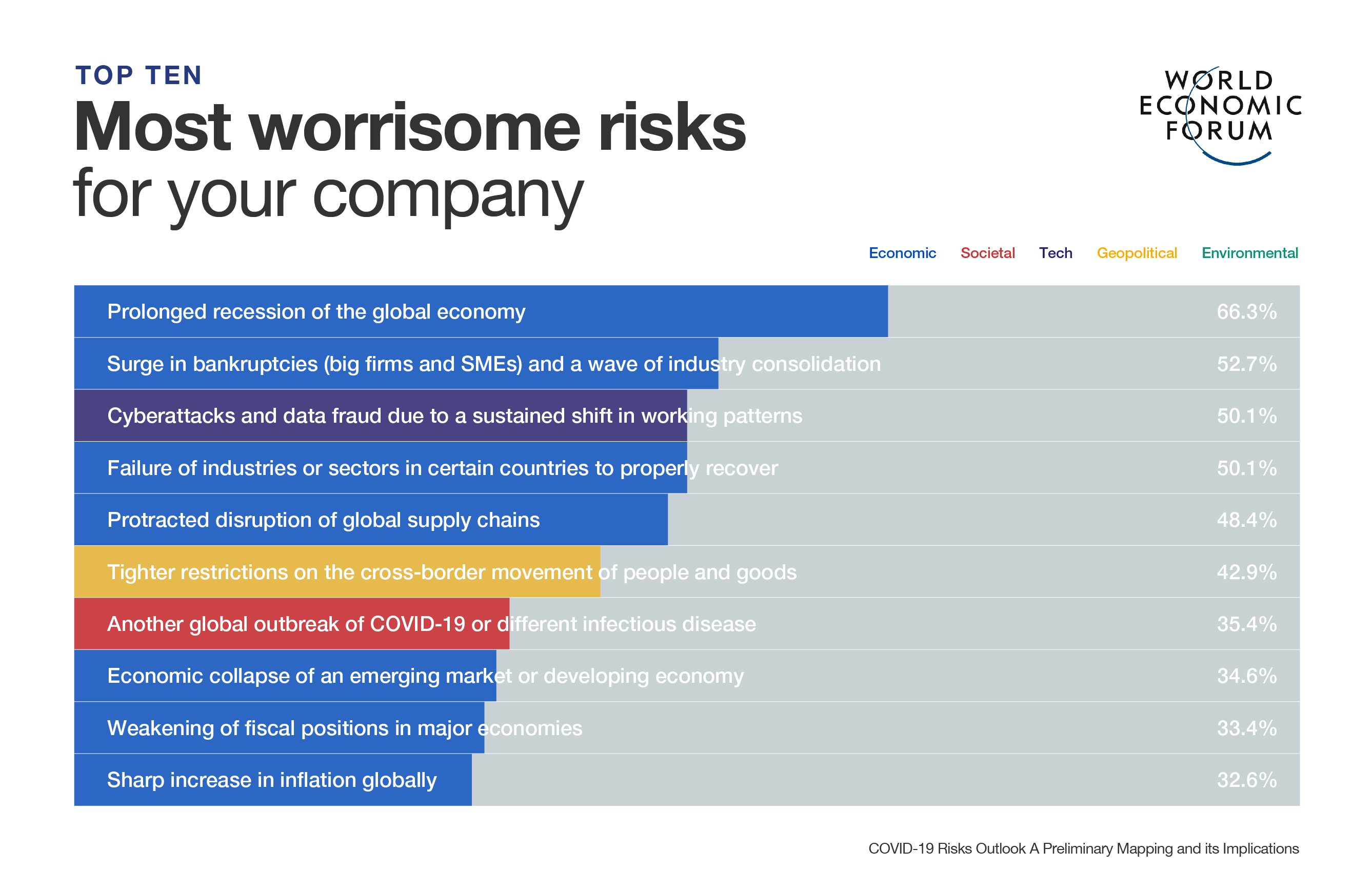 3. Paris returns to red
The decree gives increased power to local authorities, including restricting access to public transport and air travel, as well as closing establishments where there's a high risk of infection.
It comes after a sharp increase in COVID-19 infections.