This daily round-up brings you a selection of the latest news updates on the COVID-19 pandemic, as well as tips and tools to help you stay informed and protected.
Top stories: Global confirmed cases pass 25 million; 90% of countries have faced disruption to health systems; WHO warns about opening up too quickly.
1. How COVID-19 is affecting the globe
India has reported 69,921 new coronavirus cases, taking its overall total to nearly 3.7 million. It represents the lowest daily jump in six days.
Spain has registered more than 23,000 new COVID-19 cases since Friday, the country's health emergency chief told a press conference yesterday.
What is the World Economic Forum doing to manage emerging risks from COVID-19?
The first global pandemic in more than 100 years, COVID-19 has spread throughout the world at an unprecedented speed. At the time of writing, 4.5 million cases have been confirmed and more than 300,000 people have died due to the virus.
As countries seek to recover, some of the more long-term economic, business, environmental, societal and technological challenges and opportunities are just beginning to become visible.
To help all stakeholders – communities, governments, businesses and individuals understand the emerging risks and follow-on effects generated by the impact of the coronavirus pandemic, the World Economic Forum, in collaboration with Marsh and McLennan and Zurich Insurance Group, has launched its COVID-19 Risks Outlook: A Preliminary Mapping and its Implications - a companion for decision-makers, building on the Forum's annual Global Risks Report.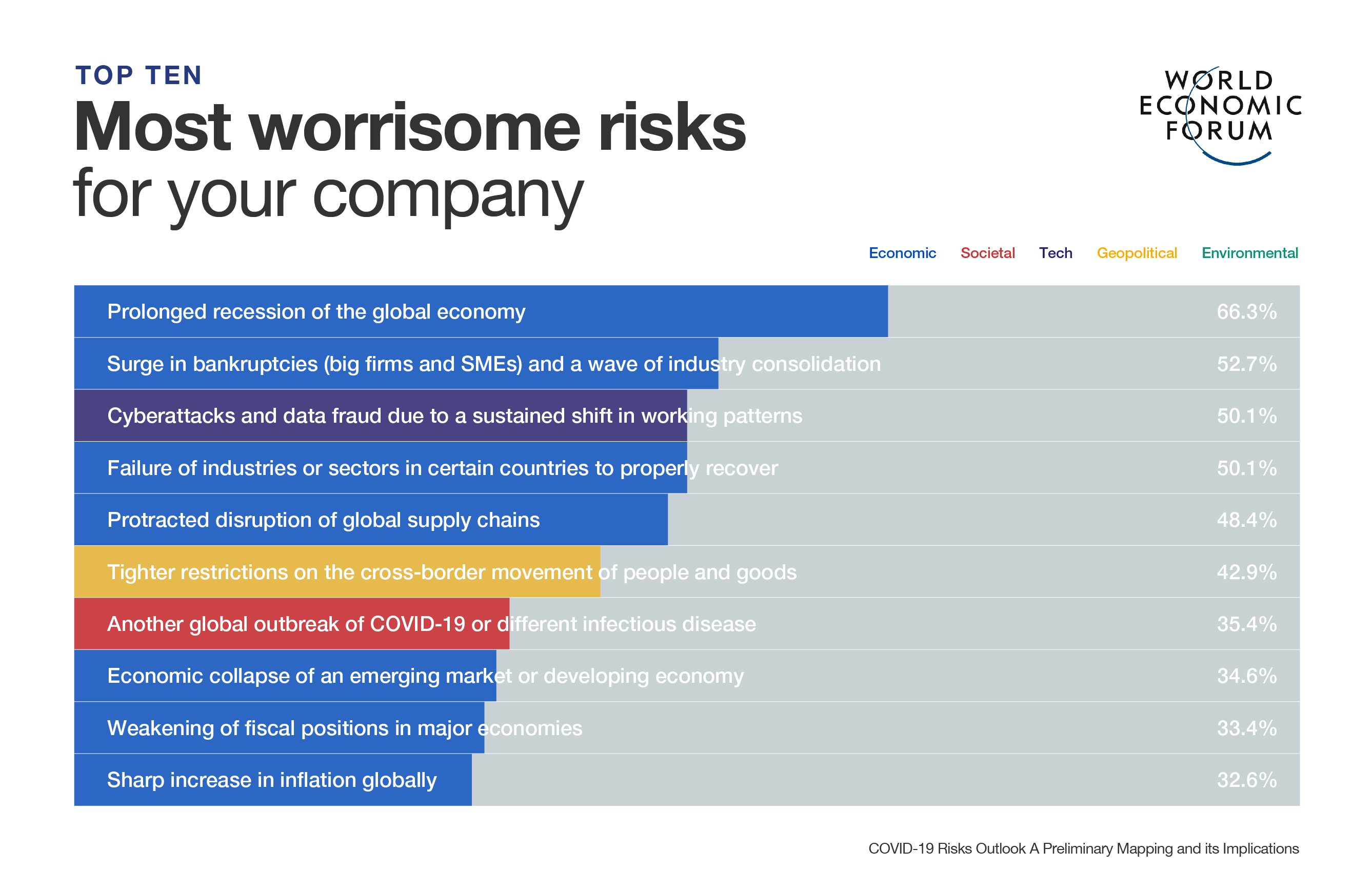 2. Disruption to health systems
The survey covered 105 countries from March to June 2020, and found that low- and middle-income countries faced the greatest difficulties.
Most countries reported that elective and routine services were suspended. But, critical care, such as cancer screening or HIV therapy, has also seen interruptions in low-income countries.
"The survey shines a light on the cracks in our health systems, but it also serves to inform new strategies to improve healthcare provision during the pandemic and beyond," said Dr Tedros Adhanom Ghebreyesus, WHO Director-General. "COVID-19 should be a lesson to all countries that health is not an 'either-or' equation. We must better prepare for emergencies but also keep investing in health systems that fully respond to people's needs throughout the life course."
3. Can't 'pretend the pandemic is over': WHO
"If countries are serious about opening up, they must be serious about suppressing transmission and saving lives," he said. Opening up without control over the virus is a 'recipe for disaster', he added.
And, while the WHO supports efforts to re-open economies and societies, he stressed the need to do this safely.
"No country can just pretend the pandemic is over."
He outlined the four essential things that everyone can do to 'take control' of the virus.
1. Prevent amplifying events, where clusters of people gather.
2. Reduce deaths by protecting vulnerable groups, such as the elderly and essential workers.
3. Individuals should protect themselves and others by avoiding the 'three Cs' - closed spaces, crowded places and close-contact settings.
4. Governments must take action to find, isolate, test and care for cases, and trace and quarantine contacts.