This daily round-up brings you a selection of the latest news updates on the COVID-19 pandemic, as well as tips and tools to help you stay informed and protected.
Top stories: The impact of COVID-19 on energy consumption; WHO reports record case rise; pandemic preparedness criticized.
1. How COVID-19 is affecting the globe
India has recorded 92,071 new cases of COVID-19, according to the federal health ministry. It brings total cases to 4.85 million, with 79,722 deaths.
Fossil fuel consumption is set to shrink for the first time in modern history, according to the BP forecast. Coronavirus is set to have a lasting impact on global energy demand, with some "scarring effects" - such as working from home - leading to slower growth in energy consumption.
What is the World Economic Forum doing to manage emerging risks from COVID-19?
The first global pandemic in more than 100 years, COVID-19 has spread throughout the world at an unprecedented speed. At the time of writing, 4.5 million cases have been confirmed and more than 300,000 people have died due to the virus.
As countries seek to recover, some of the more long-term economic, business, environmental, societal and technological challenges and opportunities are just beginning to become visible.
To help all stakeholders – communities, governments, businesses and individuals understand the emerging risks and follow-on effects generated by the impact of the coronavirus pandemic, the World Economic Forum, in collaboration with Marsh and McLennan and Zurich Insurance Group, has launched its COVID-19 Risks Outlook: A Preliminary Mapping and its Implications - a companion for decision-makers, building on the Forum's annual Global Risks Report.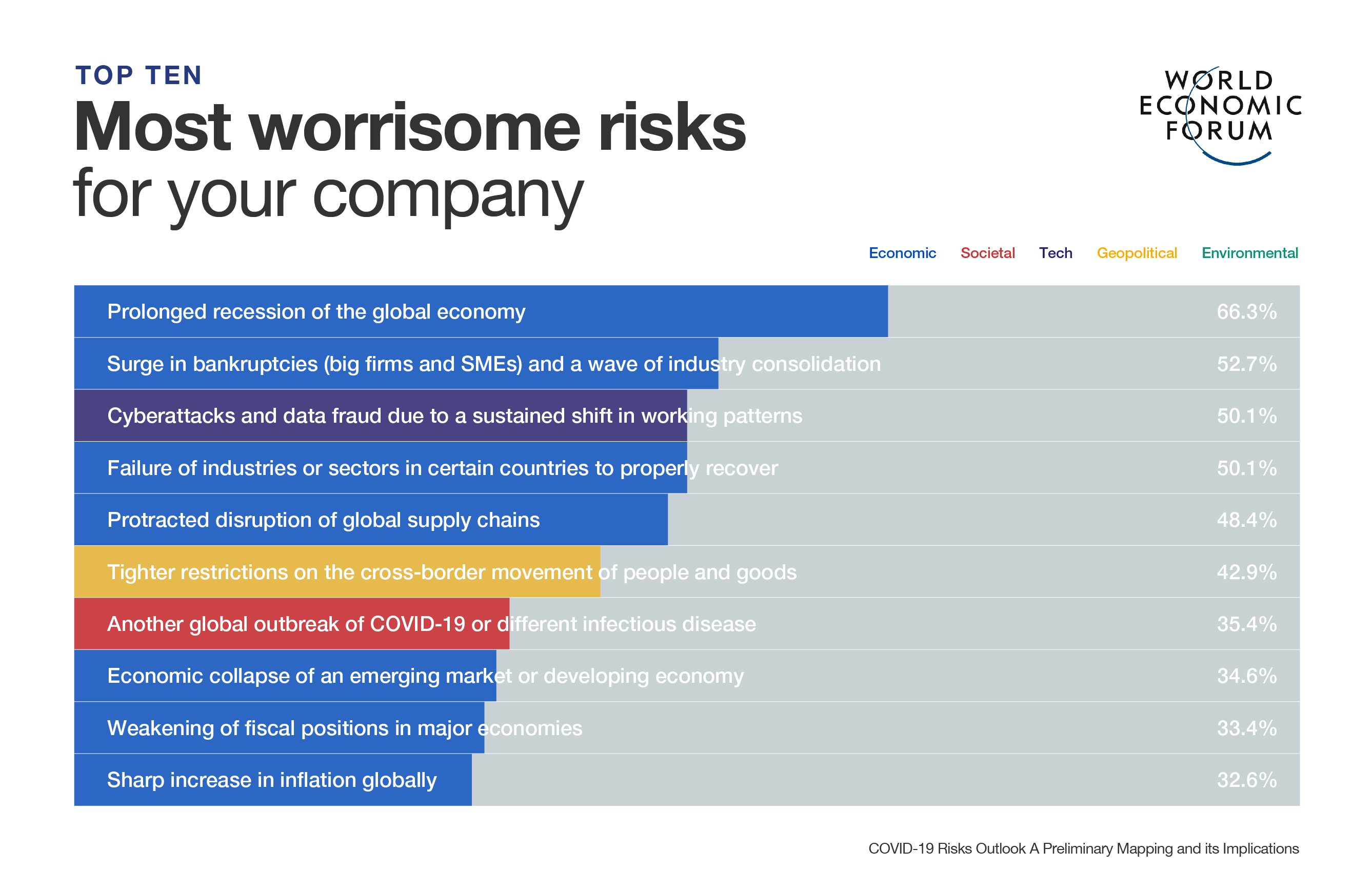 2. WHO reports record rise
The biggest rises were in India, the United States and Brazil, with 94,372, 45,523 and 43,718 cases respectively.
Deaths rose by 5,537, with India and the United States both reporting over 1,000 new deaths.
3. Lack of pandemic preparedness criticized in new report
"Financial and political investments in preparedness have been insufficient, and we are all paying the price," said the report by The Global Preparedness Monitoring Board (GPMB).
"It is not as if the world has lacked the opportunity to take these steps," it added. "There have been numerous calls for action... over the last decade, yet none has generated the changes needed."
Indeed, the GPMB's own 2019 report warned of the risks of "rapidly spreading pandemic due to a lethal respiratory pathogen".
The report also says we're failing to learn the lessons from COVID-19 and act on them - increasing the risks posed by future pandemics.