This daily round-up brings you a selection of the latest news updates on the COVID-19 coronavirus pandemic, as well as tips and tools to help you stay informed and protected.
Top stories: A fragile global economic recovery; 'partial lockdown' in the Netherlands; $12 billion in funding for developing countries announced.
1. How COVID-19 is affecting the globe
The International Monetary Fund (IMF) has said that the unprecedented response to the COVID-19 pandemic has contained risks to the financial system. But a prolonged recession or policy misjudgements could fuel growing global vulnerabilities.
What is the World Economic Forum doing to manage emerging risks from COVID-19?
The first global pandemic in more than 100 years, COVID-19 has spread throughout the world at an unprecedented speed. At the time of writing, 4.5 million cases have been confirmed and more than 300,000 people have died due to the virus.
As countries seek to recover, some of the more long-term economic, business, environmental, societal and technological challenges and opportunities are just beginning to become visible.
To help all stakeholders – communities, governments, businesses and individuals understand the emerging risks and follow-on effects generated by the impact of the coronavirus pandemic, the World Economic Forum, in collaboration with Marsh and McLennan and Zurich Insurance Group, has launched its COVID-19 Risks Outlook: A Preliminary Mapping and its Implications - a companion for decision-makers, building on the Forum's annual Global Risks Report.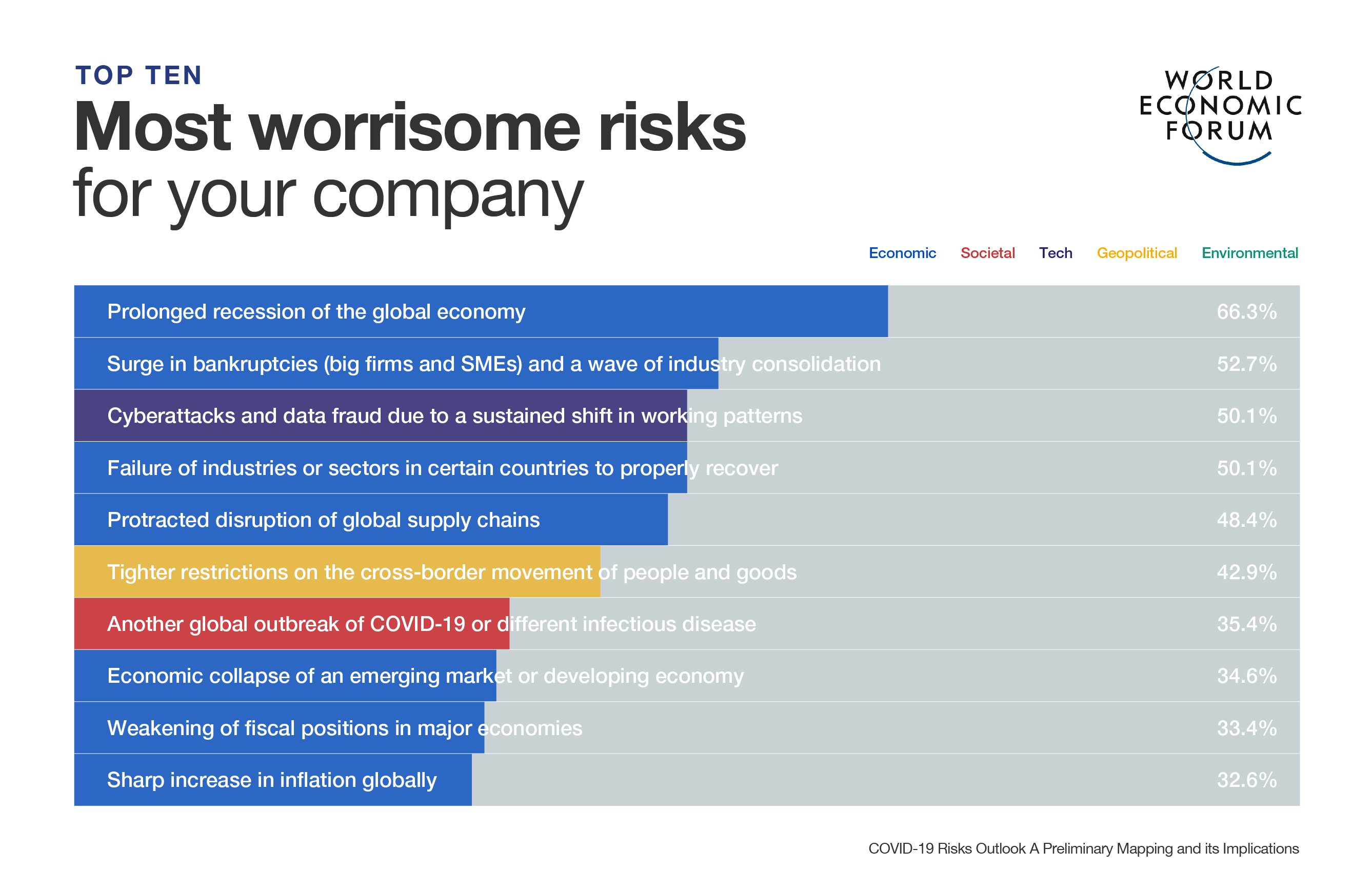 2. Risks to the global economy remain
But, poor countries and other emerging market economies face a worsening picture. "The story is less dire than we thought three months ago, but dire nonetheless," IMF Managing Director Kristalina Georgieva said during a panel discussion that was held virtually.
The update came with warnings about the fragility of the recovery. Failure to overcome the pandemic, maintain stimulus and tackle mounting debt also pose a risk to the recovery.
"If we cut these lifelines that have been extended to families and businesses before we are out of the health crisis, this could be catastrophic in terms of bankruptcies, unemployment and undoing all that has been done so far," Georgieva added.
3. 'Partial lockdown' in the Netherlands
Bars and restaurants will be closed, public gatherings of more than four people and alcohol sales in the evenings are banned, as the country hopes to contain a rise in COVID-19 cases.
"Today we are announcing new and sturdy measures and in fact we are going to a partial lockdown," Rutte said in a televised news conference yesterday.
Other measures include the mandatory wearing of cloth masks for people aged 13 and over when in indoor spaces, and a restriction on retail opening hours.
Schools will remain open, with these measure in place for at least four weeks. They'll be reviewed after two - and if they're proving ineffective, further restrictions could be introduced.