Global energy demand slipped last year to the lowest level since World War II.
As fossil fuels declined, renewables have surged forward.
Coal-dependent Viet Nam has pulled off a 25-fold increase in its solar capacity in just one year.
Incentives for homes and businesses to install rooftop solar panels led to the boom in solar power in Vietnam.
One of the few bright spots in COVID-19 pandemic has been a leap in the amount of electricity being generated from renewable sources.
One place that illustrates this trend is Viet Nam, which offered generous incentives to households and businesses to install rooftop solar last year. By the time the scheme ended, 9.3 gigawatts of extra generating capacity had been added – equivalent to six coal-fired plants.
Rising solar power in Vietnam
Cash for spare power
A key feature of the incentive scheme was a generous feed-in tariff for solar users to sell surplus power to the national electricity grid at a price guaranteed for 20 years. Viet Nam favoured rooftop solar because it does not use scarce land or require new transmission lines.
"Changes to Vietnam's power market structure and emerging competition from alternative and renewable technologies are also facilitating a shift in focus away from conventional coal power investments," says Thu Vu, Energy Analyst at the Institute for Energy Economics and Financial Analysis (IEEFA).
What's the World Economic Forum doing about the transition to clean energy?
Moving to clean energy is key to combating climate change, yet in the past five years, the energy transition has stagnated.
Energy consumption and production contribute to two-thirds of global emissions, and 81% of the global energy system is still based on fossil fuels, the same percentage as 30 years ago. Plus, improvements in the energy intensity of the global economy (the amount of energy used per unit of economic activity) are slowing. In 2018 energy intensity improved by 1.2%, the slowest rate since 2010.
Effective policies, private-sector action and public-private cooperation are needed to create a more inclusive, sustainable, affordable and secure global energy system.
Benchmarking progress is essential to a successful transition. The World Economic Forum's Energy Transition Index, which ranks 115 economies on how well they balance energy security and access with environmental sustainability and affordability, shows that the biggest challenge facing energy transition is the lack of readiness among the world's largest emitters, including US, China, India and Russia. The 10 countries that score the highest in terms of readiness account for only 2.6% of global annual emissions.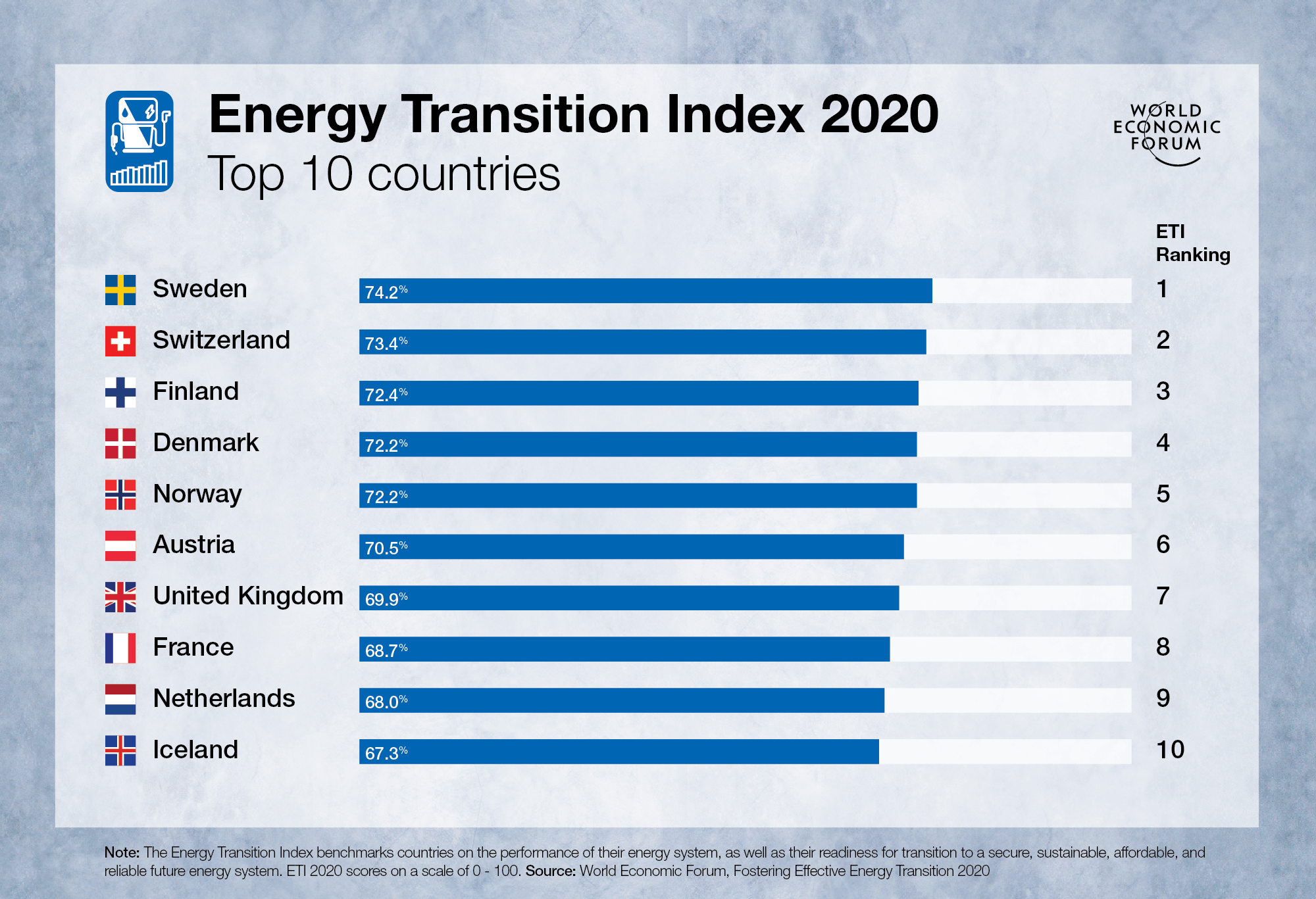 Additionally, the Mission Possible Platform (MPP) is working to assemble public and private partners to further the industry transition to set heavy industry and mobility sectors on the pathway towards net-zero emissions. MPP is an initiative created by the World Economic Forum and the Energy Transitions Commission.
Is your organisation interested in working with the World Economic Forum? Find out more here.
Rising demand for solar power in Vietnam
Over the past 20 years, demand has grown at a steady 6% per year and the IEA says the four largest consumers – Indonesia, Viet Nam, Thailand and Malaysia – account for more than 80% of total regional demand.
The Index benchmarks countries on the performance of their energy system and their readiness for transition to clean energy. It is designed to help countries accelerate their transition by analysing their current energy system and highlighting areas for improvement.