Labour Day dates back to the Industrial Revolution, and is about the championing of workers' rights.
In the age of the Fourth Industrial Revolution, workers still need to be protected and celebrated.
But the pandemic has destroyed 255 million full-time jobs in 2020, according to the International Labour Organization.
More robots tend to be installed after a global health crisis, the International Monetary Fund has found, further impacting shifts in labour patterns.
Every year, the achievements of workers are celebrated on Labour Day.
This is an annual holiday linked in most countries with 1 May, which is known as International Workers' Day. Although, in the United States, it is celebrated on the first Monday in September.
Workers in the labour and trade union movements united to push for working hours to be regulated and abuses prevented. Protecting and celebrating workers remains just as relevant today – especially in the context of COVID-19. Here are four reasons why.
Pandemics lead to the rise of robots – according to the International Monetary Fund (IMF) – with low-skilled workers more at risk of displacement than high-skilled workers.
The IMF analyzed the adoption of industrial robots after four previous pandemics, including SARS in 2003 and Ebola in 2014, and found automation accelerated in the years that followed.
The reasons for it are twofold, say IMF economists, Tahsin Saadi Sedik and Jiae Yoo. "First, after large shocks like recessions, firms restructure their businesses and adjust production toward technologies that lower labour costs. Second, firms may prefer robots because they are immune to health risks."
The World Economic Forum's Future of Jobs Report 2020 found that more than 80% of employers expect to make wider use of remote work and to digitize work processes. About half of all employers are also preparing to automate some work. This won't necessarily mean fewer jobs overall, but certain jobs are at risk.
2. Equality in the workplace
Indeed, 70% of global health and social care workers are women, according to UN Women, yet at 28%, the gender pay gap in the health sector is higher than the overall pay gap, which stands at 16%.
UN Women has developed a global response programme to mitigate the worst impacts of COVID-19 on women and girls, including economic stimulus packages and ensuring women and girls lead in the planning and decision-making process.
3. Recovery from the pandemic
The 8.8% of global working hours lost is around four times greater than the number lost during the 2009 global financial crisis. Reduced working hours and "unprecedented" job losses hit 114 million people.
While the ILO anticipates that a robust economic recovery will occur in the second half of 2021 with the roll‑out of vaccines, it also warns that the recovery will be uneven, with massive job losses in hard-hit sectors like food services, arts and retail. Women and young people have also been more affected than men.
What is the World Economic Forum doing to manage emerging risks from COVID-19?
The first global pandemic in more than 100 years, COVID-19 has spread throughout the world at an unprecedented speed. At the time of writing, 4.5 million cases have been confirmed and more than 300,000 people have died due to the virus.
As countries seek to recover, some of the more long-term economic, business, environmental, societal and technological challenges and opportunities are just beginning to become visible.
To help all stakeholders – communities, governments, businesses and individuals understand the emerging risks and follow-on effects generated by the impact of the coronavirus pandemic, the World Economic Forum, in collaboration with Marsh and McLennan and Zurich Insurance Group, has launched its COVID-19 Risks Outlook: A Preliminary Mapping and its Implications - a companion for decision-makers, building on the Forum's annual Global Risks Report.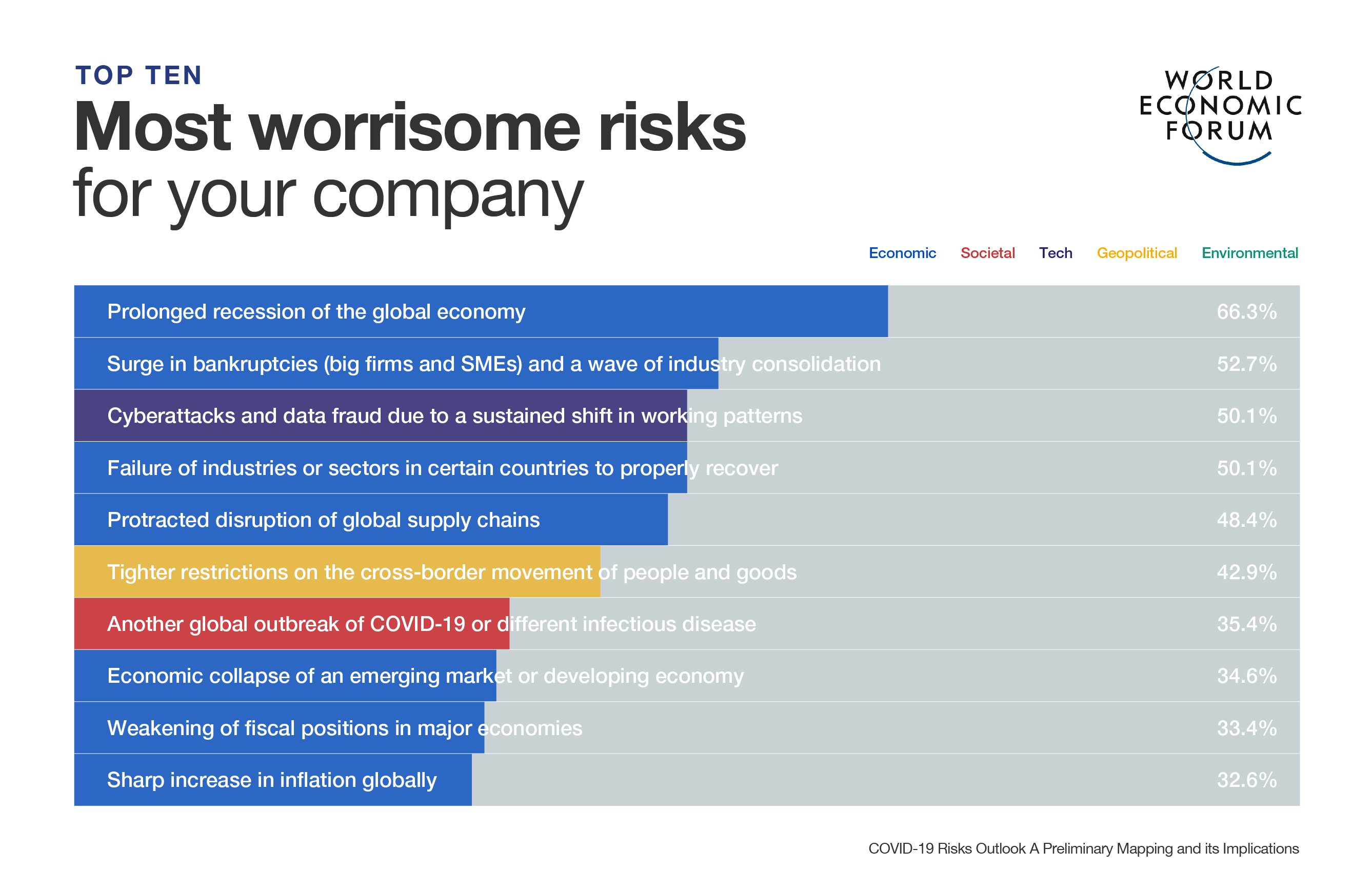 4. Jobs for a sustainable future
Climate change will alter the nature and structure of employment, creating new jobs and making others unsustainable, the ILO says.
"We need to prepare the youth to this changing world," says ILO Director-General, Guy Ryder.