European economies take eight out of top 10 spots in 2020 world talent ranking.
Apprenticeships and employee training are measured alongside education at all levels.Turkey, Estonia, the UAE, Peru and Chile are among 27 economies who improved their performance in 2020.
Brexit was found to have had an impact on the UK's position, which slipped to number 23.
A global ranking of 63 countries has found that investing in education at all levels boosts competitiveness by developing and attracting talent.
"Most economies that perform well focus their talent development efforts in every stage of the educational process," write Professor Arturo Bris and Dr Christos Cabolis of Switzerland's Institute for Management Development, which has been compiling the IMD World Talent Ranking for seven years.
What do we mean by 'competitiveness'?
What is economic competitiveness? The World Economic Forum, which has been measuring countries' competitiveness since 1979, defines it as: "the set of institutions, policies and factors that determine the level of productivity of a country." Other definitions exist, but all generally include the word "productivity".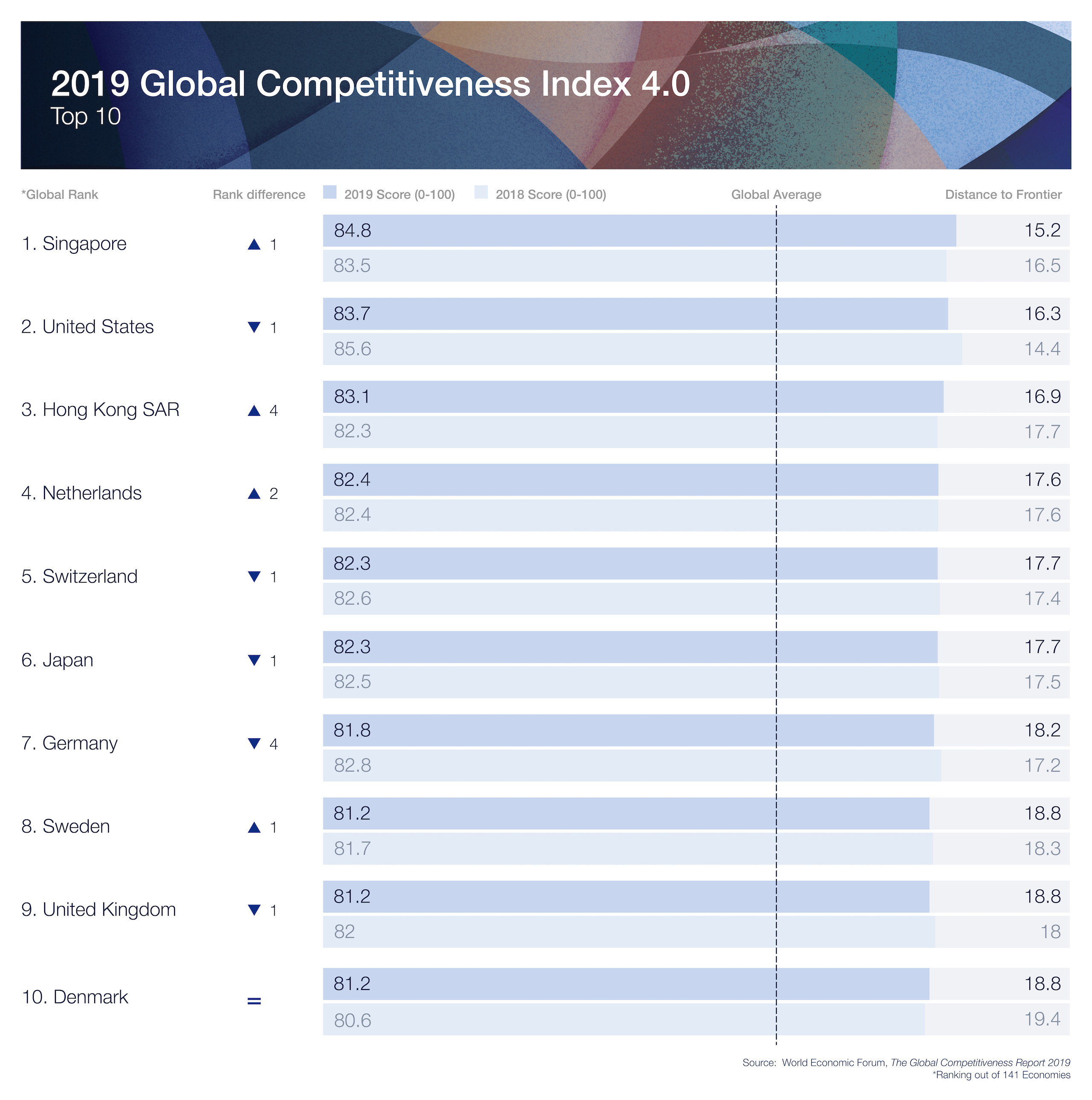 The Global Competitiveness Report is a tool to help governments, the private sector, and civil society work together to boost productivity and generate prosperity. Comparative analysis between countries allows leaders to gauge areas that need strengthening and build a coordinated response. It also helps identify best practices around the world.
The Global Competitive Index forms the basis of the report. It measures performance according to 114 indicators that influence a nation's productivity. The latest edition covered 141 economies, accounting for over 98% of the world's GDP.
Countries' scores are based primarily on quantitative findings from internationally recognized agencies such as the International Monetary Fund and World Health Organization, with the addition of qualitative assessments from economic and social specialists and senior corporate executives.
The ranking assesses three factors: investment in and development of home-grown talent; a country's appeal to overseas talent; and the quality of skills and competencies available.
It includes primary, secondary and tertiary education, as well as apprenticeships and work training.
Here are some highlights:
Switzerland leads the way
Switzerland tops the IMD World Talent Ranking for the fourth year in a row, with top performances for those being channelled into university and starting apprenticeships. "The country is also attractive to foreign labour thanks to the high quality of life and remuneration," the authors say.
Denmark performs well across the board and stands out for the perceived fairness of its society. For example, it ranks first for implementing justice. It also has the most motivated workforce and prioritizes employee training in the private sector more than any other country.
Luxembourg has consistently improved over the past five years, progressing from 11th to 3rd place in the rankings. This is due to "marked improvement" in investment and development. It leads the table in the total public expenditure on education per student and in the quality of education in primary school – as measured by pupil-teacher ratio.
Iceland and Sweden complete the five most competitive economies in terms of talent. Austria, Norway, Singapore and the Netherlands remain in the top 10 with minor fluctuations from last year, while Canada moves up five spots to become the eighth most talent-competitive economy – and one of only two non-European countries in the top 10.
Twenty-seven economies improved their performance in the 2020 World Talent Ranking, led by Turkey, up 12 places, Estonia (+8), the UAE (+6), Peru, Chile and Canada (+5). The most significant declines were in Russia (-7), Kazakhstan (-6), Hungary and Saudi Arabia (-5).
The United Kingdom's departure from the European Union appears to be reflected in the talent competitiveness figures, the report says. "In 2016, the year of the Brexit vote, the UK was in 16th position in the same ranking," the authors note. "This year's 23rd position is a likely reflection that uncertainties around Brexit have been chipping away at the UK's talent competitiveness."
Skills, reskilling and the future of work are key areas of focus in the World Economic Forum's Future of Jobs Report 2020. It calls for a shift towards a socio-economic system that is fairer and more sustainable, with social mobility and economic prosperity that does not damage the planet.
"If this opportunity is missed, we will face lost generations of adults and youth who will be raised into growing inequality, discord and lost potential," the authors say.
The Forum's Jobs Reset Summit on 1-2 June 2021 will address the most critical areas, develop pathways for action and bring together leaders and organizations to accelerate progress.
This is particularly urgent in the fallout from COVID-19, which has taken a "staggering toll" on lives and livelihoods, the Forum says.
"While vaccine rollout has begun and the growth outlook is predicted to improve, an even socio-economic recovery is far from certain," the Forum says.
What is the World Economic Forum's Jobs Reset Summit?
The World Economic Forum's Jobs Reset Summit brings together leaders from business, government, civil society, media and the broader public to shape a new agenda for growth, jobs, skills and equity.
The two-day virtual event, being held on 1-2 June 2021, will address the most critical areas of debate, articulate pathways for action, and mobilize the most influential leaders and organizations to work together to accelerate progress.
The Summit will develop new frameworks, shape innovative solutions and accelerate action on four thematic pillars: Economic Growth, Revival and Transformation; Work, Wages and Job Creation; Education, Skills and Lifelong Learning; and Equity, Inclusion and Social Justice.