Consumer shift to digital channels will remain after the pandemic -PwC report.
Customer loyalty has plummeted, with buyers switching brands at unprecedented rates.
The use of smartphones for online shopping has more than doubled since 2018.
Billions of people affected by the COVID-19 pandemic are driving a "historic and dramatic shift in consumer behaviour" – according to the latest research from PwC.
The consulting and accounting firm's June 2021 Global Consumer Insights Pulse Survey reports a strong shift to online shopping as people were first confined by lockdowns, and then many continued to work from home. Other trends in this shift towards digital consumption include online shoppers being keen to find the best price, choosing more healthy options and being more eco-friendly by shopping locally where possible.
Another significant finding from the report is that consumers do not think they'll go back to their old ways of shopping once the pandemic is over.
A consumer pivot to digital and devices
More than 8,600 people across 22 territories took part in PwC's survey. They were asked how often, in the past 12 months, they had bought clothes, books and electronics using a range of shopping channels.
The chart below illustrates their answers, and shows a shift to digital and a growing trend for shopping using connected devices such as smartphones, tablets and smart voice assistants such as Amazon Echo, Google Home and Samsung SmartThings.
More than 50% of the global consumers responding to the June 2021 survey said they had used digital devices more frequently than they had six months earlier, when they had taken part in a prior PwC survey. The report also finds the use of smartphones for shopping has more than doubled since 2018.
EDISON Alliance: What is the Forum doing to close the digital gap?
COVID-19 has exposed digital inequities globally and exacerbated the digital divide. Most of the world lives in areas covered by a mobile broadband network, yet more than one-third (2.9 billion people) are still offline. Cost, not coverage, is the barrier to connectivity.
At The Davos Agenda 2021, the World Economic Forum launched the EDISON Alliance, the first cross-sector alliance to accelerate digital inclusion and connect critical sectors of the economy.
Through the 1 Billion Lives Challenge, the EDISON Alliance aims to improve 1 billion lives globally through affordable and accessible digital solutions across healthcare, financial services and education by 2025.
Medicines and groceries on demand
The survey found a 15-30% overall growth in consumers who made purchases online across a broad range of product categories. Many of the categories see a double-digit percentage growth in online shopping intent, led by over-the-counter medicines, groceries, household supplies and personal care products.
And McKinsey noted that "consumer intent to shop online [post-pandemic] continues to increase, especially in essentials and home-entertainment categories".
A decline in brand loyalty
With consumers shopping from their sofas and home offices, another trend flagged up by McKinsey is a marked decline in brand loyalty.
In total, 75% of US consumers have tried a new shopping behaviour and over a third of them (36%) have tried a new product brand. In part, this trend has been driven by popular items being out of stock as supply chains became strained at the height of the pandemic. However, 73% of consumers who had tried a different brand said they would continue to seek out new brands in the future.
What is the World Economic Forum doing to manage emerging risks from COVID-19?
The first global pandemic in more than 100 years, COVID-19 has spread throughout the world at an unprecedented speed. At the time of writing, 4.5 million cases have been confirmed and more than 300,000 people have died due to the virus.
As countries seek to recover, some of the more long-term economic, business, environmental, societal and technological challenges and opportunities are just beginning to become visible.
To help all stakeholders – communities, governments, businesses and individuals understand the emerging risks and follow-on effects generated by the impact of the coronavirus pandemic, the World Economic Forum, in collaboration with Marsh and McLennan and Zurich Insurance Group, has launched its COVID-19 Risks Outlook: A Preliminary Mapping and its Implications - a companion for decision-makers, building on the Forum's annual Global Risks Report.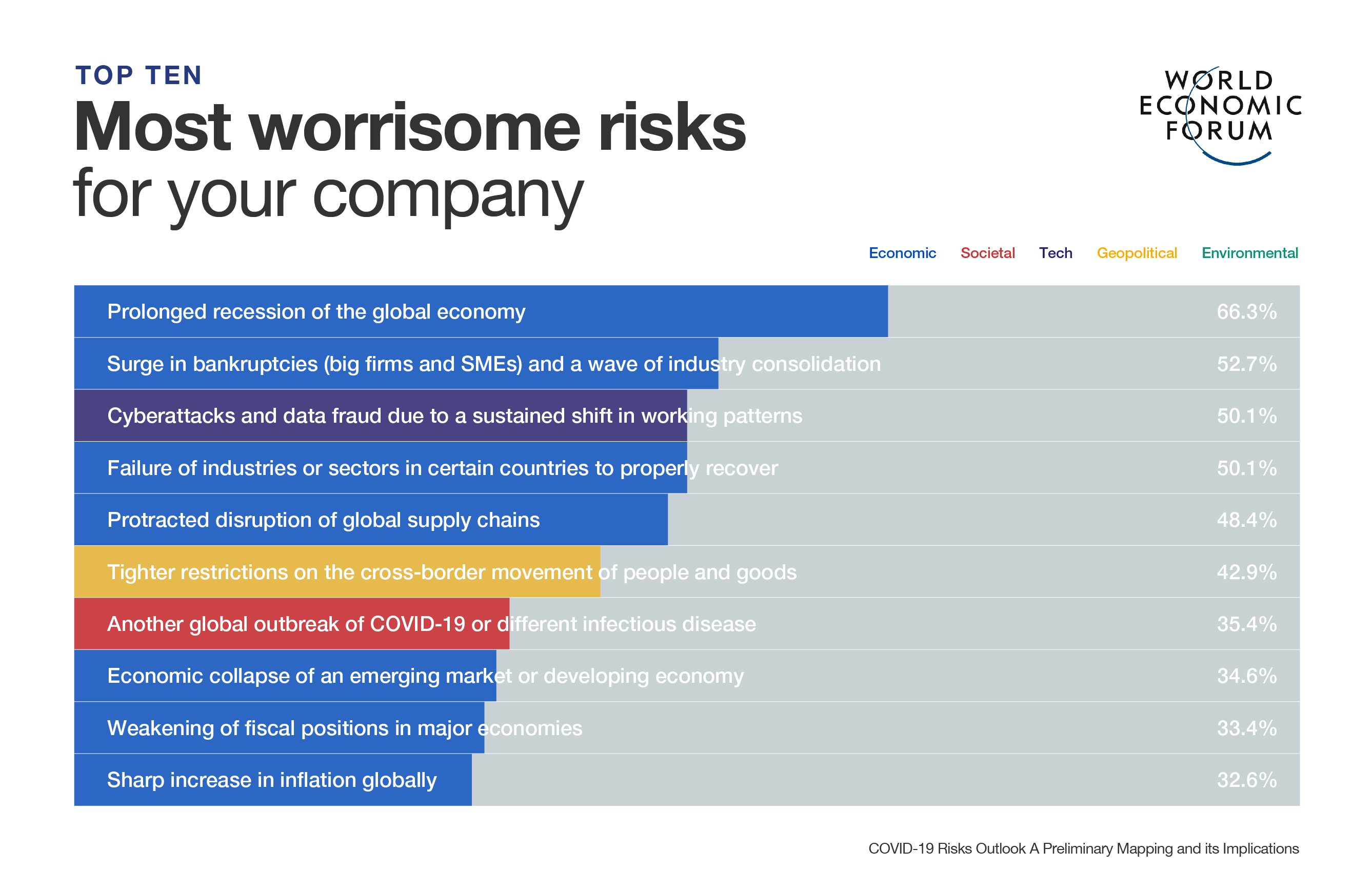 Healthy, hygienic and sustainable
The trend towards online shopping has also seen consumers focus on staying healthy during long periods in lockdown. McKinsey notes a desire to reduce touchpoints to ensure greater hygiene with the shopping experience.
One enterprise in the US has tapped into these trends to provide a service for shopping online at a range of farm shops local to the buyer. To qualify for the FarmMatch scheme, farmers must grow their food using sustainable methods.
As the world navigates its way out of the pandemic, the way we all act as consumers has been changed fundamentally by COVID-19. The research points to this change becoming permanent, leaving retailers and manufacturers with the challenge of attracting and retaining consumers in an 'omnichannel' world, where customer loyalty is hard-won.