This daily round-up brings you a selection of the latest news and updates on the COVID-19 pandemic, as well as tips and tools to help you stay informed and protected.
Top stories: WHO announces new trial to examine possible COVID-19 treatments; New Zealand announces plans to reopen borders; CDC says pregnant women should get COVID-19 vaccine.
1. How COVID-19 is affecting the globe
Confirmed cases of COVID-19 have passed 204.7 million globally, according to Johns Hopkins University. The number of confirmed deaths stands at more than 4.32 million. More than 4.54 billion vaccination doses have been administered globally, according to Our World in Data.
Canberra, the Australian capital, has announced a snap one-week lockdown after its first reported locally acquired COVID-19 case in more than a year.
Hawaii is set to reimpose COVID-19 restrictions, limiting social gatherings to reduce the strain on the state's healthcare system.
Elsewhere, California has become the first US state to require teachers and other school staff to be vaccinated against COVID-19 – or face regular testing.
Cuba is converting hotels into isolation centres and hospitals and bringing back doctors working abroad in an effort to cope with a surge in COVID-19 cases.
Moderna is planning to double the size of its ongoing trial into the use of COVID-19 vaccines in children aged six months to younger than 12 years.
Pregnant women should be vaccinated against COVID-19, the US Centers for Disease Control and Prevention said yesterday. A new analysis showed no increased risk of miscarriage.
The Pan American Health Organization is preparing to increase COVID-19 vaccine availability among its member countries. PAHO will use its 'Revolving Fund' to make tens of millions of doses available.
2. WHO announces new trial to examine possible COVID-19 treatments
The World Health Organization has announced a new phase in its Solidarity Trial. Solidarity PLUS will test three drugs as treatments for COVID-19 – artesunate, a treatment for severe malaria; imatinib, a drug for certain cancers; and infliximab, a treatment for immune system disorders such as Crohn's disease.
Dr Tedros Adhanom Ghebreyesus, WHO Director-General, explained, "We already have many tools to prevent, test for and treat COVID-19, including oxygen, dexamethasone and IL-6 blockers.
"But we need more, for patients at all ends of the clinical spectrum, from mild to severe disease. And we need health workers that are trained to use them in a safe environment," he added.
He also, again, called for greater global unity in the fight against the pandemic. "We're all in this together, but the world is not acting like it," he said.
India's leading COVID-19 last-mile responders
Each of our Top 50 social enterprise last mile responders and multi-stakeholder initiatives is working across four priority areas of need: Prevention and protection; COVID-19 treatment and relief; inclusive vaccine access; and securing livelihoods. The list was curated jointly with regional hosts Catalyst 2030's NASE and Aavishkaar Group. Their profiles can be found on www.wef.ch/lastmiletop50india.
Top Last Mile Partnership Initiatives to collaborate with: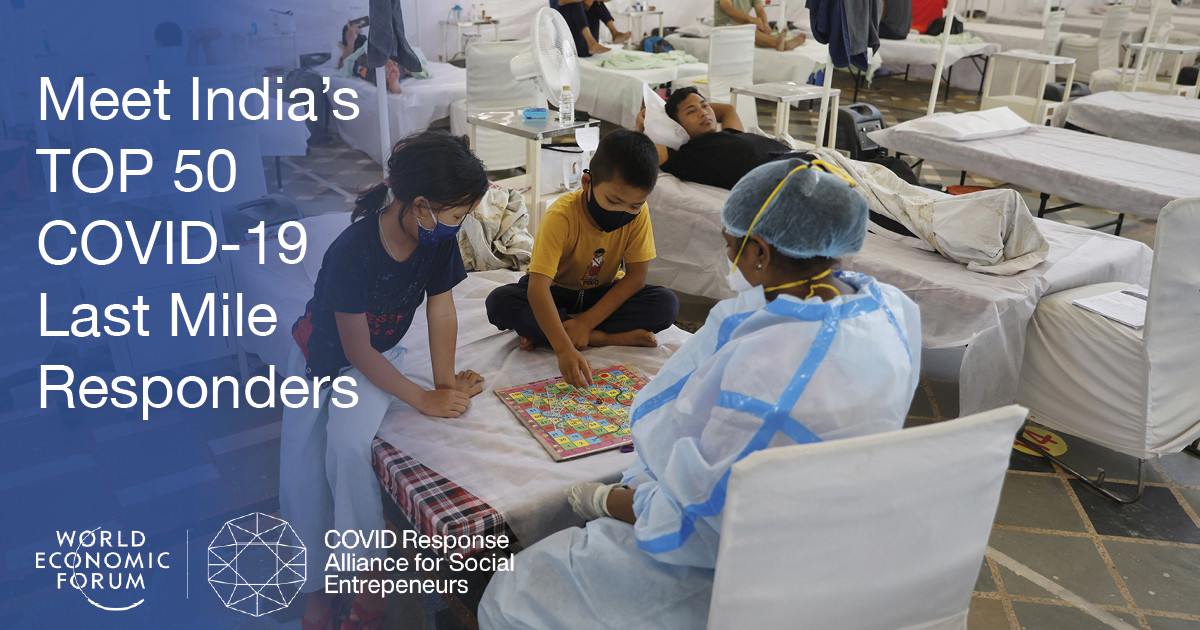 3. New Zealand announces reopening plans
New Zealand plans to allow quarantine-free entry to vaccinated travellers from low-risk countries from the first quarter of 2022, as it looks to reopen its borders after 18 months of pandemic-induced closures.
"We're simply not in a position to fully reopen just yet," Prime Minister Jacinda Ardern said in a speech outlining plans to reconnect New Zealand with the world.
"When we move we will be careful and deliberate, because we want to move with confidence and with as much certainty as possible," she said.
There'll also be new rules for those travelling from medium- or high-risk countries.
Ardern also announced plans to speed up the country's vaccine rollout and said that all eligible ages would be able to book their vaccine by 1 September.
New Zealand has recorded just 2,500 cases and 26 deaths from COVID-19.