2020 was a good year for green energy in the US, producing 21% of all electricity.
Coal continues to decline in importance as a source of energy.
But natural gas, a fossil fuel that emits carbon, still dominates.
Last year, the US generated 834 million megawatt hours (MWh) of electricity from renewables, making 2020 a record year for green energy.
Wind, hydroelectric, solar, biomass and geothermal energy produced around 21% of all the electricity generated in the US, coming second only to natural gas (1.6 million MWh) as a source of power.
The US Energy Information Administration (EIA) data also details the steady decline of coal in the US energy mix, dropping by 20% in all sectors since 2019. Coal use peaked in the US in 2007, when it produced 2 billion MWh of electricity. It remained the leading source of power until 2016, having been gradually replaced by natural gas.
The shift to renewables is gathering pace internationally. It rose from 2,200 MW in 2016 to 6,100 MW in 2020, according to the Global Wind Energy Council (GWEC). This, it says in its Global Wind Report 2021, is partly due to new installations and developments in China and the US.
What's the World Economic Forum doing about the transition to clean energy?
Moving to clean energy is key to combating climate change, yet in the past five years, the energy transition has stagnated.
Energy consumption and production contribute to two-thirds of global emissions, and 81% of the global energy system is still based on fossil fuels, the same percentage as 30 years ago. Plus, improvements in the energy intensity of the global economy (the amount of energy used per unit of economic activity) are slowing. In 2018 energy intensity improved by 1.2%, the slowest rate since 2010.
Effective policies, private-sector action and public-private cooperation are needed to create a more inclusive, sustainable, affordable and secure global energy system.
Benchmarking progress is essential to a successful transition. The World Economic Forum's Energy Transition Index, which ranks 115 economies on how well they balance energy security and access with environmental sustainability and affordability, shows that the biggest challenge facing energy transition is the lack of readiness among the world's largest emitters, including US, China, India and Russia. The 10 countries that score the highest in terms of readiness account for only 2.6% of global annual emissions.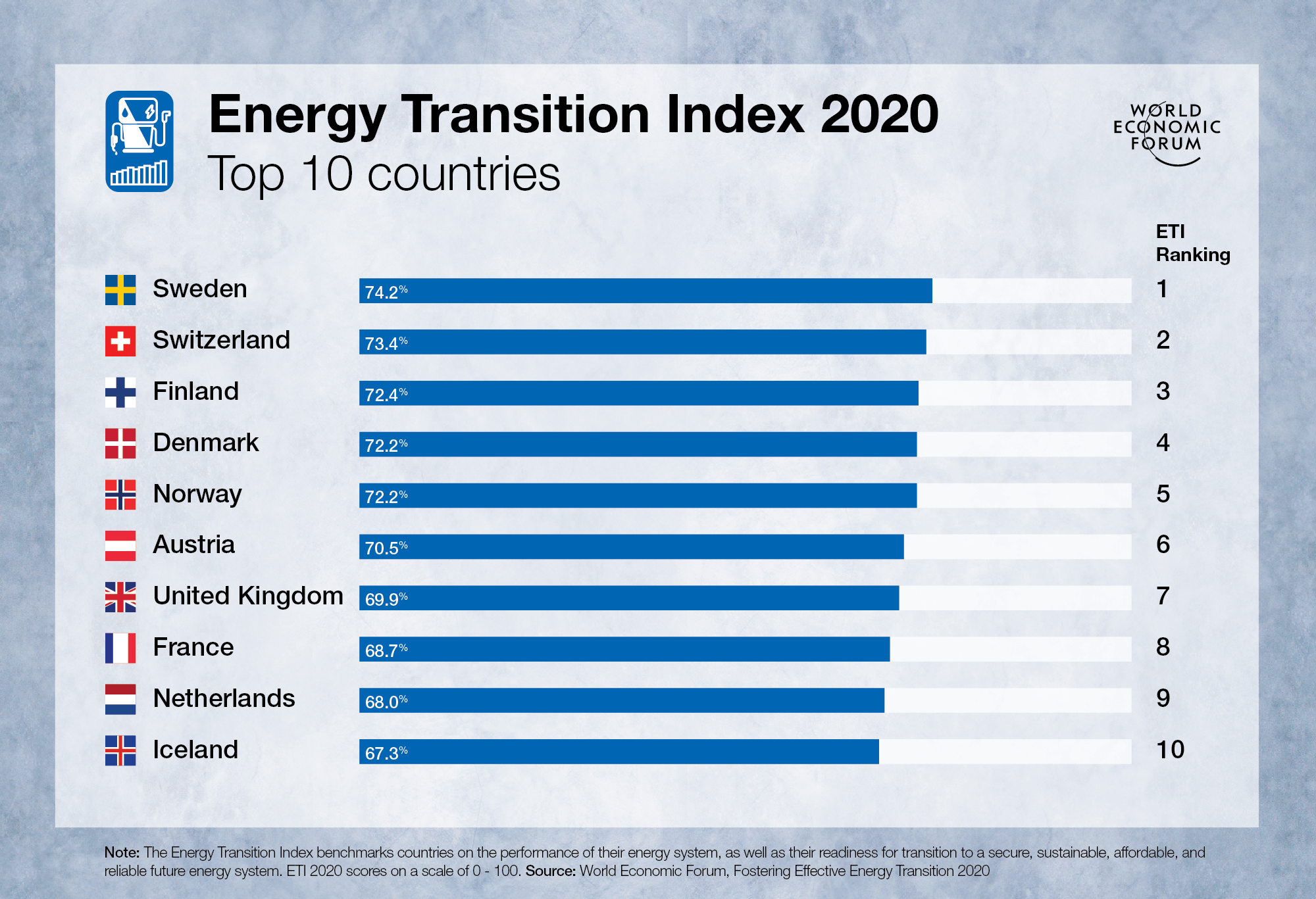 Additionally, the Mission Possible Platform (MPP) is working to assemble public and private partners to further the industry transition to set heavy industry and mobility sectors on the pathway towards net-zero emissions. MPP is an initiative created by the World Economic Forum and the Energy Transitions Commission.
Is your organisation interested in working with the World Economic Forum? Find out more here.
A long-time devotee of coal, the US has recently started advancing a series of legislative and policy frameworks that favour renewables. This year, the US Bureau of Ocean Energy Management completed a review of a new wind farm due to be built off the north-east coast of the US. The plan had been repeatedly delayed by the last US administration, but now looks set to come to fruition.
Vineyard Wind is just one of 13 offshore wind farms planned for the Atlantic coast of the US. Altogether, around 2,000 turbines are expected to be installed producing enough energy to power 10 million homes by 2030.
In 2020, renewables, including small-scale solar, increased their share of electricity generation in the US by 9%, according to the EIA. Wind plays the biggest part in that, growing 14% in usage from 2019 to 2020. Solar is growing its share, too. Small-scale installations like rooftop panels that feed into the electricity network grew 19%, while larger, utility-scale solar projects increased by 26%, from 2019 to 2020.
Over the same period, nuclear power's contribution to electricity generation in the US declined by 2%. The EIA says that is because of older nuclear power plants being taken off-stream and an increase in maintenance-related outages at others.